NFL would do well to heed lessons of Ralph Wilson, league's old guard
Bills owner Ralph Wilson, who died Tuesday, was the last of the NFL's old guard that ran the business of the game the right way.
More NFL offseason: Mock Drafts | Prospect Rankings | Pro Days | Top free agents
ORLANDO, Fla. -- The owners meetings are always a beneficial trip for me to help clear up the offseason trends. From a good conversation with Commissioner Roger Goodell to sitting down with 12 head coaches, six general managers and four owners I got a good feel for the direction the league is headed in 2014.
The late, great Bills owner Ralph Wilson
Back in the early 1990s when I first attended the NFL owners meetings as a member of the Jets I was made aware of the "old guard." They were the NFL owners that included Ralph Wilson, my owner Leon Hess, Wellington Mara, Art Modell, Dan Rooney and a few others that always preached the league over the individual teams -- share everything equally, do things that were for the good of the league, take care of the small-market teams and build a business better than anything professional sports had ever seen.
Jeff Lurie, owner of the Eagles, called Wilson an independent thinker. Lurie said Wilson would wait until everyone spoke at a league meeting and then take his turn and was powerful enough to sway opinion.
Clark Hunt, son of the late Lamar Hunt and now owner of the Kansas City Chiefs, spoke to me about Wilson and his father not only starting the AFL in hopes of eventually getting into the NFL but also funding teams that couldn't stay afloat.
A Bills fan called me to say he went to Bills practice in a wheelchair just back from military service and Wilson was driving his golf cart out to practice and saw him struggling to see through the crowd. Moments later the owner had carved a way up to the rail so he got a better view. Another fan told me he was sitting alone at the top of the bleachers at a summer practice and Wilson saw him and said, "Are you sitting alone today? Mind if I join you?"
Well, the old guard is all but gone now and I sure hope all the new owners learned from Wilson and his group as the league moves on without them.
What they were saying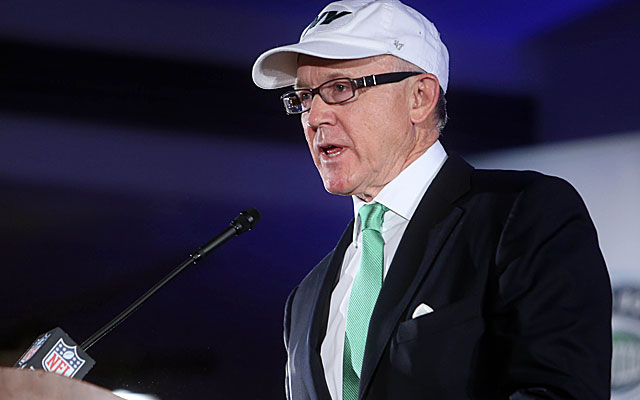 Jets owners Woody Johnson on Mark Cuban's comments about the demise of the NFL in 10 years. Johnson smiled and said, "I don't know what Mark is up to but I can assure you this league is always looking forward and attacking issues to grow the game."
Coach Ken Whisenhunt on his Titans: "My team is a bit uncomfortable and I like that right now."
Bucs coach Lovie Smith: "I spent a lot of time down in my basement with coaches on my off year developing a plan for my next opportunity and that along with assessing what I did in Chicago has made me a better coach."
That remark by Smith reminds me of how Tom Coughlin came out of his year off from the Jaguars and re-entered as the head coach of the Giants.
Seahawks coach Pete Carroll on defense: "We didn't believe defense is dead in the NFL, but you have to coach it the right way, get the right players and not be trapped into the glamour of offense."
Vikings coach Mike Zimmer on Everson Griffin, his young defensive end, taking over for Jared Allen: "He's like a bull in a china shop with no plan. I can't wait to coach him in our techniques -- he will be very good."
The funniest comment came from Jets coach Rex Ryan as he was walking down the hall of the hotel with GM John Idzik right behind him. A few reporters were walking along asking for comments and Ryan pointed behind at Idzik with his thumb and said, "I can't talk to you; he'll kill me."
Of course, Ryan and Idzik had big smiles on their faces. I brought the scene up to Woody Johnson who said, "People really don't know how strong their relationship is and they work together well."
General managers had a few interesting things to say. The  Falcons' Thomas Dimitroff told me it was his "misassessment" about his offensive line going into 2013 and it is priority No. 1 to protect their $100  million quarterback Matt Ryan. He also said he likes the draft depth at offensive tackle, wide receiver and (to my surprise) cornerback.
Cardinals GM Steve Keim said Tyrann Mathieu, the outstanding young defensive back who was injured late in his rookie season, "lives" in the facility rehabbing and has been nothing less than great on and off the field.
Vikings GM Rick Spielman was pleased with the acquisition of Giants DT Linval Joseph to team up with Sharrif Floyd. Spielman said new head coach Mike Zimmer made it clear what he wanted from a nose tackle in the new Vikings defense and Joseph fit the bill.
The Bills' Doug Whaley talked about last season's rookie sensation Kiko Alonzo moving to weakside linebacker in order to free him up to make even more tackles than the 159 he had in 2013, but Alonzo will return to the middle position in the nickel and dime defenses. Whaley also felt the defensive line group in the draft may not be one of the stronger positions.
As for owners, the Ravens' Steve Bisciotti talked to me about Torrey Smith and Ray Rice. He laughed when he told me he said to Pat Moriarity, his contract negotiator, in ear shot of Smith's agent, just get that contract done. As for Rice there will be full support from the owner and the organization to correct and move on from the off-field issues Rice faces.
Bisciotti was so passionate when describing how he felt about Rice and about, hopefully, what the rest of the younger players should learn from Rice's issues I asked him if he considered talking to the team. He said he likes to leave the communication up to John Harbaugh and Ozzie Newsome but he would consider meeting with the players in this situation. 
Where the rules are headed
If safety is involved rules will get passed. Quickly the NFL passed no blockers rolling up on the legs of a defender from the side as well as from behind. It's a good rule but potentially hard to administer in the trenches where bodies turn quickly and there are a lot of bodies flying around. I think we are headed toward no low blocks in football just like the college game. Consider that college defensive linemen are coming into the NFL with little to no experience against rolling blocks in the back or side and have little chance to protect themselves.
The no-brainer rule that I think was worded wrong and so did just about every owner, GM and coach I spoke with, was the game-day roster increase from 46 to 49. The proposal was for non-Sunday and Monday games -- which really means Thursday night football. Literally everyone I spoke with believes there should be 49 players at every game especially for safety reasons. One owner said we should just fix the language now and pass it.
Player movement
One of the bigger stories floating around centered on the recently released Mark Sanchez. I could name 10 teams that would need his services as a backup or competitor to start yet even though it really appeared the Eagles were the team, some late action kept it from happening.
Maybe the Ravens are in the hunt, but the Rams and Browns ought to be interested as well. I believe signing Sanchez isn't about money because he isn't in a position to ask for much, but I sure would think a 27-year-old QB with 68 NFL starts and a 4-2 postseason record, all on the road, is a valuable player to have on a roster.
Smith says the NFL's ratings decline cannot be ignored

The former Jets and Giants quarterback wants to know whether you think the Earth is round

Zach Ertz is one of the NFL's best tight ends but Philadelphia could lose his backup to free...
Second-year coach Sean McVay says his players know exactly what the expectations are

Steelers didn't trade Bryant then and they aren't looking to move him now

It had been rumored that the Jaguars might cut ties with Bortles, but instead he'll stay in...