NFLPA butting into Brees negotiations with Saints makes absolutely no sense
The NFLPA is so concerned about the Saints' negotiations with Drew Brees that it reportedly notified Roger Goodell. But Pat Kirwan says doing so -- without permission from Brees -- only hurts the QB in his pursuit of a long-term contract.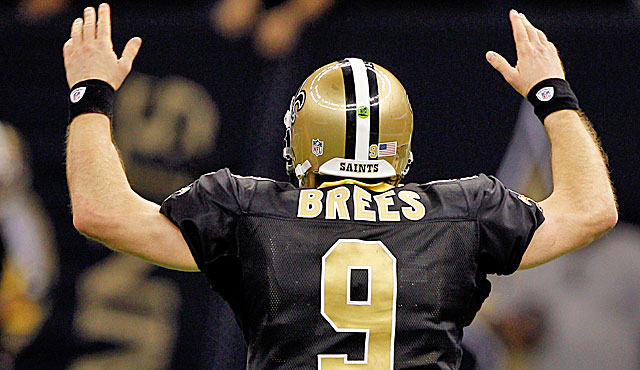 What's the big deal about the Brees contract? When it's over, he scores big cash. (Getty Images)
I find it strange that the NFLPA is so concerned about the Saints' negotiations with Drew Brees that it apparently notified Roger Goodell. If it's true that the NFLPA did that without permission from Brees but under the logic that they are protecting a member of their union they are in an area that could actually hurt negotiations.
More on Brees deal
Analysis

Related content
I was involved in negotiating close to 300 player contracts, renegotiations, rookie deals and franchise tags. At no time did the NFLPA feel compelled to intervene on any level. There were holdouts, trade demands and all the normal issues clubs and players face, but the business was always between me and the agent.
There are almost three weeks left before Drew Brees and the Saints reach the July 16 drop-dead date -- which is plenty of time -- when Brees has a new deal or plays on the $16.4 million franchise tag.
Any negotiator will tell you that time and deadlines are the best mechanism for getting a deal done. To my knowledge both sides are interested in a long-term deal, which is a good start. July 16 was agreed upon by the NFL and the Union in the new CBA and will act as the trigger it was intended to be to get the deal done. No intervention is required by any outsiders (League or Union).
The idea that the Saints are being punitive because Brees was deeply involved in the labor deal last year as one of the named plaintiffs in the lawsuit against the league is almost laughable.
Why? Three reasons:
The Saints are in the business of winning football games and need Brees to accomplish their primary goal.
The Saints -- like many other teams -- probably love the new labor deal and would like to thank Brees and Co.
Vincent Jackson and Peyton Manning were named plaintiffs and even though they were free agents it didn't stop the Bucs and the Broncos from signing them to big deals because -- you guessed it -- those teams are interested in winning.
I spoke to high ranking members of the Saints in March and they had a solid offer on the table back then. It may not be what Brees wants but it wasn't a low-ball offer that would cause a supposed "impasse." I'm not a lawyer, but an impasse is a deadlock -- a predicament affording no obvious escape.
To my knowledge an original offer -- averaging $18 million a year -- is not a situation affording no obvious escape. The two sides on their own will get to a deal or Brees plays on a one year tag for a little more than $1 million a game.
But neither side really wants the one-year tag, especially since the Saints believe Drew has enough high-level play left to warrant a long-term deal.
Finally, if I were Drew Brees, his agent or the Saints I would not want any outside intervention. Drew can stand on his own two feet and get a deal done.
As I said in May and will say again in July: Brees will get a deal averaging just under $20 million a year if everyone not in the negotiations stays out of he way.
This matchup isn't quite as glamorous as it looked when the schedule was released in the s...

Patriots-Steelers highlights a week filled with playoff-caliber games

Cleveland's quarterback has recently improved, but his turnovers have been a big part of the...
Warren Sapp was one of several players named in a lawsuit against NFL Network

Check out the uniforms that Denver and Indianapolis will be wearing on Thursday

The Cowboys are going to need a few things to go their way to get into the postseason