NFLPA not launching investigation into Jonathan Martin's absence
The NFLPA will not be looking into the role Richie Incognito played in Jonathan Martin's decision to leave the Dolphins. An earlier media report suggested the NFLPA was going to investigate Incognito.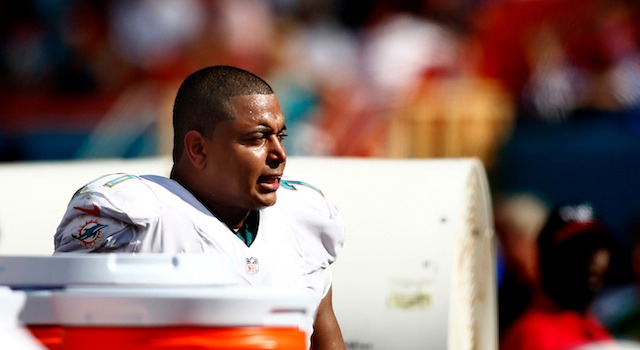 The NFLPA announced on Saturday that it will not be investigating the circumstances surrounding the absence of Dolphins offensive tackle Jonathan Martin. A media report this week had suggested that the NFLPA was going to investigate the role Richie Incognito may have played in Martin's decision to leave the team. 
Martin left the the team's facilities on Oct. 28 after a cafeteria prank and isn't expected back anytime soon. 
"We have an obligation to protect and support all of our members," the NFLPA's statement said. "We take official investigations very seriously and in this case, we have not launched an investigation into Richie Incognito or other players in Miami. The NFLPA believes that management has an obligation to ensure a safe and professional workplace and we will continue to be in close touch with our player leaders and all players involved as the information develops."
There were allegations that Incognito and other teammates had bullied Martin and pushed him over the edge. However, Martin may have been attempting to rebuke that claim when he left a Facebook status on Oct. 31 telling everyone to 'not believe everything you read.' 
Martin and Incognito exchanged texts on Friday and according to NFL.com, Martin didn't place blame on Incognito during the conversation. The two teammates exchanged a total of 19 texts and one of those included a text from Martin that said, "I'm good man. It's insane bro, but just know I don't blame you guys at all. It's just the culture around football, and the locker room got to me a little."
The second-year offensive lineman is currently with his family trying to deal with his issues. Neither the Dolphins or Martin have set any sort of timetable for his return.  
The inaugural youth world championships kicked off on Dec. 14 with more than 100 teams

The first-year cornerback has not been active in four weeks and drew a suspension earlier this...

McCown will help the coaching staff work with Bryce Petty and Christian Hackenberg
The Browns have a long way to go to be AFC North champs

Five selections against the spread for the upcoming Week 15 slate of NFL games

Here are 10 things to watch in Week 15, including a hot Bortles, a cold Brady and a new Eagles...