NFLPA president: Roger Goodell came close to canceling Pro Bowl
How close were we to not having a Pro Bowl? NFLPA president Domonique Foxworth says that NFL commissioner Roger Goodell was 'very serious' about scrapping of the game.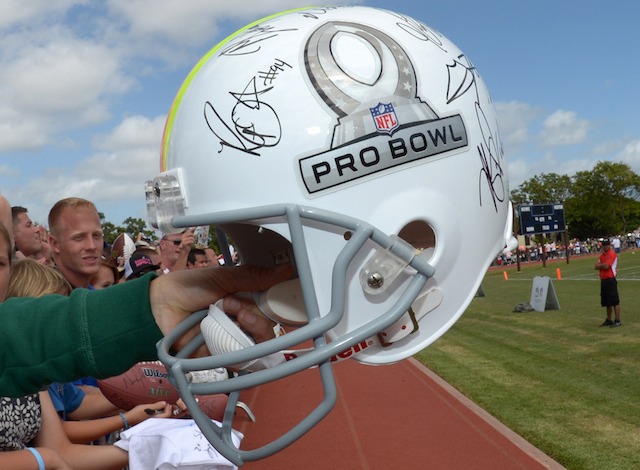 In case you didn't notice, the NFL has added a few new wrinkles to the Pro Bowl this year. There's new uniforms, there's no kickoffs and instead of the AFC against the NFC, Sunday night's game will feature two teams that were selected in a scintillating Pro Bowl Draft that was held on Jan. 22.  
However, those new wrinkles almost didn't happen because there almost wasn't a game, according to NFLPA president Domonique Foxworth. Foxworth said NFL commissioner Roger Goodell almost canceled the Pro Bowl. 
"Roger was very serious about potentially canceling the Pro Bowl because apparently it's very expensive and isn't of a ton of value to them," Foxworth said this week, via USA Today. "To be honest with you, I was completely comfortable with eliminating it until I talked to the players, and they said they loved it and they want to be there."
Goodell talked about the possibility of eliminating the Pro Bowl two years ago after a 2012 game that seemed to have everything except for effort, "We're either going to have to improve the quality of what we're doing in the Pro Bowl or consider other changes or even considering eliminating the game if that's the kind of quality game we're going to provide," Goodell said in February 2012.
Instead of eliminating the game, the NFL decided to make drastic changes. Instead of kickoffs, teams will start at the 25-yard line and there will be a two-minute warning at the end of each quarter to give quarterbacks an opportunity to direct more two-minute drills. 
One rule change the players aren't a fan of? The whole drafting thing. It's not specifically the draft they don't like, it's the possibility of having to hit their own teammates. For instance, Colts linebacker Robert Mathis might have to lay a hit on Colts quarterback Andrew Luck because the two players are on opposite teams.
"That's the only legitimate concern, and I completely understand it," Foxworth said. "I was faced with the possibility of canceling the game or trying to make it interesting. If some of these conflicts that we create make it so we can't go forward, then we'll throw the game out."
Basically, if the fans and players don't like the 2014 version of the Pro Bowl, there might not be a 2015 version. The Pro Bowl will air at 7:30 p.m. ET on Sunday on NBC.
With their 2017 season over, it's time for Jaguars fans to turn their attention to the dra...

With just a few tweaks to the roster, the Jaguars could be the new AFC powerhouse next sea...

Go ahead and buy your championship gear ahead of time, Eagles fans
Philadelphia fans might want to take it down a notch and not poke the bear

It was a valiant effort from the city, but fans would not be deterred

It was utter and total chaos in Philadelphia after the Eagles beat the Vikings