NFL's 10 Breakout Players: Brandin Cooks, Toby Gerhart could take off
When it comes to breakout candidates, take a look at sleepers like Toby Gerhart and Brandin Cooks.
• 4 min read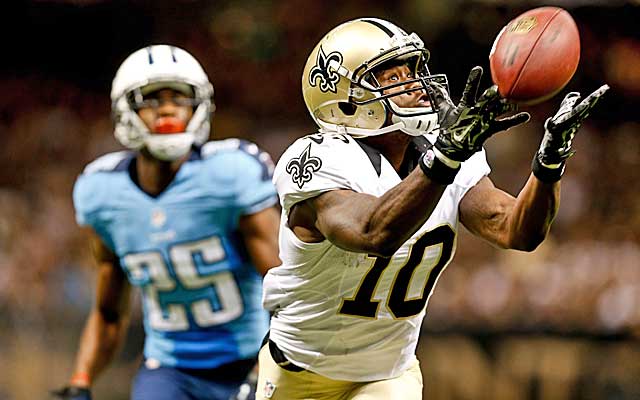 When I got the assignment to highlight players who could break out, I decided to focus on potential breakout stars on the offensive side of the ball. And, in this era of NFL football, it generally means catching the football. I'm sure Pete Prisco has you covered on some third-string defensive tackle who is about to become a stud space-eater. Me, I'm going to stick to a list of dudes I think would fit in the stories and discussions my colleagues Dave Richard and Jamey Eisenberg are having on the fantasy-focused pages of CBSSports.com. 
Anywho, here are some guys who I think could greatly raise their profile, and stats, in 2014:
Sammy Watkins, WR, Buffalo Bills: He may not be the savior they hope he will be in Buffalo, but this team is going to feed him the ball and they are gambling he can make a quarterback out of EJ Manuel. I'm not sure that will be the case, but a Rookie of the Year performance from Watkins wouldn't shock me either.
Dwayne Allen, TE, Indianapolis Colts: I am going to go out on a limb and say this explosive, dynamic tight end actually stays relatively healthy for once. If he does, he and Andrew Luck will make beautiful music together. People will sleep on him because of his injuries and the presence of Coby Fleener at his position, but I'm going to keep believing in Allen (at least for one more summer).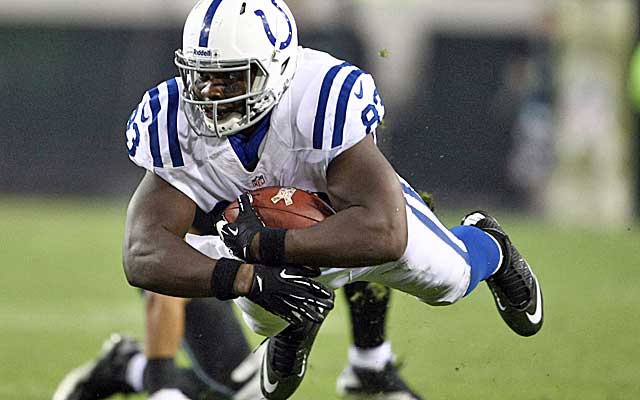 Toby Gerhart, RB, Jacksonville Jaguars: He rarely got the rock with Adrian Peterson setting records in Minnesota, but he's the bell cow now for the Jags ... and Jacksonville doesn't really have any receivers so this dude is going to work. He'll face some stacked lines I'm sure, but he will have a chance to become a feature back and get his hands on the ball a ton.
Kyle Rudolph, TE, Minnesota Vikings: The Vikings understand what Norv Turner does for tight ends, which explains them paying a player who has not been that productive the kind of money Vernon Davis makes. Now Rudolph has to go out and prove it. If he manages to better what Jordan Cameron did a year ago under Turner in Cleveland, I wouldn't be shocked (as Cameron missed a fair amount of time with injury).
Brandin Cooks, WR, New Orleans Saints: When Sean Payton makes a power move to target a particular player, in a year in which he let Darren Sproles walk and with the receiving group a little bit older now, yeah, I'm going to notice. A great kid with no diva bones in his body, he can really fly. Cooks will show up in the screen game and deep downfield. Seems like a perfect fit for this offense playing on a fast track in a dome.
Markus Wheaton, WR, Pittsburgh Steelers: The Steelers expect him to be a regular part of their offense this year after things failed to materialize that way his rookie year. Could be a difference maker in the slot, and with Le'Veon Bell a health concern, I suspect Todd Haley has Big Ben chucking the ball around a fair amount.
Derek Carr, QB, Oakland Raiders: I realize not much is expected of this rookie class of quarterbacks, but this kid is pro ready. I'm not buying Matt Schaub as the answer in Oakland, and I'm not buying the Raiders' Over the Hill gang of free agents making them a playoff contender. At some point the best way to save jobs there will be to have this kid starting games for them, and I bet he takes advantage of it.
Zach Ertz, TE, Philadelphia Eagles: Chip Kelly just started to scratch the surface of his offense a year ago and with the ego out of that offense now, and no vocal receivers like DeSean Jackson around, the ball will be spread around plenty. Brent Celek isn't getting any younger and this could be another breakout tight end.
Mohamed Sanu, WR, Cincinnati Bengals: He generated some serious camp buzz and you get the sense Andy Dalton loves throwing to him. Sure, there are a lot of weapons in the Bengals offense already, but Andrew Hawkins is gone from the slot and Sanu is a nice target with great hands.
Emmanuel Sanders, WR, Denver Broncos: Certainly more of a knock commodity than the rest of these guys, from his time in Pittsburgh. But I have a feeling playing with Peyton Manning serves him well. I'm not sure how much Wes Welker has left (especially after his latest concussion) and there are other guys to throw to, but there will be enough throws to go around. When teams key on either Julius Thomas or Demaryius Thomas, Sanders could be the beneficiary in a potentially big way.
Savage left the game before returning after just one series

Quinton Jefferson explains why things got ugly in Jacksonville

The Eagles lose their franchise quarterback with the playoffs just weeks away
The Packers cornerback held Gordon to one catch on Sunday

Colin Kaepernick, Josh Johnson and Matt McGloin are among the bigger names available

The Rams and Titans look good nearly two full seasons after the Jared Goff trade. But who 'won'...