NFL's 10 most interesting: Romo (again!), Manziel to ride roller coaster
When picking the NFL's 10 most interesting players, it's easy to start in Dallas, where Tony Romo produces for a team with leaky defense, and gets blamed for the failures. In Cleveland, Johnny Manziel is starting what looks like a career more about perception than what he can do on the field.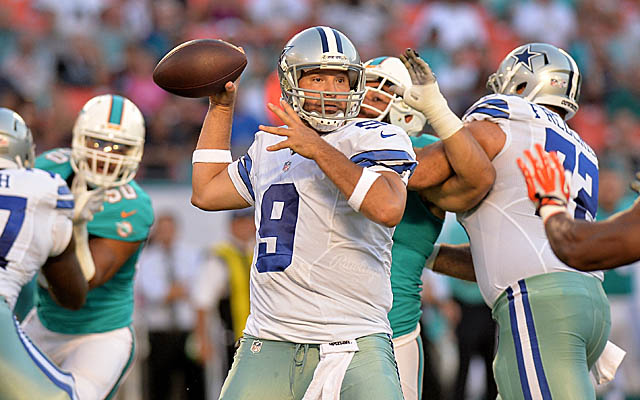 More NFL: Photos Videos & GIFs | Stories | Training Camps | Manziel watch
Every NFL player has an interesting story. Perhaps it's how he got to the NFL, the hurdles they crossed to get to the league. Or maybe it's his public perception, a huge contract or how he influences the success of his club.
As I finished my training camps tour and started compiling this list of the 10 most interesting, I started with 30 players. Here are the 10 I find most interesting in terms of their effect on the league, their team or their public persona.
1. Cowboys QB Tony Romo: Romo puts up winning numbers every year, but his team makes little or no progress. Many fans point at Romo as the cause, but he's the least of Dallas' problems. Stories have surfaced that Jerry Jones was interested in Johnny Manziel which only fuels the fire for Romo. But the reality is the Cowboys' defense is not very good this season, which means this quarterback will probably get way too much of the blame if the team falters.
2. Browns QB Johnny Manziel: This very young rookie hasn't played an NFL regular-season down, and is struggling to beat out journeyman Brian Hoyer as the starter. Manziel's brash and unconventional on the field. He makes questionable to poor decisions on and off it and I could dedicate a week on my radio show to him and there wouldn't be enough time for all the callers joining the show. When the 5-foot-11 gunslinger gets on the field, he better be good.
3. Bengals QB Andy Dalton: He's made the playoffs in all three of his pro seasons, but the Bengals are 0-3. Then the club signed him to a $115M deal this summer. I don't blame the team for giving him a new contract, and he's a pretty good young talent. But people are divided on his ability, and if the Bengals don't win at least one playoff game, Dalton's perception will worsen.
4. Redskins QB Robert Griffin III: He won Rookie of the Year for a dynamic 2012 season, which ended with a knee injury for the athletic signal-caller. What followed was a mediocre second season and the firing of coach Mike Shanahan. Learning a new system under Jay Gruden will take time, with people anticipating the next injury every time he runs. If he gets hurt again, especially if he's scrambling, his perception as a franchise QB likely would change drastically.
5. Lions DT Ndamukong Suh: From the second on an NFL field he was recognized as a ferocious player who physically dominated opponents and struck fear in the hearts of quarterbacks. But his large contract is holding the Lions hostage. To franchise tag him after this season would count close to $30 million against the cap. Even if he has a dominating season, re-signing him could be next to impossible.
6. Colts QB Andrew Luck: The young star is closing in on the time the club will be eligible to negotiate his next deal. At the end of this season, if he stays healthy and continues to become a rising star among quarterbacks, we may see a contract that blows all the other QB deals out of the water.
7. Seahawks WR Percy Harvin: The Seahawks traded away a lot for him, and paid him a boatload of cash. He played one regular season game last season before blowing up in the Super Bowl. This club is building its offense around his skills. If he stays healthy for 16 games he could be the NFL's most-dangerous non-QB.
8. Redskins WR DeSean Jackson: The Eagles cut him loose, believing they can continue winning without him. Nick Foles targeted him close to 100 times last season, so that remains to be seen. Now with the rival Redskins, he has to share targets with Pierre Garcon, who had a league-leading 113 receptions last season. They still only play with one football, so we'll see how that works with Jackson's volatile nature.
9. Patriots QB Tom Brady: He's been to five Super Bowls but neither of the past two, and the years are starting to add up since his last visit. Losses in the past two AFC Championship games have some believing he's on the downside of a Hall of Fame career. I disagree and think the Patriots are ripe to return to the Super Bowl, and Brady is on the verge of a great season.
10. Bears QB Jay Cutler: His career has stabilized under coach Marc Trestman and the numbers are impressive. People read too much into his body language, seeing a guy who looks disconnected from teammates. But he landed a massive contract, and Bears fans want results. Granted, he missed some time in 2013, but another season like that (19 TD touchdown passes, 12 INTs), or more missed games beacause of injury will not help his public perception.
Kaepernick and protests aren't the problem, bad football is the reason ratings, attendance...

The Seahawks' offense is struggling on Sunday

Everything you need to know for Week 7 of the 2017 NFL season is here
The Browns rookie quarterback was staying out late on Friday but doesn't want to talk about...

Is it possible for both Super Bowl teams to have Super Bowl hangovers the following season...

The John Fox offense strikes again