NFL's 10 most intriguing coaches: From unexpected to iconoclastic
Let's put away the groupthink, shall we. Some NFL coaches are much more interesting than they let on. Here are 10 of those, starting with a surprise.
• 3 min read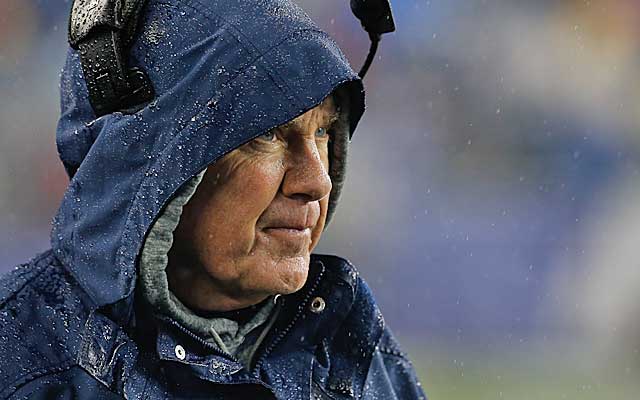 More NFL: Photos |  Videos & GIFs |  Training Camp updates | Manziel watch
My interpretation of interesting might be different than the norm.
I'm not so focused on how great his press conferences are, although in the cases of Rex Ryan and Mike Tomlin, in particular, it helps. It's more a vibe I get from a guy and how smart he is (or in some cases how funny he is) and how engaging he could be should he actually opt to share what really is going on in his head with you.
If you were at a dive bar, that was totally empty, and this dude was next to you and in a chatty mood, how much would you enjoy the evening? And, trust me, even guys like Bill Belichick, who generally cringe at anything having to do with the media, can have a good time and kick it. They're just pretty damn particular about who they kick it with.
Many of them are much, much cooler than advertised.
So with that in mind, here is my take on this incredibly subjective assignment, beginning with what I suppose many would consider a surprise right at the top.
1. Bill Belichick, Patriots: Some might think he's boring and bland given his interaction with the media, but there is a genius tactician and motivator at play, and, as the A Football Life special on Belichick chronicled, many different sides to him most of us will never see. I'm constantly intrigued by what's going on in his head and how and why he pushes buttons the way he does.
2. Rex Ryan, Jets: Keeps me entertained and proved again last year he can coach his ass off too. Can be brutally honest and won't bow to conventional wisdom. And the man can tell a story.
3. Sean Payton, Saints: Another guy I am also wanting to know more about. At the vanguard of offensive football, he was forced into a yearlong sabbatical from the game. Like Belichick has some buddies who are star musicians. Now a CrossFit zealot. There's a lot going on upstairs with this cat.
4. Chip Kelly, Eagles: Another guy we don't know all that much about. Keeps his private life very private. His willingness to stick to his convictions and challenge groupthink never gets old to me. His brain seems to be working faster than almost everyone else.
5. Mike Tomlin, Steelers: When he gets on a rhetorical roll, there is no one better in the business.
6. Pete Carroll, Seahawks: Is he going surfing after practice? Is he hanging out at rock concerts? Nothing would surprise me. Might be the youngest looking 60-year-old on the planet. Kind of think of him as the Joe Maddon of football.
7. John Harbaugh, Ravens: Has that same relentless edge that his brother possesses but finds a way to balance it out in a very different way. Engaging and driven to teach; the product of growing up in a coaching family.
8. Jeff Fisher, Titans: Always enjoy my conversations with him whether they be football or otherwise. Dude climbed mountains during his year away from football. Seems perpetually cool under pressure.
9. John Fox, Broncos: In a maniacally pressured world, always seems to keep things in perspective and not let an all-consuming job consume him. Like Rex, can regale you with a tale or two from his past.
10. Marc Trestman, Bears: I'm drawn to iconoclasts who take the unusual route to get where they are. Was captivated by some of his fourth-down decisions. Willing to take people deep inside his thought process.
Everything you need to know about the Packers-Panthers game on Sunday afternoon

The Lions will be wearing their Color Rush uniforms for the first time on Thursday

The Lions look to maintain playoff positioning while the Bears attempt to play spoiler
The Panthers have hired an outside law firm to conduct the investigation

Here's every official injury designation for each NFL team for Week 15

Bennett was one of the few players who escaped punishment after Sunday's melee in Jacksonv...