NFL's 10 most intriguing coaches: Pettine tops list of rookies to watch
We could call this 'Rookie Watch.' Mike Pettine must control Manziel Mania, Mike Zimmer finally gets a shot and Belichick disciple Bill O'Brien tries his luck.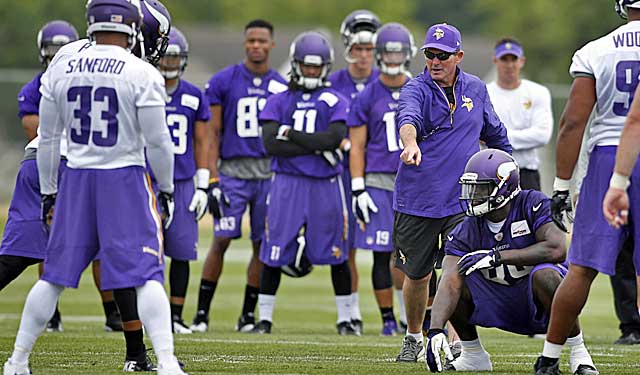 More NFL: Photos |  Videos & GIFs |  Training Camp updates | Manziel watch
As we ready for the 2014 NFL season, here are 10 coaches I find interesting.
This isn't a list of the 10 best coaches, but 10 whom I think bring a lot of intrigue in 2014. New England's Bill Belichick -- the best NFL coach -- isn't on the list, but he could be on it every year. He's that intriguing and successful, but I just decided to use 10 others.
1. Mike Pettine, Browns: He is a former high school coach who has never been a head coach on any level beyond that. Now he's running the Browns. I also love his seemingly say-anything approach, and he is a grinder to the fullest. How he handles Johnny Manziel will be closely watched.
2. Mike Zimmer, Vikings: He waited a long time for his chance, with some saying he didn't have the right demeanor for the job. I never bought it and always thought he would be a heck of a head coach. Now we will find out. One thing I know: Take the over on number of "F-bombs" used per practice.
3. Gus Bradley, Jaguars: He came in last season and helped instill his type of mentality in the locker room with a bunch of young players. But can he carry it over into his second season? I think he can. He has the right makeup for the job -- an energetic, passionate coach who never seems to slow down. And his players love him.
4. Chip Kelly, Eagles: He did an exceptional job last season in his first as an NFL coach, proving his offense could be successful on the highest level. But with teams now having time to dissect it better, what does Kelly do to counter? He's a brilliant offensive mind, which should make his counter moves fun to watch.
5. Mike Smith, Falcons: There is some thought that Smith needs to have a bounce-back season to keep his job. The Falcons failed to make the playoffs for the second time in his tenure last season, and owner Arthur Blank is not a patient man. That probably isn't fair to Smith -- who is 60-36 in his tenure -- but he could be in trouble if his team isn't in the playoffs.
6. Jim Harbaugh, 49ers: Yes, he's had great success. But he hasn't won the big one. Isn't that all that matters? Some have suggested his act will wear thin at some point with his players. Time will tell.
7. Bill O'Brien, Texans: He is one of those Belichick disciples who won't take any crap from his players. He is making the leap from Penn State, where he did a heck of a job, to a franchise that seems to be going the wrong way. Can he turn it around without a quarterback?
8. Jim Caldwell, Lions: He led the Colts to a Super Bowl, but then was fired two years later after going 2-14 without Peyton Manning. Some wondered if he had the right temperament for the job. Now he takes over a Lions in needs of his calm demeanor after the past few seasons of looking out of control. Can he take this talented offensive team and get it to the postseason?
9. Rex Ryan, Jets: He is likely coaching for his job. And Ryan is always entertaining. Is this team ready to make a playoff push? If not, somebody will get a heck of a defensive coordinator next season.
10. Pete Carroll, Seahawks: Coming off a Super Bowl victory, he's now coaching a team with a target on its back. That won't change Carroll, who, like his team, does everything with a swagger. But trying to repeat will challenge even the best coaches.
After an injury to Trevor Siemian, Brock Osweiler entered the game and helped the Broncos to...

The 32-year-old running back is done for the year

Brandon Williams was involved in a scary situation in the first half against Denver
The Broncos are turning back to Osweiler after an injury to Siemian

The Cowboys legend admits he's not on 'great' terms with the Cowboys suspended running bac...

Here's the latest information on injured Steelers linebacker Ryan Shazier