NFL's Most Overrated: 32 teams, 32 players who are good -- not great
What do Russell Wilson, Percy Harvin, Larry Fitzgerald and Dwayne Bowe have in common? They're good, but not great. Here is each team's most overhyped player.
NFL's Most Underrated | Prisco's Top 100
For the past decade, I've been putting together a summer list of the NFL's most overrated and most underrated players. What I've come to notice the past few years is that it's much harder to find overrated players than it was 10 years ago.
The league doesn't allow players to get to that point much anymore. Not with the salary cap and the current system in place, which makes it so much tougher for veterans to hang on when it's a lot cheaper to keep a kid.
The instant era of Twitter, Facebook and knee-jerk reactions now helps to make guys overrated, more so than the hanging on, but it's tougher than it used to be. That's for sure.
The flip side is there are a lot of underrated players, guys who don't get the due they deserve. Normally, these players are younger players on the rise.
My choice for the league's most-overrated player is … Seattle Seahawks quarterback Russell Wilson. Just kidding. But he is his team's most-overrated player. He's good -- not great. People want to make him great. The Seahawks obviously agree since they haven't paid him the big-money deal he so badly wants.
The most overrated player in the league is a former Wilson teammate, Buffalo Bills receiver Percy Harvin. Has anybody done less with more than Harvin? He should be an explosive playmaker flourishing in the prime of his career, but he's on his fourth team for a variety of reasons -- mostly himself -- and he's done little with the amazing skill that he possesses.
Here's the eye-opening stat: He is just 27. Can you believe it? This is a player who should be ready for 90 catches, 1,300 yards and 10 touchdowns each season and he barley has 50 catches total in the last three years combined.
Harvin is the ultimate tease, yet you talk to fans and scouts and they marvel at his ability. What a waste. That's why he is the NFL's most overrated player.
For the most underrated players in the NFL, check out my list here.
Here are the NFL's most overrated, team-by-team:
Wide receiver Larry Fitzgerald: I know age is an issue, and he bounced back to play better last season, but he's much more of a No. 2 receiver now who has slowed down some. Fitzgerald is one of the class acts of the league, but it's hard to argue with putting him here.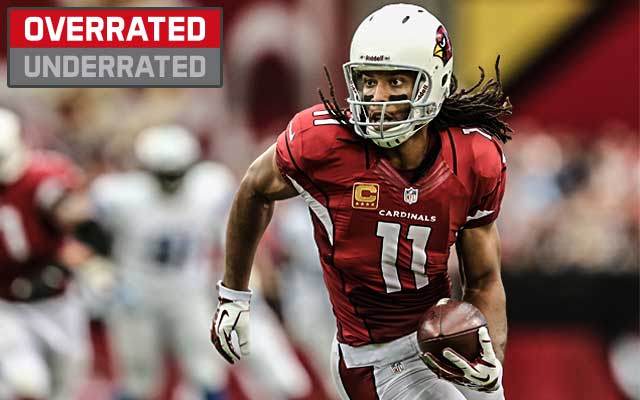 Safety William Moore: He looks the part, but he just doesn't play to the expectations and he has battled some injury issues. He needs to do a better job in coverage. He was a Pro Bowl player a few years ago.
Left tackle Eugene Monroe: He has a big contract, but he didn't play to it last season and he missed time with injuries the past two seasons. He played 11 games last season and the Ravens got by without him, which isn't a good sign.
Buffalo Bills
WR Percy Harvin: We wait and we wait for him to become the player everyone expects. I just don't think he's the receiver that everybody expects him to be. Fast? Yes. But what else does he bring?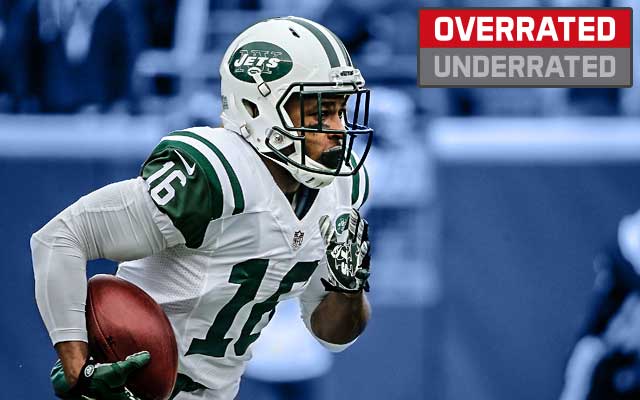 Safety Roman Harper: He's still decent against the run, but he struggles in pass protection. That's not a good thing in a division with Matt Ryan, Drew Brees and now Jameis Winston.
Safety Antrel Rolle: He signed as a free agent after a bad season with the Giants in 2014. Rolle is 32, so age is starting to become a factor. He missed a lot of tackles last season. Even so, he still could be an upgrade in the Bears deep secondary. That's how bad it's been.
Wide receiver A.J Green: I think he's a good receiver who has been great at times, but he sometimes doesn't make the big play in key times, like his fumble in the Pittsburgh game last year and his drop in the playoff loss to the Chargers after the 2013 season. He missed time with injuries last year, which hurt his numbers some, but I just think he should be better. He's damn good, but is he great?
Wide receiver Dwayne Bowe: The game doesn't fit the name. He's never lived up to the expectations of being a first-round pick in Kansas City. He's been decent, but never much more than that.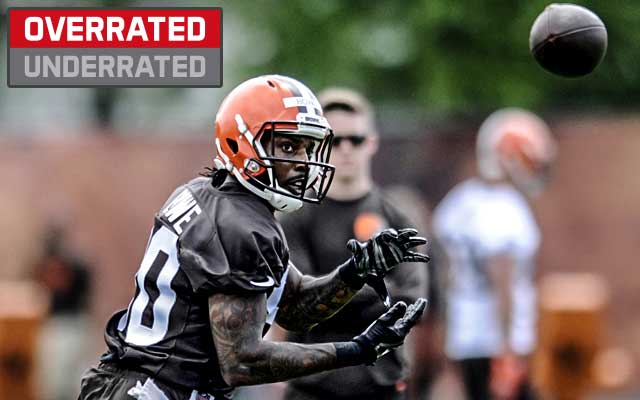 Cornerback Brandon Carr: He really struggled at times last season, and he makes a pretty penny. That's a bad combination. That's why he's on this list. The Cowboys will likely trim his salary before camp.
Safety T.J. Ward: He signed with Denver as a free agent and went to the Pro Bowl. I think he's a good player, but he has some problems in coverage that showed up last season. A few years back, when with Cleveland, he was underrated. Now he might be a tad overrated.
Safety James Ihedigbo: Yes, he made some plays early in the season and he is a nice player near the line of scrimmage. But he isn't great in coverage and he had some problems in that area in key games.
Cornerback Sam Shields: He went to the Pro Bowl last season, and he has some outstanding man-cover skills, but he gets beat too often for a player with a huge contract like Green Bay gave him last season. I think he bounces back some this season, but he was a tad off in 2014.
Inside linebacker Brian Cushing: Injuries have slowed him a bunch in his career but he is a year removed from a major injury so he might be better this season. He wasn't close to being the same player last season he was before his knee injuries. He did have three minor clean up procedures this year already, but nothing major.
Running back Frank Gore: He's had a nice career, but the Colts are asking a lot to expect a 32-year-old running back to have a huge season. The concerning thing for me is yards-per-rush numbers have gone way down from the 4.7 from two years ago. He averaged 4.1 in 2013 and 4.3 last season for the 49ers. He will be far from the savior for their running game.
Guard Zane Beadles: They gave him a big-money deal as a free agent last season and he played poorly for the first half of the season. He did come on late, but rookie A.J. Cann will push him for his job.
Guard Ben Grubbs: He was acquired in a trade from the Saints to improve the inside play. But based on what he did for the Saints last year, they are expecting a lot more. He really struggled in 2014 in front of Drew Brees.
Center Mike Pouncey: It's hard to find an overrated player on this team, but Pouncey gets the nod. He moved to guard last season and struggled, but he's back at his natural position of center. I think he's a good center, but they just gave him a five-year $52-million deal in April. He is not that good.
Wide receiver Cordarrelle Patterson: Look up the word tease and his name would be next to it. This kid has all the tools, but he was benched in 2014, a season many expected to be his breakout year. Now the team has to wonder if the former first-round pick is anything more than a kick returner.
Left tackle Nate Solder: He will be in a contract year, and he needs to play better. At times, he struggled last season with speed rushers. He recovered from testicular cancer last offseason, and said it didn't impact his play, but he needs to step up his game in 2015.
Safety Jairus Byrd: He missed time last season with an injury, but even before he went down he wasn't playing well. Can he bounce back? For the money he's being paid, the Saints better hope he can.
Wide receiver Victor Cruz: He is coming off a major knee injury, but he wasn't putting up big numbers before he went down. One of the things he's had a tough time dealing with in recent years has been the double team. With Odell Beckham around now, he can go back to being a second or third option, which should help. This isn't based on his coming off an injury. It's what he did before he got hurt.
Left tackle D'Brickashaw Ferguson: He isn't close to being the same player he was a few years ago, but his reputation would lead some to believe he is still an upper-echelon tackle. He is not that anymore. He struggled at times in 2014.
Middle linebacker Curtis Lofton: The Raiders gave him a three-year deal that averages $6 million per season. That's a lot of money for a linebacker who struggles in coverage and had his fair share of missed tackles last season for the Saints.
Cornerback Byron Maxwell: I think he's a good No. 2 corner, who is getting paid like a shutdown corner. That's great risk. Too many general managers I've talked to this spring were shocked at what the Eagles paid him as a free agent. He's above average, but not great.
Tight end Heath Miller: It's hard to find an overrated player on this team with so much turnover of the roster. Miller is still a solid player, and he had some decent numbers in 2014, but he isn't the same player he was two years ago. Age is catching up to him some.
Defensive tackle Michael Brockers: This 2012 first round pick hasn't lived up to the expectations inside and was clearly outplayed by 2014 rookie Aaron Donald next to him last season. Nick Fairley was signed to a one-year contract and could take some playing time away from Brockers.
Inside linebacker Donald Butler: What happened to him last season? He didn't come close to looking like the same player he was the year before? Was it the huge contract he signed last year? San Diego drafted Denzel Perryman this year, so they obviously have concerns. He has gone from underrated on this list to overrated in few short years.
Tight end Vernon Davis: He is coming off his worst season, catching 26 passes in an injury-plagued season. He is 31 now, so age is starting to be a concern. In fairness to him, it's not like the 49ers' passing game is all that good.
Seattle Seahawks
Quarterback Russell Wilson: I put him here because I think he's a good quarterback who people think is great. He still isn't great inside the pocket, and eventually he will have to be. You don't get faster as you get older.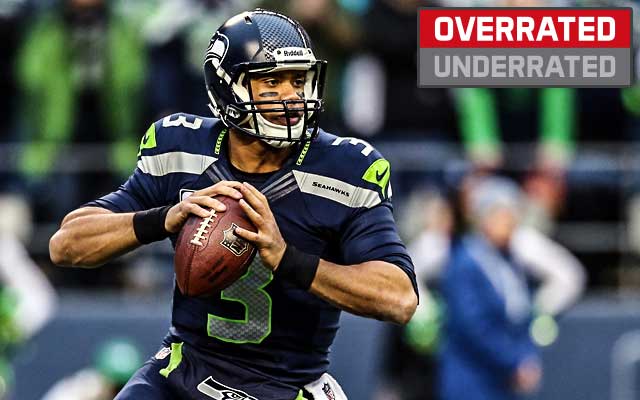 Guard Logan Mankins: It's hard to find a player on this team that fits this category, but Mankins still has the name, even if he doesn't have the same game he once had. Mankins came back this year in great shape, so maybe he's ready to get back to his old form.
Left guard Andy Levitre: When he signed a big deal two years ago, I thought he would be a perfect addition to their line. But he hasn't come close to playing up to that deal. He was once underrated, and now he's on the other side.
Safety Dashon Goldson: If they think he will fix their safety issues, they can forget about it. He's a box safety in a league where coverage is a premium. He failed in his two years in Tampa Bay as a high-priced free agent, so why think he can turn it around?
Pick Six Newsletter
Get the day's big stories + fun stuff you love like mock drafts, picks and power rankings.
Please check the opt-in box to acknowledge that you would like to subscribe.
Thanks for signing up!
Keep an eye on your inbox for the latest sports news.
Sorry!
There was an error processing your subscription.
Three defensive backs have a decent chance to be selected in this year's supplemental draf...

The Titans signed Lewis to be a capable shifty compliment to the bigger Henry

Professional thrower of balls Russell Wilson threw a wild first pitch at Safeco Field
Peterman is in a battle with AJ McCarron and Josh Allen for the Bills' starting job

Manziel's regular-season CFL debut will have to wait a least another week

Luck is still rehabbing from 2017 shoulder surgery