NFL's penalty count up more than 20 percent since 2009
It's time for NFL fans to decide: Are officials having too much of an impact on games?
NFL fields have been littered with a lot of yellow laundry as of late.
Statistics made available at NFLPenalties.com, a database that has logged all types of penalty information since 2009, prove that NFL officials have become more flag-happy over the past eight seasons.
So far this season, an average of 214.8 penalties have been accepted per week. That figure is 20.5 percent higher than it was in 2009, when only 178.2 penalties were accepted per week on average (a difference of 36.6 accepted penalties/week).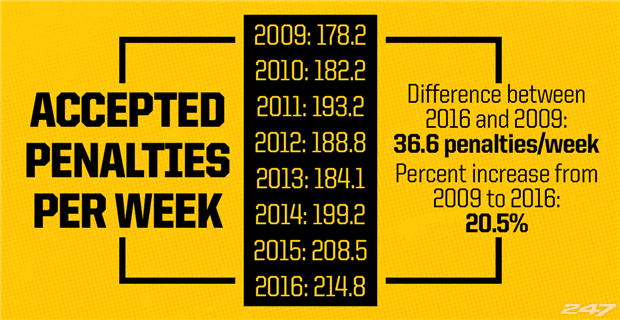 The NFL's accepted penalty count has swelled in wave-like fashion since 2009. The figure rose steadily, first peaking in 2011 with an average of 193.2 accepted penalties. It then dropped two years in a row, before bouncing back higher than ever the past three years.
This figure only represents a fraction of the flags that hit the field each week. NFL teams have accepted an average of 214.8 penalties per week in 2016. Throw in the declined penalties (30.5/week) and offsetting penalties (7/week), and fans are seeing upwards of 250 flags per week in 2016.
Not long ago, 200-penalty weeks were a rarity. Now, It's not unusual to see NFL teams accept over 200 penalties in a single week.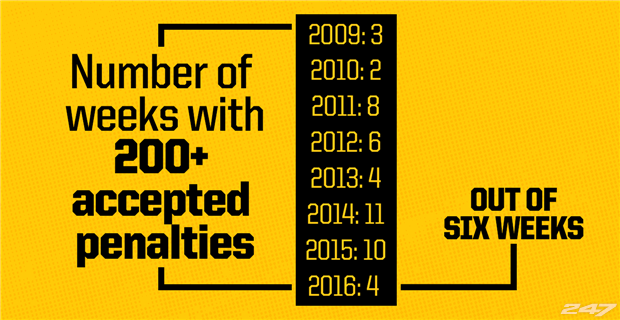 Four of the six weeks so far this season have seen over 200 penalties accepted. As a result, the 2016 season is on pace to become the third straight with at least 10 weeks of 200 accepted penalties. There were no such seasons from 2009-2013.
As evidenced by the graphics above, officiating crews are having a growing impact on NFL games. So who's getting hosed and who's getting a hand from the referees in 2016?
The Philadelphia Eagles are the most penalized team with an average of 9.8 accepted penalties per game. The San Diego Chargers and Indianapolis Colts are tied as the league's two biggest beneficiaries, as they've both accepted an average of 9.0 penalties per game.
Here are the five most penalized infractions in 2016: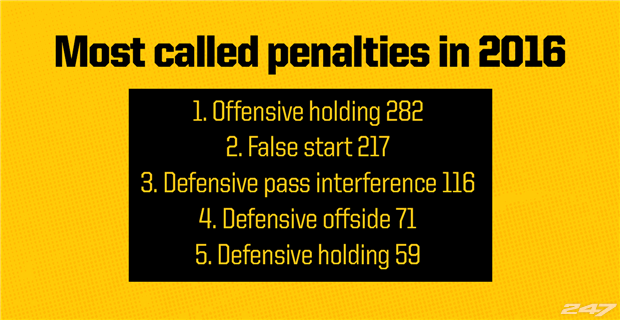 As you can probably guess by examining this graphic, offensive linemen and defensive backs are the two most penalized positions. Consistent with these findings, Cleveland Browns offensive tackle Austin Pasztor and Washington Redskins cornerback Josh Norman are the two most penalized players in the league with seven flags thrown against each of them this season.
The five infractions featured in the graphic above make up 57.8 percent of all the penalties that have been accepted this season. Other notable penalties that often draw the ire of fans — such as unnecessary roughness (58, 4.5%), roughing the passer (31, 2.4%), unsportsmanlike conduct (28, 2.2%) and taunting (14, 1.1%) — haven't been called nearly as much.
Two major changes that occurred around the 2010 season could have something to do with the increase in penalties in recent years. The first was the expansion of protection for "defenseless" players. The second was the repositioning of the umpire from behind the defensive line/linebackers to the offensive backfield, adjacent to the referee.
The protection of "defenseless" players could explain why we saw an increase in penalties in 2010 and 2011. As head-hunting defenders started to figure out what was being called and what wasn't, they started to curb the illegal hits. This would explain the dip in penalties from 2011-2013.
Having two officials behind the line of scrimmage may have something to do with the overall increase in the number of penalties called. It is harder for offensive linemen to get away with holding due to the extra set of eyes back there, and we can see above that offensive holding is the most-called penalty in the game.
Other factors that may have had a marginal impact over the years are the 2012 NFL referee lockout (replacement refs called the first three weeks of the season) and the emphasis on eliminating hits that lead with the crown of the helmet, which began in 2013.
A couple minor changes made in 2016 could have something to do with the spike we've seen in penalties so far this season. All chop blocks were made illegal, and the horse-collar tackle rule was expanded. There has also been an emphasis on curbing unsportsmanlike conduct, which is why we've heard so much about those infractions (and the fines that so often come with them) this year.
Many NFL fans feel as though the game is over-policed, and the statistics highlighted in this article back up that sentiment. If it is any solace for those who are sick of seeing so many flags, the NFL's accepted penalty count is typically higher at the start of the season and tends to taper off as the weeks go on.
The 2016 season, however, is on pace to be the most flag-filled season in recent history. It's up to the fans to decide: Are NFL officials having too much of an impact on the outcome of games?
Everything you need to know about the Packers-Steelers game on Sunday night

The Patriots dynamic duo will be playing on Sunday against the Dolphins

Here's every official injury designation for each NFL team for Week 12
Larry Hartstein is on an 8-2 NFL run and gives his best three-team NFL parlay for Week 12

Plus baby names, kicker issues and other things of interest from NFL on Thanksgiving

It was foretold, and King delivered