No. 6 pick Barkevious Mingo agrees to deal with Browns
Although he will enter training camp as a backup linebacker, Barkevious Mingo will make a reported $16 million from his rookie contract.
• 1 min read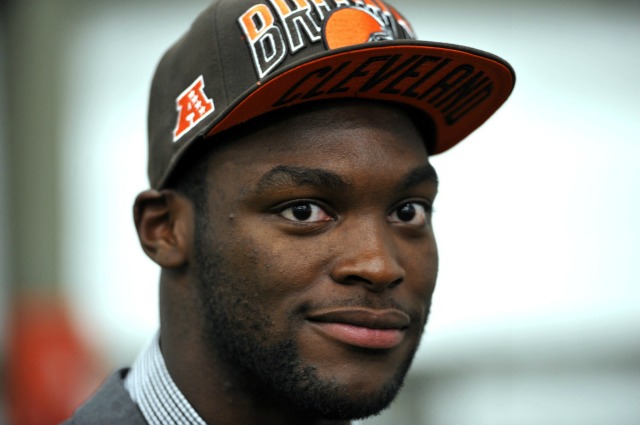 Just like No. 3 pick Dion Jordan and the Dolphins and No. 4 pick Lane Johnson and the Eagles, No. 6 NFL Draft pick Barkevious Mingo and the Browns have agreed to terms on his rookie contract on the weekend before training camp opens.
The team announced the four-year deal Sunday morning, but according to the Cleveland Plain Dealer, the contract actually was finalized about 3 a.m. And, like the Jordan and Johnson deals, the Mingo contract contains offset language that will help the team recover some of its money if it cuts the outside linebacker in the next four years and he signs somewhere else.
In exchange for the offset language, the team agreed to pay Mingo -- who will make about $16 million during the four-year deal -- his $10 million signing bonus by the end of the season instead of deferring it for the next few years.
As the Plain Dealer points out, the No. 2 pick, Jacksonville's Luke Joeckel; the No. 5 pick, Detroit's Ziggy Ansah; and the No. 8 pick, St. Louis' Tavon Austin, do not have offset language in their deals.
"Keke said he wanted to be in on time, so we got the deal done," agent Jeff Guerriero wrote in a text message to the paper. "He will be ready to go at 7 a.m. He's glad to get the contract behind him and ready to work!"
When he enters camp, Mingo won't be an automatic starter. He's stuck behind Jabaal Sheard and Paul Kruger on the depth chart for now, and he'll have some work to do in order to beat out one of those two (Mingo talked before the draft about wanting to play defensive end, but with the Browns 3-4 alignment, that isn't likely to happen now).
"Right now the other two guys are better," outside linebackers coach Brian Baker said during minicamp. "So yeah, whether I'm supposed to say it or not. Every place I've been I've always played the best guys and played those guys in the best positions. So if Barkevious beats one of those guys out, he'll be a starter. Until then, they're the starters."
Richard Sherman doesn't sound like a fan of the NFL's injury report system

Check out the uniforms that Los Angeles and San Francisco will be wearing on 'Thursday Night...

Deshaun Watson is going to try and do something that no rookie QB has ever done
Takk McKinley re-activated his social media accounts because you can only watch so many puppy...

Andy Dalton doesn't seem too concerned about being replaced

The Patriots coach and quarterback quietly donated some serious money to Watt's fund