No matter the reason, Broncos defense is now playing at elite level
Despite a below-average regular season for the Broncos defense, it's played much better recently.
• 3 min read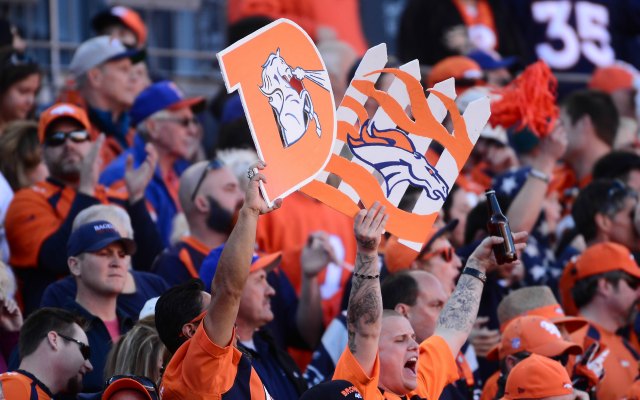 More SB coverage: XLVIII odds | Expert picks | Super Bowl weather | Latest news
NEWARK, N.J. -- Ask just about any Broncos player this question ("So, why is the defense, all of a sudden, playing so much better?"), and the answer they give you is somewhat unsatisfying.
Here's the perfect example from cornerback Champ Bailey:
"I just think guys are more dialed in," he said. "I think we just started taking it a little more serious -- not that we didn't before -- but you can tell the sense of urgency was there from everybody in the locker room."
Or, this cliched response from linebacker Wesley Woodyard:
"We just decided that we had to uplift our team."
OK, none of those quotes really tells us much of anything. The defense decided to play better after a Week 15 seven-point loss to the Chargers, and so, it just started playing better? That's it? That's the reason?
Sounds kind of silly to me, but there's little doubt about the second half of the preceding sentence. Since losing to San Diego, Denver went three-straight games in which it didn't give up more than 260 yards of total offense -- including the postseason win against the Chargers -- and against the Patriots two weeks ago, the Broncos shut down New England's running game and muffled quarterback Tom Brady.
During the season, the Broncos ranked as the 19th-best defense in the league and 22nd in points allowed, but in the past month, they've played an equally important role in the team's success as the offense.
And, well, there might have been some pride involved also.
"We kept hearing our offense is always saving us and that kind of makes you mad," said cornerback Dominique Rodgers-Cromartie. "You have to reevaluate and check yourself. We definitely did that as a defense. We looked at things that were going on, we got some guys healthy and just started to roll."
Make no mistake, the injuries have been a problem for Denver.
Bailey, a 12-time Pro Bowler, has missed much of the year with a foot injury, and toward the end of the season, starting cornerback Chris Harris tore his ACL. Von Miller, one of the best linebackers in the game, played only nine contests (part of that was due to his six-game suspension at the start of the season), while defensive tackle Kevin Vickerson, safety Rahim Moore and defensive end Derek Wolfe also suffered season-ending injuries.
That's why it was so important for players like linebacker Shaun Phillips (a team-high 10 sacks) and linebacker Danny Trevathan (a team-best 129 tackles) to contribute so mightily this season. Oh, and a guy you might know as Pot Roast.
"Terrance [Knighton] really responded at a time when we needed him the most," defensive coordinator Jack Del Rio said. "We lost five or six key guys throughout the course of the year. At the period of time we're talking about, I believe Vickerson had gone down. So, Sly (DT Sylvester Williams) had to play more and with that Terrance… basically it became, 'Look we really need you to step up and not just play well. We need you to step up and lead, help Sly be comfortable next to you, talk with him.' He's really taken that and run with it. He's really embraced the role. He's played well and he's done more things behind the scenes aside from playing well, in terms of leadership and helping Sly, the young D-tackle playing next to him play at a better level."
All that aside, clearly something changed for the team after the Chargers win in Week 15.
"Certainly after that San Diego game, for us it was like 'OK that was a slap in the face.'" Del Rio said. "That's an example of how it can go if you're not on top of every detail. Basically, just challenge the guys, continue to challenge the guys like we had all year, but the urgency of the now, the here we are. ... Kind of laid it out there and said, 'Look this is what we're after. This is where we're headed. This is what we have an opportunity to do, but it's going to take right now, us doing our part.'
"I think the guys bought into that message and we began to really kind of, I would say, focus and click at a higher level. I think it was pretty good throughout the year, but it went to a higher level. The last four games, we've been very good."
Follow Josh Katzowitz on Google+
Also featuring holiday-themed celebrations, a pit crew, the Ickey Shuffle, and some racewa...

The former NFL quarterback sounds like he's ready to move to the front office

Mike Tierney has owned NFL over-unders and just locked in a strong pick for 'Monday Night...
Davante Adams was forced from the game with a concussion after Davis' headshot

The Steelers' wideout was suspended for his hit on the Bengals' linebacker

Plus everything you need to know about the game