Norv Turner on Vikings QBs: 'A really, really good group'
Vikings offensive coordinator Norv Turner seems to really like his quarterbacks.
• 1 min read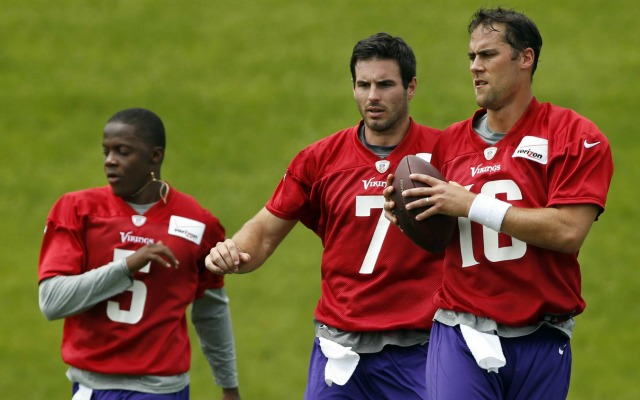 Norv Turner, it seems, liked quarterback Teddy Bridgewater even before his disastrous pro day, and then, after Bridgewater struggled, Turner sought to comfort the man the Vikings eventually would draft with the No. 32 overall pick.
And now that Minnesota's offensive coordinator has had the offseason to watch Bridgewater, along with suspected starter Matt Cassel and previous franchise quarterback Christian Ponder, Turner says he's happy with his quarterbacks room.
"We've got a really, really good group," Turner told KFAN, via NFL.com. "We get between 120 to 140 snaps during a training camp day and that is plenty enough time for all the guys to work a rotation and give them bigger reps and evaluate them. ...
"Ponder, I know people like to beat up on him, but I've been impressed with Christian. With his physical ability and the way he's worked and the progress he's made, he's eliminating a lot of the negative plays."
OK, so apparently, they're all still in the mix to land the No. 1 job, though it's a stretch to suggest Ponder has much of a chance. But it seems that Bridgewater will have an opportunity to catch up to Cassel, who signed a two-year, $10 million deal this offseason.
And while Cassel isn't an electric name, he was the best Minnesota had to offer last year (a low bar, considering the other quarterbacks on the team were Ponder, who had lost his starting job, and a rapidly-declining Josh Freeman). At some point, maybe even in 2014, you have to figure this will be Bridgewater's team.
But it sounds like Cassel is playing well enough to make sure Turner keeps an open mind.
"I think that Matt Cassel has had an outstanding spring and is getting himself ready to really have a good year," Turner said. "And we know Teddy's been really, really impressive and a lot further along than I expected him to be ..."
Nice to know all that Madden work is paying off for Bridgewater after all.
Beast Mode was one of several players to sit during the Raiders-Rams game

The cleaning staff in Houston missed a couple of things while cleaning up after Super Bowl...

Marvin Jones had some serious fun in the end zone after scoring against the Jets
Plus McCaffrey looks awesome, Dak dives right back in and more from Saturday's preseason a...

The second-year quarterback already looks fantastic for the Cowboys

If you're an NFL team and you want Phillip Dorsett, just give the Colts a call