Not at the 2015 NFL Draft? Here's the craziness you're missing in Chicago
The NFL Draft might be the most fan-friendly event in sports.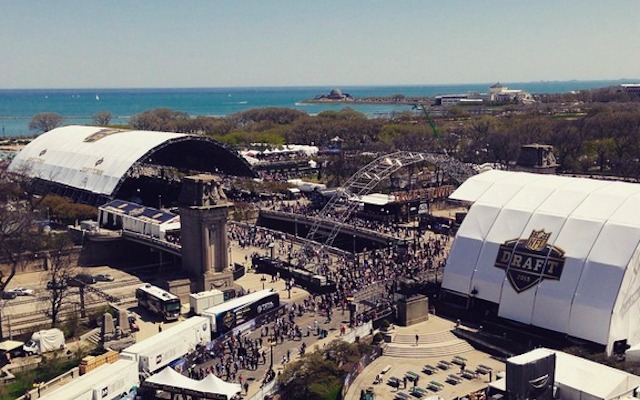 CHICAGO -- Turning the NFL Draft into a three-day festival might end up going down as the best decision the NFL has made since legalizing the forward pass.
To use a baseball term for a football event: The NFL hit a home run by moving the draft to Chicago and holding a free festival for fans. (It's already starting to sound like the league paid me to write this. I swear the league did not pay me to write this.) 
For the three days of the draft, the NFL transformed Chicago's Grant Park into 900,000 square-feet of football fun -- and called it "Draft Town." They also could've called it "Super Awesome Town" because pretty much every fan in attendance seemed to have a good time. Especially the group below. 
This picture pretty much sums up the next three days in Chicago. #NFLDraft @NFLonCBS pic.twitter.com/aGiYqNlTiV

— John Breech (@johnbreech) April 30, 2015
Everyone in Chicago wanted to be part of the NFL's first draft festival, which made for a long line on Day 1 of the event. There, I said something bad about Draft Town. Long lines are bad. See, I told you the NFL didn't pay me to write this. 
I think everyone in Chicago decided to go to Draft Town. This was the line to get in earlier. #NFLDraft https://t.co/xNc5OnrHU6

— John Breech (@johnbreech) April 30, 2015
The wait to get in was worth it though because once you were through the doors, there were cheerleaders -- and you could get your picture taken with them. The Raiders cheerleaders below were in Oakland's team tent.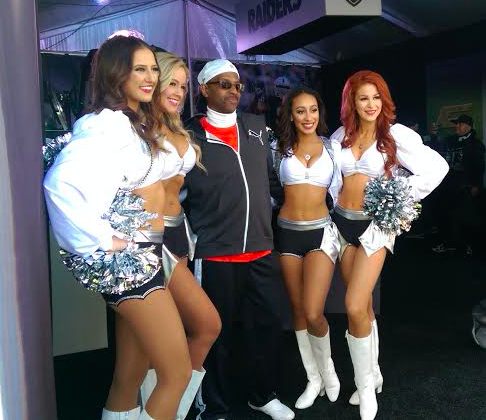 All 32 teams had their own individual tent set up. 
Cowboys tent is set up right next to a bar. Tent people clearly thought this one through. #NFLDraft pic.twitter.com/1Nzn02O4UQ

— John Breech (@johnbreech) April 29, 2015
For people who are afraid of getting their picture taken with cheerleaders, there was another option: Getting your picture taken with a mascot!
#SelectionSquare KC Wolf in the building pic.twitter.com/2QOW0wfle8

— Nicole Feyh (@NicoleFeyh) May 2, 2015
Enjoyed our time at Draft Town and thrilled to get the upgrade to #SelectionSquare pic.twitter.com/QnaF27jyQo

— Gayle Dieck (@gayle321) May 2, 2015
The Bengals, Broncos, Chiefs, Dolphins and Jaguars all had their mascots roaming around the event. The mascots were literally willing to take a picture with anyone -- and I mean anyone, that's the only way to explain Who-Dey taking a picture with this Steelers fan.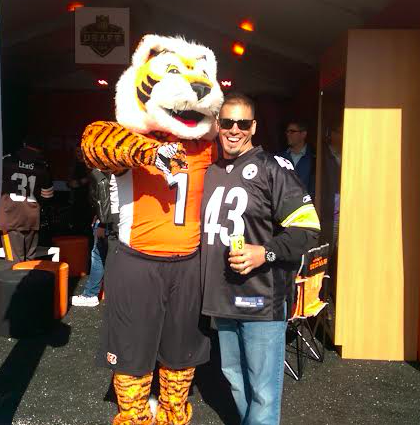 As for the draft itself, fans could actually watch it from Selection Square, which was basically a giant tent set up across the street from Auditorium Theatre, where Rounds 1-3 of the draft took place. 
A lot more #Browns fans here than I thought there would be. Way to rep! #DraftTown #NFLDraft pic.twitter.com/SeuXXfawYb

— Mike Trowbridge (@ExciteM1ke) May 2, 2015
The outdoor square was the hub of the draft on Day 3 and each team had a table set up underneath the giant tent. 
Draft Town, USA. #BroncosDraft http://t.co/E3ISUhG6HS

— #BroncosDraft (@Broncos) April 30, 2015
One of the best parts about Selection Square is that it was easy to stay on top of everything, even at night. Whenever a team was on the clock, their logo was shown on the building across the street from Draft Town.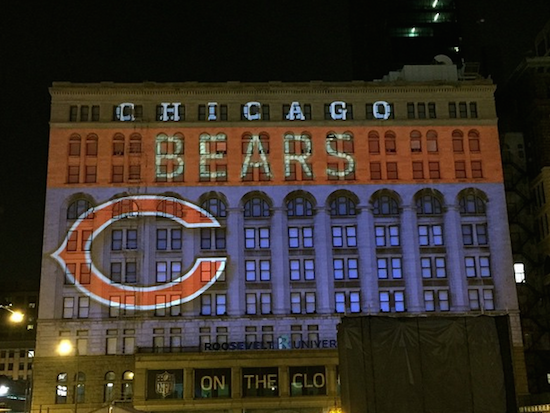 If you still couldn't tell who was on the clock, all you had to do was look at Buckingham Fountain, it was lit up in the team colors of whichever team was on the clock.
The Packers were picking when the picture below was taken. (photo below via Walter Payton's daughter Brittney)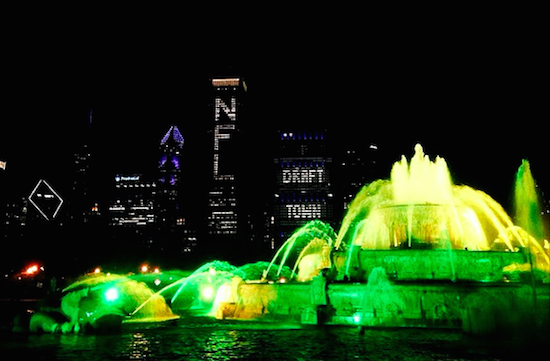 As for things you can actually do in Draft Town?
I don't have any kids, so I can't say this for a fact, but I'm pretty sure their idea of fun isn't standing in front of a stage to watch every pick on a big screen TV -- or taking pictures of fountains. 
Well, the NFL thought of that and there was plenty to do in Draft Town for people who aren't quite old enough to see PG-13 movies.
The Play 60 obstacle course was one of the most popular things to do in Draft Town. I was going to try it, but I don't perform well in public. Lucky for us, this kid does. 
Jumping was also a popular activitiy in draft town. Not only could be people test their vertical, but they could also test the way more important "couch vertical." Let's be honest, a good vertical probably isn't going to get you anywhere in life, but a good couch vertical? That will take you far. 
Another Draft Town event involved placekicking. If the NFL decides to get rid of the extra point anytime soon, they might as well just stop having Draft Town. One of the most popular things to do in Draft Town was kick extra points.
Ironcically, the only thing more popular than kicking extra points was watching people kick extra points. 
If NFL gets rid of extra point, fans might not come to Draft Town next year. Most popular thing to here is watch PATs pic.twitter.com/qn8j0DPtCv

— John Breech (@johnbreech) May 1, 2015
Part of Draft Town was set up to look like the NFL Combine and as most people know, the most exciting part of the combine is the 40-YARD DASH. Well, guess what? There was a place where fans could run the 40-yard dash in Draft Town. 
For Browns fans and Lions fans and other fans who will probably never see their team win a Lombardi Trophy, the NFL brought a trophy to Draft Town so they could see what it looks like. The Trophy below is the one that will be handed out after Super Bowl 50 (including the gold numbers). 
Super Bowl 50 trophy in Chicago. Guessing it won't be back here in February. #NFLDraft pic.twitter.com/qGY8wzmkOy

— John Breech (@johnbreech) April 30, 2015
All 49 Super Bowl rings were also on display in Draft Town. 
All that being said, the best part of Draft Town might be the people watching. Where else can you see Tim Tebow, Peyton Manning and John Elway hanging out with each other. 
Time to close Draft Town. #NFLDraft pic.twitter.com/dWCuMeaXwt

— John Breech (@johnbreech) May 2, 2015
Tebow jerseys were popular.
Since option 1 is out the window for Eagles fans (a Mariota jersey), there's always option 2 http://t.co/G53kbYkdds pic.twitter.com/1DVu2oVhbZ

— John Breech (@johnbreech) May 1, 2015
There was also someone wearing an Aaron Hernandez jersey. I'm guessing they stopped following the NFL in 2012. 
Who are the craziest fans at the NFL Draft? I hunted them down one by one. http://t.co/9tjzrGJ6Nj pic.twitter.com/LWEMMp5w57

— John Breech (@johnbreech) May 2, 2015
If people watching isn't your thing, and you're more of a hands-on person, there were plenty of activities for you. There was one booth where you could help stitch a football and another booth where you could literally build a draft hat from scratch.
Before this week, I had never even made a cake from scratch, now I've made a hat. 
Finally, we should probably end with the most exciting thing in Draft Town: The Sweetness Simulator. The machine is basically a sky diving simulator. Roger Goodell struggled with it on Wednesday, but it appears that the Miami Dolphins mascot has this thing figured out. 
Air TD. #SweetnessSimulator https://t.co/BFJZYZuylM

— Miami Dolphins (@MiamiDolphins) May 2, 2015
Wait, one more thing. Draft Town sells beer. That's only reason I made it through all three days.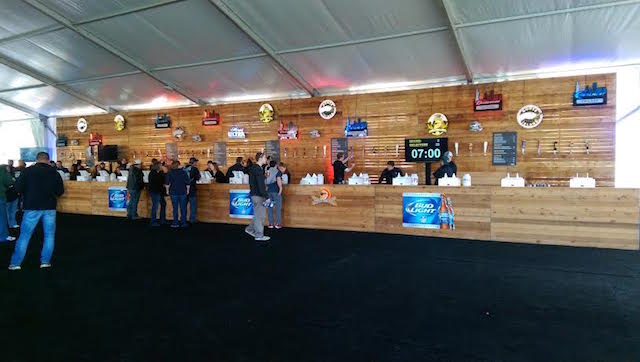 Pick Six Newsletter
Get the day's big stories + fun stuff you love like mock drafts, picks and power rankings.
Please check the opt-in box to acknowledge that you would like to subscribe.
Thanks for signing up!
Keep an eye on your inbox for the latest sports news.
Sorry!
There was an error processing your subscription.
Bills running back Chris Ivory was dragged down by the hair on Sunday, but it was a legal...

The Cardinals' rookie QB endured a nightmare game against the Broncos

The Jaguars' cornerback says there's a double standard in the NFL
Several defensive stars are also on the sidelines in the Week 7 injury reports, while Khalil...

The Raiders can't catch a break

The Browns and Jaguars spiced things up on Friday with a big trade