Notebook: Miller leaks irk union; where have the good WRs gone?
Visiting camps, it's clear that union officials are not at all happy about the leaks in the Von Miller case. Also clear: Pass catchers are at a premium right now.
• 6 min read
Lost amid the back and forth about the particulars of Von Miller's failed drug test and his appeal, and whatever the outcome will be, is the fact that the NFLPA is getting pretty irate about this kind of information leaking out.
I've come across a handful of union officials during my travels and this is becoming an increasing bone of contention for them with the league and something I anticipate will continue to be broached as the final details of HGH testing is ironed out. The NFLPA believes most of this material is leaking from either the teams themselves, or the league office, and ideally would like to see some kind of a system of fines or reprimands of some sort, considering this is all supposed to be confidential.
As for the particulars of the Miller case, the NFLPA is deeply involved in the defense, and feels strongly this result was either diluted or a false positive of some sort. History would dictate the odds are stacked against that being the case, though Seattle's Richard Sherman got a suspension overturned last season. The Broncos have also quietly exuded a confidence that they won't be without their star pass rusher for the first four games of the season as well.
I can't tell you exactly what will happen in that regard, with the appeal process only just beginning, but I do know the fact that Miller's situation is playing out in public has riled up the union hierarchy and I'm sure they're letting the league office know about it.
Good hands? Hard to find
As I make my way across the country, and often have four or five hours to contemplate the state of the NFL in a rental car, something has struck me: Where the hell have all of the pass catchers gone?
Looking at rosters and watching practices and talking to decision-makers from city to city, I found myself leaving a camp time and time again generally underwhelmed by the collection of receivers and tight ends on display. And, time and time again, I had a general manager or scout tell me they can't wait for the first cutdown date so they can bring in some receivers or tight ends from someone else's camp and see if they look any better in their team's uniform.
I guess all things are cyclical, but man, I'm in San Francisco a few weeks back and they're auditioning a half-dozen guys in the return game and taking a chance on Austin Collie. I'm in Baltimore last weekend and the other participant in the Super Bowl is signing Brandon Stokley and Dallas Clark. Kansas City is desperate for more pass catchers. The Patriots don't have a receiver on the roster outside of Danny Amendola and Julian Edelman anyone has ever heard of (and I get it, with Tom Brady, you don't need it). The Jets are praying guys like Braylon Edwards and Kellen Winslow might possibly stay relatively healthy.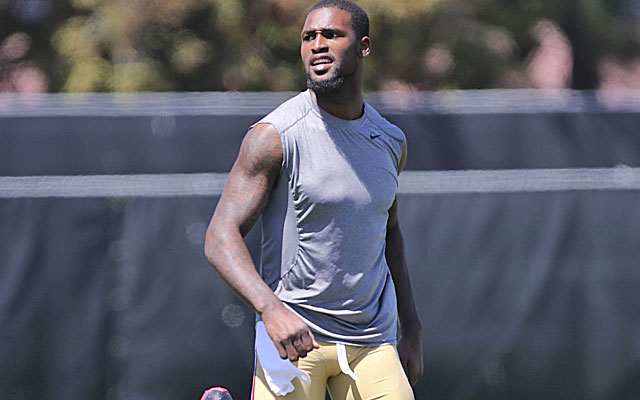 The Raiders and Browns badly need skill players; the Eagles have lost a bunch of pass catchers to ACLs already. The Chargers can't keep any receivers healthy it seems. Even the Seahawks, who seemed overloaded at one point, now are without Percy Harvin -- and Sidney Rice is always an injury risk as well. Ditto for Green Bay, which seemed in great shape at receiver before injuries started mounting. There is going to be real demand for guys at this position, as well as offensive line, once teams start releasing players.
And the rare team that might have a surplus of serviceable receivers, I believe, will be able to get decent value in trade. I could see the Steelers shopping Jerricho Cotchery, for instance, and finding a better market than they may have anticipated. The free-agent market has been picked apart, and there isn't much there. The Bengals, once some of their receivers get over nagging injuries, could be in a position of strength at receiver and tight end as well.
Out route for Jenkins in San Fran?
Given what I just wrote, this may sound counterintuitive, as the 49ers have indeed been on the hunt for wideouts, but I could see 2012 first-round pick A.J. Jenkins getting cut. He has been beyond frustrating from everything I have heard, and this could be a case where the team just takes its losses and moves on.
The 49ers have made plenty of astute personnel decisions in recent years and have drafted very well, but no one is perfect. Cutting Jenkins would send a signal that no one there is entitled, no matter where you were drafted, and Trent Baalke and Jim Harbaugh have never struck me as the overly-sentimental type, anyway.
Orakpo creating buzz at Skins camp
The Redskins aren't in any rush to do a new deal with pass rusher Brian Orakpo, from everything I have heard, and given his injury issues in the past they want to see how this season plays out. And there's always the franchise tag as well.
But the organization has been buzzing about the camp he is having and the kind of season he could be primed to have. In the past, Orakpo rarely had his way with top left tackle Trent Williams in one-on-one drills. Orakpo putting up 12 sacks or more wouldn't shock me, in which case his price will only go up. But I understand the Redskins thinking here, and while he is a core guy, you want it at the right price and you want to see him stay consistent and healthy.
In the past the Redskins tended to overpay in free agency and in valuing their own emerging your talent, and being pragmatic in this case is a good thing. If Orakpo balls out, Dan Snyder will pay him, gladly. That's never been an issue there.
Wallace not worth the dough?
I remain skeptical about the Mike Wallace signing in Miami. With each passing week that $12-million a season seems inflated to me.
Wallace isn't a strong practice performer, he struggled in his contract year and he's just been set with generational wealth. I heard that Dolphins corner Nolan Carroll, not exactly a household name, pretty much had his way with Wallace through OTAs, he's already been nicked up in preseason and he's a guy who shows up in flashes more than on every drive, the way you would expect the fourth-highest paid receiver in the game to do so.
Will be a true difference maker? And can the Dolphins even get him deep on seven-strep drops without a left tackle?
Those are big questions, but I know this much -- Wallace hasn't exactly lit the world on fire since reporting to work as a Miami Dolphin. We'll see how it goes once they start counting in the standings.
Ex-Steelers Colon, Mendenhall latching on
When veterans sign a one-year "prove it" contract with a new team it doesn't tend to work out in their favor. But in the case of two ex-Steelers, I think it very well could.
Willie Colon is thriving with the Jets and could be set up to get a significant deal as a starting tackle in free agency come 2014, should he stay healthy. Of course, if not for the sequence of freak injuries he'd have probably never left Pittsburgh, so admittedly that's a big if.
Cardinals running back Rashard Mendenhall is now more fully recovered from his knee surgery, and he has some weapons around him there in Arizona and he will be highly motivated. He knows Cards coach Bruce Arians from their time together in Pittsburgh, and expect he'll be set up well in free agency come March.
The winner of Sunday's game will he headed for Super Bowl LII

SportsLine's Mike McClure, a DFS pro with more than $1M in winnings, gives optimal lineup...

Super Bowl tattoos are never a good idea until your team has actually won the Super Bowl
A couple of dogs emerge victorious in the Conference Championship round

Our computer model simulated the AFC and NFC title games 10,000 times with surprising resu...

If the past 18 weeks are any indication, Tom Brady could be in trouble Sunday