Notes: MJD's fines halved; no new deal for Wallace
Maurice Jones-Drew's holdout fines will be cut in half, Mike Wallace and Connor Barwin won't be getting new deals any time soon but Joe Flacco could be in business, Joe Banner will soon be joining the Cleveland Browns brass, and Adrian Peterson will get 10-15 carries on Sunday.
• 5 min read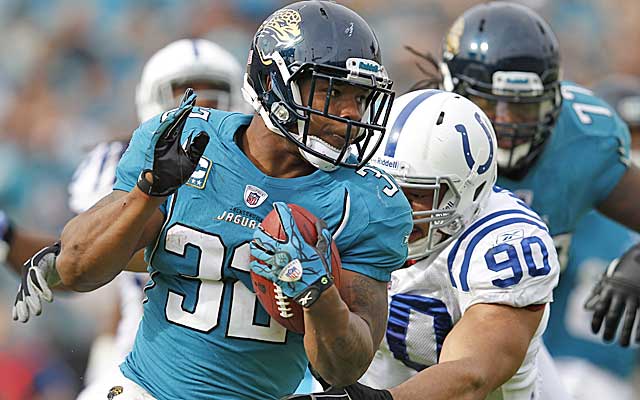 MJD's fines from his holdout will come to about $800K. (Getty Images)
Jacksonville Jaguars running back Maurice Jones-Drew skipped the team's first 38 days of training camp before finally reporting last week, incurring about $1.6M in fines as a result of the holdout. Jones-Drew, set to make $4.45 this season, will end up being docked a little less than $800,000, according to a league source, in an arrangement brokered between the team and agent Adisa Bakari to end the holdout.
The deal was struck before Jones-Drew reported, and there was regular contact between some team officials like general manager Gene Smith and the star running back through his prolonged absence. Jones-Drew, the NFL's leading rusher in 2011, wanted the team to improve on the five-year, $31-million deal he signed in 2009; new owner Shahid Khan did not budge and ultimately maintained high ground in the fine negotiation as well -- often teams waive a greater portion of such fines when star players stay away.
Players under contract are fined $30,000 a day for missing camp under the new collective bargaining agreement, which amounted to $1.14 million in this case. They are also subject to having to forfeit 25 percent of the prorated portion of their signing bonus, which for Jones-Drew is $450,000 of his overall 2011 proration of $1.8 million.Jones-Drew is scheduled to play in Jacksonville's opener against Minnesota, but he is not starting given how long he was away from the team. Rashad Jennings will be with the starters today.
Jones-Drew is in line for third-down work.
No new deals for Wallace or Barwin; Flacco talks stagnant but could be revived
Many teams aim to get their key players extended before the start of Week 1, and some teams, like the Steelers and Texans, have policies in place where they will not negotiate deals during the season. Talks between the Steelers and top receiver Mike Wallace did not develop much after he ended his holdout on Aug. 28, league sources said, so he will not be getting a new deal this season.Wallace will make a salary below $3 million this season and could be franchised next year.
The Texans, meanwhile, were exchanging  proposals with the agent for pass rusher Connor Barwin -- an emerging star coming off a monster season -- for the past few weeks in hopes of getting something done before the season. However, the Texans and agent Scott Smith were not able to come to terms on a deal and neither side will pursue the matter further with games now underway.
Should Barwin put up another season like last year, when he posted 11 1/2 sacks and was one of game's elite pass rushers, his price stands to rise. Houston has a strong track record of not letting its best young players get away, which is good news for both Barwin and Texans fans.Joe Flacco and the Ravens made great progress towards a deal during training camp, according to team and league sources and were on the verge of a deal at one point.
However, they could not bridge the existing gap and the lines of communication have gone dead the past three-plus weeks.

While the gulf between the two sides is not great, philosophically the parties have not been able to bridge it. Flacco is in the final year of his rookie deal, and is content to play it out unless he gets the contract he is looking for, sources said.The Ravens badly want to retain him, and if Flacco has the kind of season many teammates and coaches believe he is primed for, his price will only rise.
The franchise figure for quarterbacks was about $14 million in 2011, and the Ravens have indicated to Flacco that he would be tagged in 2013 short of a deal, and likely in 2014 as well.One phone call might be enough to get it done, but then again, the tenor of the season and how well he plays will also dictate his price. Things have a way of fluctuating once the games begin.
Banner to become Browns top executive next month
Joe Banner, longtime president of the Philadelphia Eagles and a figure keenly responsible for helping them construct a new stadium and reverse their fortunes on the field, will officially join the Cleveland Browns by late October, according to a source familiar with the transition plans of new Browns owner Jimmy Haslam.Banner has been working with Haslam since before his first discussion with Randy Lerner to purchase the team, the source said, and will be the top executive in the organization, beneath only Haslam.
The vote to approve Haslam's purchase of the team will be voted on during the NFL's annual fall meeting in October, and Banner will then assume his new role shortly thereafter.Current team president Mike Holmgren is expected to reach a settlement with the new group at some point to end his tenure there, while the source indicated that Haslam and Banner will take their time evaluating coaches and front office staff, and that major, immediate changes are unlikely beyond Holmgren's ouster. Haslam has been careful not make any moves until after the purchase become official.
The former minority owner of the Steelers is very highly regarded in league circles, and the transfer of ownership will be unanimously approved by the owners, league sources believe.
Peterson in line for 10-15 carries
The Vikings decided to activate Adrian Peterson for the opener despite his relatively recent ACL surgery, but the four-time Pro Bowler will remain on a "pitch count" of sorts, according to a team source.
The Vikings will spell him, try to limit how many carries he takes in a row and are aiming for 10-15 rushes from Peterson.Toby Gerhart will see the bulk of the work, and that rotation is likely to remain in place for the early part of the season, the source said. Peterson is an incredible specimen and fast healer, but the Vikings realize that the first year back from ACL surgery can be challenging for any athlete, much less a running back, and as much as Peterson pushes to take on a normal role, they want to ration him early on.
Check out the uniforms that Kansas City and Oakland will be wearing on Thursday

Cliff Avril's NFL career might be over

Oct. 18 is a very special day in NFL lore
The Falcons should not be making any plans for Minnesota in February

The Colts star quarterback could end up missing the entire 2017 season

Not even two Super Bowl wins is enough to get Eli Manning any respect