Oakland Raiders 2014 NFL offseason preview
The Raiders haven't had a lot of money to spend big in free agency in recent years, but they will in 2014. Oakland is expected to have over $60 million in cap room when free agency begins.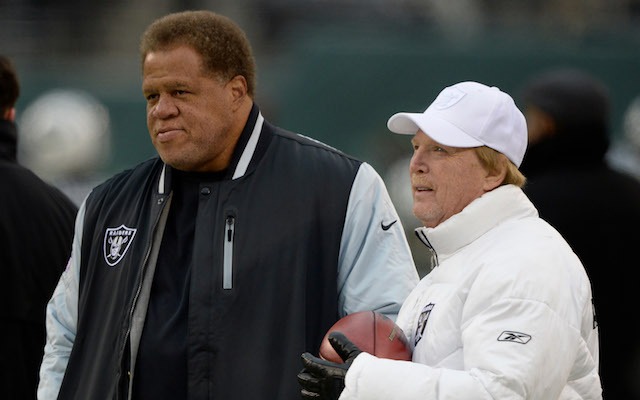 With the 2013 season officially in the books the Eye on Football staff is looking ahead to the offseason for all 32 NFL teams. From now until March 6, we'll put each team under a microscope as the NFL heads into free agency. Up now: The  Oakland Raiders . If you missed an offseason preview, you can catch up here.
The Raiders 2013 season started pretty much the same way every season in Oakland has started for the past 10 years: with a loss. And then things only got worse after that. You know it's bad when your biggest offseason acquisition doesn't even last until Week 6. That would be Matt Flynn . 
Oakland sent a fifth-round pick to Seattle for Flynn, who was cut by mid-October and only ended up starting one game for the Raiders. Did I mention the Raiders guaranteed him $6.5 million for 2013?
This isn't about 2013 though, it's about the 2014 offseason, an offseason where the Raiders are actually set up for success. General manager Reggie McKenzie has been in salary cap hell since his arrival in Oakland two years ago, but that all changes this year. McKenzie and the Raiders will have over $60 million in cap room as the team heads into free agency.  
What went right
Believe it or not, the Raiders actually looked good to start the season. Oakland almost upset Indianapolis and if the Raiders had been able to pull that off, a 4-1 start wouldn't have been out of the question. Instead, the Raiders lost to Indy 21-17. Then Terrelle Pryor was injured two weeks later in Denver, which eventually led to Matt Flynn making his only start in an embarrassing loss to Washington. 
Pryor did return in time to beat the San Diego Chargers in Week 5 and to set the NFL record for longest touchdown run by a quarterback in Week 7. Pryor's 93-yard score played a big part in Oakland's 21-17 upset of Pittsburgh.
The Raiders also got solid production from 2013 sixth-round pick Mychal Rivera , who finished tied for second on the team with four touchdown catches. The emergence of 2013 free agent addition Rashad Jennings was also a boon for the Raiders offense. Defensively, the team will have to make sure they re-sign defensive end Lamarr Houston , who led the Raider defense with six sacks.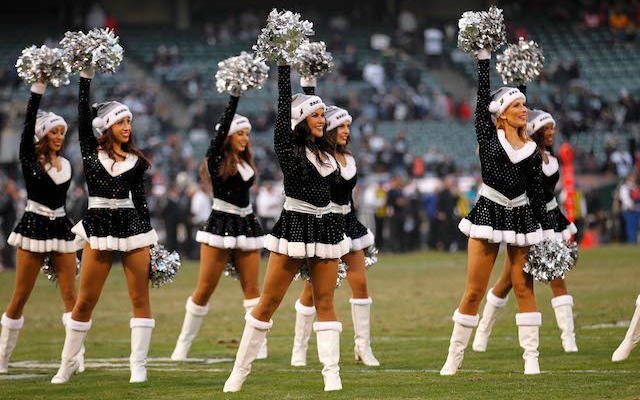 What went wrong
Darren McFadden got hurt (Surprise). The Raiders still don't know who their quarterback of the future is -- it's probably not Terrelle Pryor because Pryor's former agent said Oakland is setting Pryor up to fail. Also, the Raiders most reliable player is their kicker and he had one of the worst seasons of his 14-year career. Oh, and the team is being sued by its cheerleaders. Does that about cover everything that went wrong? 
The Raiders also allowed the most points in franchise history in a 56-31 home loss to the Kansas City Chiefs in Week 15. That may not have even been the worst thing that happened at O.co Coliseum in 2013, that award probably goes to the Raiders defense letting Philadelphia Eagles quarterback Nick Foles tie the NFL single-game record for touchdown passes. Foles threw seven in the Eagles 49-20 win over the Raiders in Week 9.
MVP 
Rashad Jennings. The emergence of Jennings will allow the Raiders to let Darren McFadden go in free agency if that's what the team decides to do. And all indications are that's what the team is going to decide to do. McFadden's injury troubles allowed Jennings to rush for a career-high 733 yards last season. Before 2013, Jennings had never rushed for over 500 yards since joining the NFL in 2008. The dual-threat back also caught 36 passes for 292-yards. 
LVP
Matt Flynn. When you get give up a fifth-round pick for a quarterback and give him $6.5 million, you expect him to do more than start in one game and you definitely don't expect him to get cut midseason. It wasn't Flynn's fault the Raiders went 4-12, but he's easy to blame and he's a microcosm of the team's failures. Another player who struggled was Jacoby Ford . Ford was listed as a healthy inactive for the final two weeks of the season -- which tells you how not highly the coaches thought of him -- it's very unlikely he returns to Oakland next season. Ford's touches have regressed each season since he's been in Oakland. Including kick returns, Ford touched the ball 88 times in 2010, 34 times in 2011 -- when he only played in eight games -- but he only touched the ball 29 times in 2013. 
What's happened since the season ended
Since the Raiders season ended on Dec. 29, two main things have happened: Dennis Allen found out he would be keeping his job and Reggie McKenzie has been talking about the team's future plans with anyone who wants to listen.
Despite two straight 4-12 finishes, owner Mark Davis confirmed in early January that Allen would be back for 2014. As for McKenzie, he said he expects McFadden to test free agency and he said the team is still looking for a franchise quarterback. 
Impending free agents
If you have a Raiders roster handy, you may want to grab it so you can keep track of everyone in Oakland who's about to become a free agent. The Raiders will have a total of 18 unrestricted free agents this offseason and that includes McFadden. It's hard to imagine the Raiders giving any serious thought to re-signing McFadden, who would probably have trouble staying healthy in a flag football league. The 26-year-old running back has been in the NFL for six seasons and has never made it through an entire season. If the Raiders are going to sign one of their free agent running backs, it will most likely be Rashad Jennings.
Oakland does have a few key free agents that it should probably focus on keeping and that list includes: defensive end Lamarr Houston, cornerback Tracy Porter and left tackle Jared Veldheer . If Charles Woodson isn't asking for a ridiculous amount of money, the Raiders should give serious thought to keeping him too. 
Here's the complete list of Oakland's impending free agents: CB Phillip Adams , OT Khalif Barnes , WR Jacoby Ford, C  Andre Gurode , DE Lamarr Houston, DE Jason Hunter , CB Mike Jenkins , RB Rashad Jennings, TE Jeron Mastrud , RB Darren McFadden, DT Daniel Muir , OT Tony Pashos , CB Tracy Porter, DT Pat Sims , OT Jared Veldheer, DT Vance Walker , DB Charles Woodson, S  Usama Young .
Free-agency game plan
After two years of going into free agency with an empty wallet, McKenzie is going to have some money to play around with come March 11. Actually, he's going to have a lot of money to play around with. The Raiders are projected to have over $60 million in cap room this offseason, so if you're a free agent and you have no interest in Oakland, you should probably block the 510 area code now. 
The Raiders need almost everything, so it's hard to say exactly what their game plan will be. Even McKenzie admits his team has more than one need, "Biggest need? We have biggest needs, with an 's,'" McKenzie told the Bay Area News Group in mid-January. "We're going to attack it. I don't care if it's the waiver wire, an unrestricted guy, the trade, the draft, we're going to upgrade this team in any way."
Despite the salary cap restraints last season, McKenzie still did pretty well in free agency last offseason bringing in Rashad Jennings (2013 leading rusher) and Nick Roach (2013 leading tackler). Expect McKenzie to go after at least one big-time free agent and don't be surprised if it's a defensive end like Justin Tuck or Jared Allen . An offensive linemen, running back or wide receiver also wouldn't be a huge surprise. 
The other mystery in Oakland is quarterback. The Raiders definitely could make a play in free agency for someone like Josh Freeman . Josh McCown and Matt Cassel will also be free agents. Oh, and lets not forget about the wild card here: Michael Vick . Vick wants to be a starting quarterback in 2014 and the Raiders need a starting quarterback -- maybe this actually makes sense. 
Draft game plan
The Raiders have so many needs that there's almost no way they could go wrong in the draft, but this is the Raiders we're talking about, so lets not completely rule out the possibility that Oakland goes wrong. With the fifth overall pick in May's NFL Draft, the Raiders have to be thinking quarterback, but that doesn't mean they have to draft one. If Jadeveon Clowney were to fall to No. 5, the Raiders pick would become a no-brainer.  
With all their needs though, the Raiders should have the luxury of taking the best player available whether that's a quarterback or not. Over at NFLDraftScout.com, Rob Rang has the Raiders taking Louisville quarterback Teddy Bridgewater with the fifth overall pick while Dane Brugler has Oakland grabbing Clemson wide receiver Sammy Watkins at No. 5. 
Ridiculously premature prediction for 2014
It's almost impossible to predict what the team is going to look like in September when the 2014 NFL season kicks off. Terrelle Pryor could be the Raiders quarterback or he could not be. Matt McGloin could be leading the team or he could be on the bench. The only thing we know for sure is that Allen will be coaching for his job and McKenzie will be general managing for his. Mark Davis brought the duo back for a third year and with $60 million to spend in free agency, this is a team that should improve. Unfortunately, when you're in a division with three 2013 playoff teams and you have the NFC West on your schedule, improving doesn't get you that far.
Predicted record: 5-11
Elliott will be allowed to play, for now

Mark Lamping wrote a letter to apologize to Jacksonville's director of military affairs ch...

PEN America says the NFL's talks on social activism are a 'constructive' step forward for owners,...
The Steelers quarterback weighs in on the hit that might've ended Rodgers' season

Smith was not pleased with the Steelers safety's hit on him

SportsLine's Mike McClure, a DFS pro with more than $1M in winnings, gives optimal lineup...