Observations: Likely sale of Bills could speed up NFL's race to LA
The likelihood of a Bills sale, and the possibility of a move, should ramp up other teams' interest in being the first to land a new stadium in LA.
• 6 min read
More NFL offseason: Mock Drafts | Prospect Rankings | Pro Days | Top free agents
ORLANDO, Fla. -- I wrote recently about the renewed sense of urgency in regards to the league's move back to Los Angeles, and, in the aftermath of Ralph Wilson's passing and with the future of the Buffalo Bills now a topic of heavy conversation coming out of the just concluded NFL spring meetings, that will only intensify.
I continue to believe the Bills' hold as a regional team, drawing from Western New York and Southern Ontario, keeps them geographically placed in an area the NFL prefers. And there are other, better, options for LA, including teams like St. Louis and San Diego and Oakland that already play in Western divisions. But Wilson's death does cast some uncertainty on precisely what is next for the Bills, and there are some very real issues to overcome in regards to getting an adequate stadium constructed, whether it be in Buffalo or closer to Toronto.
I don't believe that is impossible, however, and there are local, and regional, entities who will pursue the club. The timetable remains unknown, and the possibility remains that the team goes into a trust for a period of time while it is all sorted out. It's also just as likely the team remains in an estate, passed to Wilson's wife, under orders that the club is eventually sold in a timely manner. What is known is that a few names were gathering some momentum already with chatter beginning during the meeting in Orlando. And, trust me, there are no shortage of qualified candidates who are ready and eager to buy into the NFL, with the leagues finances booming and its broadcast and labor situation secure through the rest of this decade. For every name you hear, there are several more lurking.
Buffalo Sabres owner Terry Pegula could be the white knight who keeps the team planted as is. He has a very strong bond and ties to the area and his name was making the rounds among other owners during these meetings as someone who is expected to be a part of this process. Pegula is a multi-billionaire who has found riches in both the natural gas and real estate industries. His stock is rising given that his net worth has escalated in the past year, based primarily on his natural gas company.
The Rogers family, of Rogers Communications, out of Canada, who partnered with the Bills on the now-suspended series of games being played in Toronto, are also viewed as a potential major players in this, and the Jacobs family, who own the Boston Bruins and other companies and are from the Buffalo area, will also have a say in this thing. They are being taken very seriously as viable owners, too.
Maple Leaf Sports and Entertainment, with a possible assist from Jon Bon Jovi, who they have spent considerable time talking it, is another possibility, though their ability to pony up what it will take is of considerable debate and those in the know handicapping this thing in the eary stages have a hard time putting them among the favorites, for what it's worth right now.
There are many more questions than answers right now, but the mere fact that the Bills could be coming up for sale soon should be enough to get teams eyeing that LA market even more serious about making moves in that regard. Couple the Bills situation with the fact the Raiders and Rams are already free agents after the 2014 season, and the prospect of someone finally declaring an intent to be the first team to LA starts to look more and more real.
Nothing has to happen quickly, and probably won't, and the Bills lease secures them to the stadium there for another six years regardless.
Eyes across the pond
One of the topics broached, at least briefly, by the NFL's International Committee (often referred to as the London Committee by team executives, given that much of the work done here is with an eye toward growth in England) was the idea of perhaps looking into the funding of a football-specific stadium in London.
It was stressed to the teams that this is an exploratory idea, in its infancy, but expect more to build on this in years to come. Currently, the league plays regular season games at Wembley Stadium, which was constructed to be the home stadium for England's national soccer team to host matches with other countries, as well as to host soccer events like the FA Cup. It isn't ideal for football and though it would do in a pinch, with the league continuing its study of a possible franchise in London, the idea of a stadium designed with American football in mind is taking foot.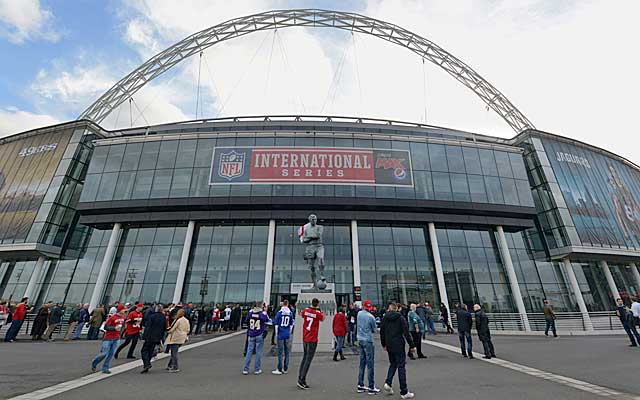 We'll see where that would go, how that would be financed, etc., as only one team would be calling that stadium home if/when Commissioner Goodell achieves his vision of a London franchise. It seems a ways off and perhaps an economic study reveals it to be a non-starter. But it's been broached in concept form at least.
Slow RB market
The league meetings are often a forum for agents with veteran free agents to try to get the attention of teams. The lobby of the league hotel is ripe with such meetings taking place, with the first wave of free agency over and the big money already spent.
Plenty of that action this week had to do with the running back market, for instance, where any real money has been hard to come by. Adisa Bakari, the agent for Maurice Jones-Drew, was chatting up teams, and now Jones-Drew reportedly is set to sign with the Raiders for three years.
Knowshon Moreno's agent, Ben Dogra, was making the rounds at the league meeting as well, and Moreno went to the Dolphins on a cheap deal, as expected.
Those two deals clear up the market for power-back LeGarrette Blount, who is weighing a choice between the Pats and the Steelers.
Extra points
• Vote or no vote, the addition of a playoff game in each conference is being looked at as a done deal. There are some wrinkles to work out with the TV networks, yes, and no doubt the league will want to monetize this change as much as possible, but don't let the lack of action at this meeting fool you. It's coming, perhaps even as soon as 2014.
• Eventually, the NFL is going to move to the NHL model of replay. We saw the first move in that direction at these meetings, and it wont be the last.
• Several GMs were buzzing about the strong presentation Wade Davis presented to clubs about how to work with and support gay athletes in the wake of Michael Sam coming out of the closet. I would not be surprised at all if several clubs reach out directly to Davis to have him address their teams at training camp. Davis is a gay former player who has become very active as an activist and civic leader on this cause. The more time you spend with team decision makers, especially those who are more forward-thinking and less rooted in what was always accepted in the past, the less and less I become convinced Sam's sexuality is going to be an internal issue at all. And I was never convinced it would to any degree in the first place.
You can find every official injury designation for each NFL team shortly after its Friday report...

Everything you need to know for Week 3 of the 2017 NFL season is here

Two NFC East divisional foes face off this weekend in a big battle for both teams
Matt Ryan and Matthew Stafford, two of the NFL's best quarterbacks, face off in a Week 3 m...

Wilfork has always wanted to be a tailgater, and now he finally can be

It's finally time for Russell Wilson and company to pick things up in Tennessee