OC Darrell Bevell: Seahawks will be 'running back by committee' in 2014
Less Beast Mode? Seahawks offensive coordinator Darrell Bevell said on Wednesday that he's planning a 'running back by committee' approach in 2014.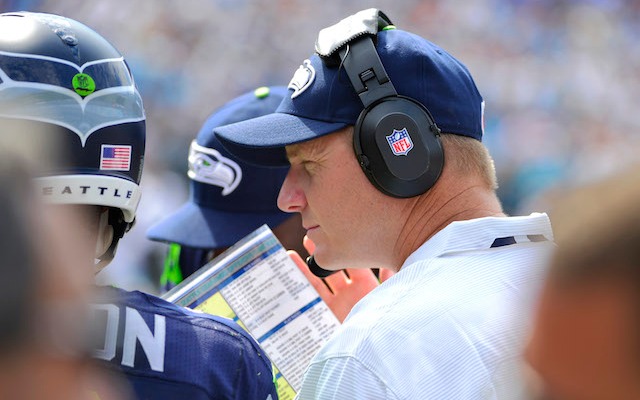 More NFL offseason: League minicamp dates | Latest news, notes
With the emergence of Christine Michael in Seattle, Beast Mode could be going into bench mode for parts of next season. Seahawks offensive coordinator Darrell Bevell said on Wednesday that the current plan for 2014 is for Michael to split carries with Marshawn Lynch. 
"We are going to be running back by committee," Bevell said at a Seahawks town hall event. "We really like what Christine Michael is doing right now."
Michael has dazzled everyone during OTAs, including coach Pete Carroll, who said last week that Michael's an 'explosive talent.'
"We have very high expectations for him. He's going to get a ton of work," Carroll said. "He's just a million miles ahead of where he was in terms of understanding what we want scheme-wise, pass protection-wise, route-wise and we know he's a natural runner. He's got explosive talent and we just want to get him to fit in."
If the Seahawks move forward with their running back by committee plan, the benefit for Lynch would be fresher legs late in the season. Although fantasy owners might not be happy: Lynch was one of only two running backs in the league -- along with LeSean McCoy -- to get over 300 carries last season. 
Lynch likely won't reach the 300-carry mark in 2014 though, mainly because Bevell sounds like someone ready to give some of those carries to Michael. The 2013 second-round pick only carried the ball 18 times last season. 
"He's somebody we're really excited about," Bevell said of Michael. "We really like what he's doing right now with the quickness, the speed and the toughness he's shown. He's making great cuts. He has breakaway speed to finish a run and he has really quick moves in short areas."
The Oklahoma quarterback isn't exactly being discreet about where he wants to begin his NFL...

No one was hurt, but Fournette's Mercedes lost a bumper

It might be time to begin worrying about the Patriots quarterback
The Patriots are still odds-on favorites, but the other teams are closing in

SportsLine tapped into its Vegas sources to see who professional bettors like Sunday

Philadelphia readies itself for a massive celebration if the Eagles advance to the Super B...