Ohio restaurant offering Brandon Weeden burger
Is the Brandon Weeden burger for you? It is if you want your burger toppings picked off in front you.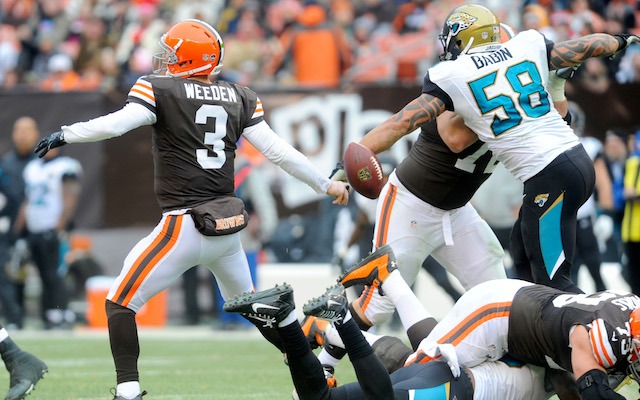 You haven't truly made it as a mediocre quarterback in the NFL until you have a burger named after you. First, there was the Matt Schaub 'Pick-six' burger, an incredible deal at a Houston restaurant where you could pick your six favorite toppings to put on a burger. 
The Schaub burger is old news though, now there's the 'Weeden Burger,' a tasty beef treat that will be offered by Briquettes Smokehouse in Ohio on Sunday. Here's a description of the burger from the restaurant's Facebook page: 
The Weeden Burger -- A tender all beef patty, cooked perfectly, and smothered in toppings which we systematically pick off right before your eyes while you watch helplessly; all before dropping the burger on the ground right before it is set down in front of you.

The burger is served with a half full glass of beer.
Selling the burger with a half-empty glass of beer would seem to make way more sense. Actually, selling the burger with 26 beers -- that's how many career interceptions Weeden has -- would make the most sense because if you finish all 26 beers, there's a 99 percent chance you won't remember the Browns inevitable loss to the Patriots on Sunday.
The bad news of this deal is that Brandon Weeden might not start on Sunday and if Brandon Weeden's not starting, the burger won't taste as good. That's not actually a fact, that's just what I'm assuming. 
If the Briquettes Smokehouse really wants to sweet up the deal, they should give away a free copy of this guy's Christmas album with every burger sold. 
With their 2017 season basically over, it's time for Redskins fans to turn their attention...

The Eagles quarterback reaffirmed his faith and said he plans on coming back stronger than...

The Buccaneers are 4-9 and firmly out of the playoff mix, and now their best player is hur...
It might be time for Johnny Football to head to the Great White North

Rodgers has been out with a broken collarbone since Week 6

Mariota and left tackle Taylor Lewan both escaped serious injuries