Oprah Winfrey Network to produce Michael Sam documentary
For as much exposure as Michael Sam will receive in the preseason, Oprah Winfrey plans to give him some more.
• 1 min read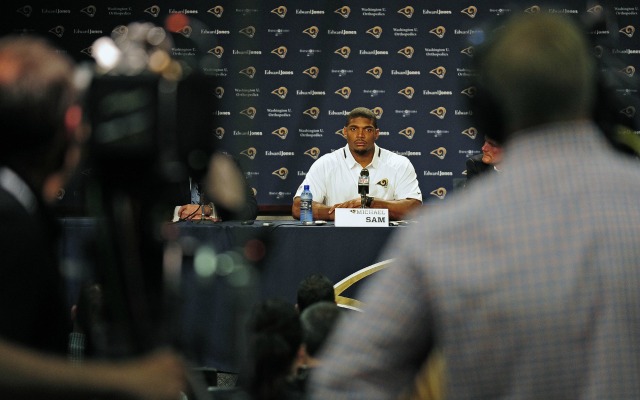 More Draft coverage: 2015 Mock Drafts | 2015 Top 100 | 2014 Draft Grades | News
After the Rams made history by selecting defensive end Michael Sam in the seventh round of the NFL draft last Saturday, the former Missouri star said he was confident he would make the final St. Louis roster.
Now, we'll get an extra inside look into his life as Sam tries to do so.
The Oprah Winfrey Network (OWN) announced Wednesday that it would create a multi-part documentary series on Sam and "his historic journey as he prepares to enter the biggest professional sports league in America." It's an untitled project, but the network is working with Emmy-winning producer Craig Piligian and Emmy-nominated filmmaker Amy Rice.
In the news release, OWN says its cameras will follow Sam, but it's unclear how much locker room/practice field access the network will get from the NFL.
"We are honored that Michael is trusting us with his private journey in this moment that has not only made history but will shape it forever," Winfrey said in a statement. "I am proud of the focus on authentic storytelling in our new documentary series format. The next real-life story we follow in 'The Untitled Michael Sam Project' promises to spark valuable, important discussion on life in America today. Acceptance and illumination start here."  
Said Sam in that same statement: "Like every player out there working to make a team right now, my focus is on playing football to the very best of my ability. I am determined. And if seeing my story helps somebody else accept who they are and to go for their dreams too, that's great. I am thankful to Oprah for her support and excited to work together."
The Browns protested the anthem on national television

Beckham was taken to the locker room to be checked for a concussion before heading for X-rays...

Jabrill Peppers also impresses with two nice punt returns and some solid defense
The president has something in common with Vladimir Putin

The Seahawks are trying to beef up their offensive line with George Fant out

Tom Brady had an interesting Sunday