Other Hobbies: At one time, Sid Gillman was an actor
In between jobs, Sid Gillman once found job on the long-running TV show, 'The Rifleman.'
• 2 min read
NFL players aren't simply men who play football for mercenary wages and who satisfy the lust of those who hunger to watch modern-day gladiators beat each other into oblivion for the purposes of determining a winner and a loser. No! They're real-live people as well. They run restaurants, they own record labels, they play the guitar. In this occasional series of "Other Hobbies," we'll show you a slice of life of the man inside the helmet who smashes said helmet into somebody else's helmet, who also probably has other hobbies you might not know about and would find fascinating if only they shared their gift with the world or at least made a YouTube video about it.
Forgive me if I write about Sid Gillman too much, but I penned a book on the greatest football coach ever to fall through the cracks of history and he's a great character for a story.
But here's something you probably don't know about Gillman (unless you, ahem, have read the book, and if you didn't, well, you can rectify that mistake by clicking here). When he was in between jobs -- after he had been fired by the NFL's LA Rams in 1959 and before he took the LA Chargers job of the newfangled AFL in 1960 -- Gillman got into acting. Or as Jon Lovitz would say, ACTING!
The photo below was a publicity still for the Rifleman, a long-running TV show with Chuck Connors which allowed Gillman to stretch his acting chops.
Behold, Sid Gillman, still wearing his trademark bowtie, as a cowboy named Ben Tooker (courtesy of riflemanconnors.com):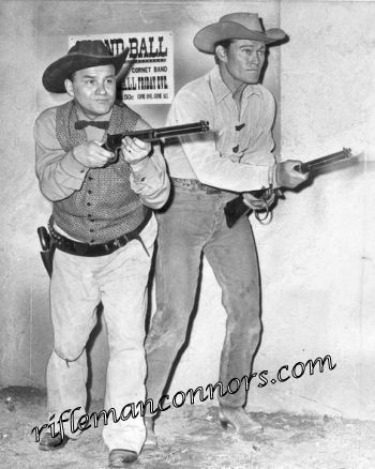 As the website points out, Gillman, in this episode, "was the man in the beginning of the episode who told Micah and Lucas that somebody had broke[n] into Hattie's store and that they had trapped him on the inside."
Here's what Gillman later said about his acting gig:  "I can't ride. I can't shoot. I can't act, and I'm not very pretty. The script-writer really faces a problem when it comes to figuring out my role."
Luckily, for football fans and the world of televised drama, Gillman was back on the football field soon after. But in reality, Ben Tooker and his bowtie will live on forever.
The Rams have a 10-day break before heading to Dallas to play the Cowboys in Week 4

Watkins and Austin left the Rams' victory over the 49ers with head injuries

One of the best run defenders in the NFL is out for Baltimore
Pete Prisco shares 10 interesting things to watch in Week 3 of the NFL season

Mike McClure, a DFS pro with more than $1M in winnings, gives optimal DraftKings and FanDuel...

Everything you need to know for Week 3 of the 2017 NFL season is here