Over/under: Looking at 20 NFL players' statistical projections
Prisco: Our fantasy football experts tirelessly update their stat projections. Pete Prisco singles out a few predictions he disagrees with and explains why.
More NFL: Photos Videos & GIFs | Stories | Training Camps | Manziel watch
Our Fantasy guys here at CBSSports.com go a great job of projecting stats to give you an idea of how to run your drafts.
I love all the work they put into it. It's time-consuming, but it's done with you guys in mind, a way to give you a starting point when you gather to pick your teams.
But just to balance their numbers out, I was asked to look over their projections and find some numbers that I thought were either too high or too low. So I picked 20 players and 20 stats I disagree with, and I'll explain my reasoning for each player.
So print and save and see how I do. I might just help you win your fantasy league.
Green Bay Packers QB Aaron Rodgers | Projection: 37 TD passes
I predict: He gets to at least 40 and could top the 45 he threw in 2011. He has a lot of weapons outside and the threat of Eddie Lacy will open up those downfield play-action shots. After the injury of 2013, he will come back in a big way this season, and the TD passes will go up.
Seattle Seahawks QB Russell Wilson | Projection: 430.5 rushing yards
I predict: That number is lower. I think as Wilson matures and grows in the pocket, his rushing numbers will go down. Even when he's outside of it, he will be better keeping his head up and making throws. That yardage number is way too high.
San Francisco 49ers QB Colin Kaepernick | Projection: 27 TD passes
I predict: I just don't see it. He threw 21 last season, but that's a big jump to 27. He would have to show me a lot more from inside the pocket for that to be a reality.
Tampa Bay Buccaneers RB Doug Martin | Projection: 1,212.5 rushing yards
I predict: I initially put him on this list thinking he wouldn't get to that number. But with the injury to Charles Sims , I think he will now. Sims, who is out 12 weeks or so after breaking his ankle, was the talk of camp. He was going to get carries. Now it's all Martin, which is why that rushing total might be low.
New England Patriots RB James White | Projection: 462.5 yards rushing
I predict: This fourth-round pick from Wisconsin has really impressed in camp. He should take away carries from Stevan Ridley . He can also be effective in the passing game. I think he gets to 700 yards rushing as a rookie.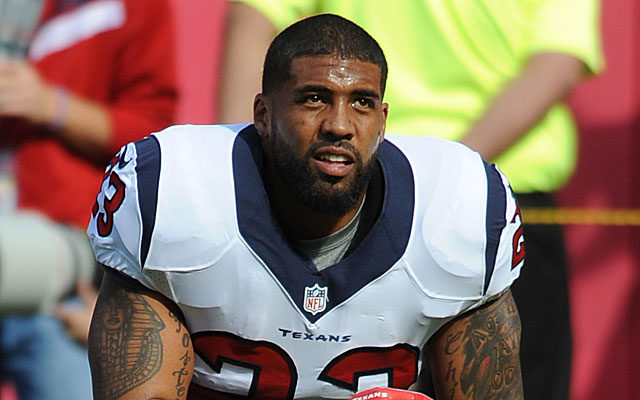 Houston Texans RB Arian Foster | Projection: 1,136.5 rushing yards
I predict: No way. He is breaking down as a back and the Texans have some younger backs -- Alfred Blue -- who they like a lot. In this system, Foster might not have the same type of success either. And the passing game won't be good. Add it all up, and his numbers won't be that good.
Arizona Cardinals RB Andre Ellington | Projection: 985 rushing yards
I predict: That he will get at least 1,200 yards. I know he will be used in the passing game a lot, but he's going to be the primary runner. I think that will lead to a lot of big plays in the running game.
San Diego Chargers TE Ladarius Green | Projection: 47.5 receptions
I predict: He will go way over that. Why? By midseason, he will be the team's top tight end. All those catches predicted to go to Antonio Gates will go to Green. He is a dangerous down-the-field threat.
Atlanta Falcons WR Julio Jones | Projection: 10.5 TD catches
I predict: That number will be more in the 15 range. Jones is one of the best receivers in the game, and means so much to the deep passing game of the Falcons. He was on pace for a huge season before he got hurt in 2013. I think he will bounce back and put up bigger numbers than expected. Touchdown catches is one of them.
Cardinals WR Michael Floyd | Projection: Seven TD catches
I predict: That is way too low. Floyd is the go-to guy in Arizona now. He is their No. 1, not Larry Fitzgerald . I think he catches 85 passes and has 12 touchdown catches. Watching him in camp, he's so much more refined as a route runner. And he's faster after losing some weight.
New Orleans Saints WR Kenny Stills | Projection: 44 catches
I predict: That is way too low. He is in his second season after averaging 20 yards per catch as a rookie. He will understand coverage more, and that will make him a better overall receiver, not just a deep threat. I know the Saints are excited about rookie Brandin Cooks , but Stills will get 65 catches. Watch.
St. Louis Rams WR Kenny Britt | Projection: 4.5 TD catches
I predict: I see a lot more. Britt, who has had issues in his career with the Tennessee Titans , seems to have been re-born with the Rams. He always had the talent. It was just a matter of playing up to it. I say he ends up with 10 touchdown catches.
Indianapolis Colts TE Dwayne Allen | Projection: 46 catches
I predict: I see 65 for him -- at least. The Colts were counting on him for big things before he went down last preseason and missed the entire season. He isn't a speed guy, but he knows how to get open. And he's tough.
Bucs TE Austin Seferian-Jenkins | Projection: 30 catches
I predict: That's way too low. Even on a team with Vincent Jackson and Mike Evans outside, I think this rookie will get to 50 catches. The coaches were raving about him when I was there. He is big and can move.
Miami Dolphins WR Mike Wallace | Projection: 5.5 TD catches
I predict: He gets closer to 10. He has been with quarterback Ryan Tannehill for a year now and that will help. Plus, I think Miami will make getting big shots down the field a priority of the offense and Tannehill will be better with the deep passes.
Jacksonville Jaguars QB Blake Bortles | Projection: Nine TD passes
I predict: He doubles that. I know the supposed plan is for him to sit, but I just don't see it. He will play early, and while he will make his mistakes he will also make plays -- including throwing touchdown passes.
Seahawks RB Marshawn Lynch | Projection: 1,198 rushing yards
I predict: He gets right to about 1,000, and that's it. Why? I think he's slowing down for one. I also think they will take carries away from him this season and give them to the younger backs.
New York Giants RB Rashad Jennings | Projection: 937 rushing yards
I predict: That's too low. I think he will get more than the 215 carries he's projected to get, which will help up his total. He is their starter and it makes sense for him to get closer to 275 carries.
Philadelphia Eagles QB Nick Foles | Projection: 4,512 passing yards
I predict: Can we slow down on him some? Yes, he had a good season in 2013. And Chip Kelly's offense was impressive. But can he do it again? Even if he plays well, I think that total is high by about 500 yards.
Cincinnati Bengals RB BenJarvus Green-Ellis | Projection: 301 rushing yards
I predict: I think that's high because I am not sure he's even going to make the team. With Giovani Bernard and Jeremy Hill locks in front of him, he will have to beat out Rex Burkhead , who the Bengals really like.
The Raiders beat the Chiefs, 31-30, on Thursday night thanks to Derek Carr's heroics

This was easily the most exciting final 10 seconds of any game in the NFL this season

Everything going the Chiefs way on Thursday Night Football
Beast Mode went Beast Mode on someone he shouldn't have gone Beast Mode on

This is how you do a 99-yard touchdown drive

This may or may not have been pass interference