Owner's meeting musings: Do Bengals pay up for Andy Dalton?
Marvin Lewis vigorously defends Andy Dalton. The QB is good but isn't in the top 10, but then again neither is Russell Wilson.
More NFL offseason: Mock Drafts | Prospect Rankings | Pro Days | Top free agents
ORLANDO -- Marvin Lewis has always been known for defending other quarterbacks, but Tuesday morning he took to defending his own quarterback.
At the AFC coaches breakfast here at the NFL's annual meeting, Lewis seemed a bit agitated by the idea that Andy Dalton isn't good enough.
Dalton, who has taken the Bengals to three consecutive playoff appearances in his first three seasons, takes a constant beating from media and fans because he hasn't won any of those playoff games.
"He's done what most people haven't ever done," Lewis said. "He's taken a team to the playoffs three years in a row from a rookie on. He continues to ascend and get better."
I told Lewis that he seemed defensive about those questioning Dalton.
"I'm tired of answering questions about Andy that don't make any sense," Lewis said. "Andy has done a fine job for us. We all want to be better. Once he does that, all the rest will go away. He's being compared with Drew Brees. He's being compared with (Aaron) Rodgers, guys that didn't get the chance to play until later on. They sat and watched. We had to throw Andy right in right away and I think he's done a really good job and will continue to get better. Until he proves he won't.
"He's done for the most part what we've asked the quarterback to do and that's take care of the offense. We put a lot on our quarterback and take care of the ball. We are only as good as our last time out when we lost that game so everybody feels that way right now, unfortunately."
Dalton threw for 4,293 yards and 33 touchdown passes, the TD total being the third best in the league. But he also threw 20 interceptions and threw two more picks and lost a fumble in the playoff loss to the San Diego Chargers.
In three seasons, Dalton has thrown 80 touchdown passes, but he's been mistake prone at times and the playoff failures have some wondering if he's the guy for the long term.
I still think he can be a Super Bowl quarterback with more help and better playcalling. New offensive coordinator Hue Jackson, who takes over for Jay Gruden, should help Dalton improve. The word is Jackson will jump Dalton for mistakes quicker than Gruden would.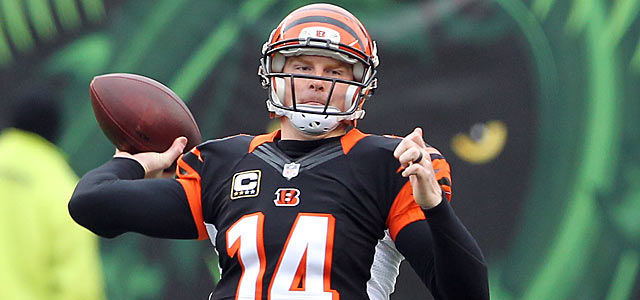 The Bengals face a tough negotiation as Dalton enters the final year of his contract. Do they pay him $15-$16 million a year? Or do they wait and let it play out. Lewis, for one, would like to see a deal get done before the season.
"We are hopeful we can get a deal done that works and Andy can put it behind him," Lewis said. "He can get back focusing on football. He doesn't have to go into the season and worry about this contract thing. Every week someone is going to ask he a question and then it gets to there and then are you franchising ... all those things that come into play later on. Let's get it behind us. Let's get something that works for everyone and enables us to keep tackles in front of you, receivers on the outside, and guys on the other side of the football so it works for everybody."
Dalton isn't a top­ 10 quarterback. But neither was the guy who won the Super Bowl last January. Dalton also isn't nearly as bad as many would make you think, which is why Lewis took up for him Tuesday.
More from Orlando
• That quarterback who won the Super Bowl -- Russell Wilson -- was the topic of a conversation I had with Seahawks general manager John Schneider on Monday night. I congratulated Schneider on doing a great job building a roster to win the Super Bowl, even mocking my own bad grades that I gave his drafts over the years. But I also said I am not totally sold on Wilson. Schneider just laughed. And I get it. I think Wilson is a good player. Yes, he has been good in the postseason at times, but I need to see more. He's great outside the pocket, one of the best, but he isn't that good inside of it. Can he get better? Of course. Is he a hard worker? Yes. Does that mean it's a given that he will be a franchise quarterback? No. That's why I said what I did.
I am not alone in that thinking. Several personnel people I talked to in the past couple of months echoed those same sentiments. Time will tell. Five years from now, Schneider and Seahawks nation will probably be laughing in my face again, but we shall see.
• I like the new rule that the game officials can communicate with the league office in New York on replay matters. Anything to try to get it right is OK by me. The on­-field officials will have the last say, which could be something that is changed down the road.
• After spending some time with former Bills quarterback Jim Kelly last September on the set of Inside the NFL discussing his battle with cancer, it pains me to hear that the cancer has returned. Kelly is a tough guy and will put up a fight. I'm rooting for him.
• So Bill Belichick doesn't want to eliminate the extra point, just make it more competitive. I say just eliminate it. In fact, I wouldn't argue against eliminating all special teams. We keep hearing how the league wants to make the game safer. Eliminating special teams would cut down on injuries.
"Unless the kicker just misses it or gets horrendous protection by the offensive line, it's a non­competitive play," Belichick said. "I don't understand what's so great about that. I'd just like to see it more competitive." I hear ya, Bill. 
• First-year Browns coach Mike Pettine said quarterback is still a top priority for the Browns. "We have Brian Hoyer and Alex Tanney. We feel good about that, but that's the position that needs to be addressed," Pettine said. "But we're not locked into drafting a starter. I don't think you want to force it. If that guy's not there at that pick (No. 4), I don't think you force the issue and say this is the quarterback of the future. So we're doing our homework on all these guys and we're gonna log a lot of miles here in the next couple weeks and hopefully we can find that quarterback that's gonna best serve the Cleveland Browns." It sounds like Hoyer will be the opening ­day starter.
• Draft riser: Virginia Tech corner Kyle Fuller. Several personnel people I talked to here mentioned him as a guy moving up in the first round.
Warren Sapp was one of several players named in a lawsuit against NFL Network

Check out the uniforms that Denver and Indianapolis will be wearing on Thursday

The Cowboys are going to need a few things to go their way to get into the postseason
Rudolph will be put under the microscope in Mobile by clubs looking for a quarterback early...

This fan is taking the Saints to court for using 'football games as a platform for protest...

Can Aaron Rodgers get the Packers to the postseason? Even if they win out, they'll need he...