Owners meetings musings: Pencil Vick in as Jets' starter over Geno
Michael Vick to the Jets says more about Geno Smith's short leash. Also, the Eagles could release DeSean Jackson if there are no trade takers. And there aren't.
More NFL offseason: Mock Drafts | Prospect Rankings | Pro Days | Top free agents
ORLANDO, Fla. -- Michael Vick to the New York Jets says what about the Jets?
To me, it says the team's personnel decision-makers, despite what they might say, aren't convinced that Geno Smith is the answer at quarterback.
They said all the right things about him last season as he struggled as a rookie, but this move -- even for a year -- says there is concern.
The talk is that Vick and Smith will go to camp to compete for the starting job. If Vick wins the job, that's bad for the long-term viability of Smith in New York.
I say Vick wins the job, too.
Vick isn't what he once was, but he's a better option than Smith right now. If he can stay on the field, Vick gives the Jets a better chance to win this season.
Either way, the Jets are paying Vick $5 million for one year. That's not a commitment to him either, but it speaks more about Smith to me -- and others here at the league meetings.
"There is no way they bring in a veteran like that if they thought Geno was the guy," one general manager said. "No way."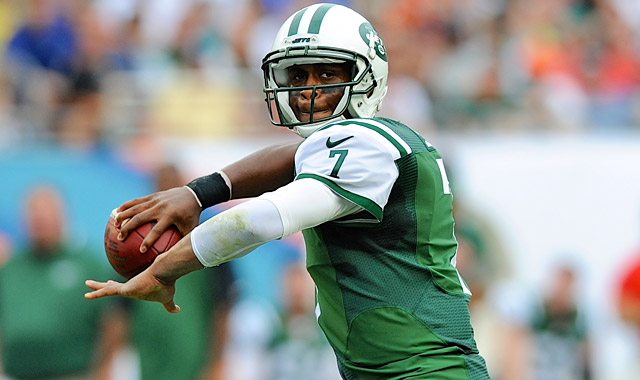 Some wonder if Vick would be a distraction if he doesn't win the job. I doubt it. I think he's past that. But what could happen if Vick doesn't win the job is that Smith could play tight, with a quick-hook possible after mistakes. That's not a good thing.
This will be an interesting dynamic to play out for coach Rex Ryan in what could be his last year with the team.
More owners meetings musings
• I love the idea of putting six permanent cameras in each stadium to help with replay. The owners will vote here whether to put cameras on each goal line, one on each sideline and one on each end line. Anything to help officiating is a good thing.
• Did the Raiders watch Matt Schaub play last year? Or late in 2012? Schaub wasn't very good. And yet Oakland traded to get him and coach Dennis Allen said he would be the starter -- maybe for a few years. Schaub seemed to lose something late in 2012. He didn't play with the same confidence he did in his first several seasons with the Texans. At 32, one has to wonder if he isn't more than just a backup now. I sure hope the Raiders don't think this move precludes them from looking for a franchise passer. Schaub isn't that. And they are paying him $11 million this season. Wow.
• The Eagles clearly want to dump receiver DeSean Jackson. And it has to be more than his salary. He is young, fast and explosive. But the sense I get from talking to people around the league is Jackson is a headache the Eagles are willing to let walk. But the league's personnel people here know that's the case, which is why it's unlikely somebody trades for him. Then the Eagles would be faced with a decision whether to release Jackson. The sense is Chip Kelly is ready to do just that. Jackson as a free agent, without his current contract, will be attractive on the market. Not in any trade -- no matter how many big plays he can bring an offense -- because of his the $10.5 million he's due next season.
• So now Bengals owner Mike Brown is talking about the possibility of building up his roster and maybe not handing Andy Dalton a big deal. That's become chic talk in the league right now after Seattle won a Super Bowl with a low-budget quarterback in Russell Wilson. Maybe Dalton isn't worth a mega-deal -- that decision will be based on his play in 2014 -- but the build-the-roster-in-lieu-of-the-quarterback talk is absurd. This is a quarterback league. The teams with staying power have franchise passers. The aberration seasons happen now and then -- with great, great defenses, mind you -- but they are rare.
• Devin Hester isn't the return man he once was, and I probably wouldn't have signed him to a three-year deal, but the Falcons are desperate to amp up their return game. Hester on the Georgia Dome track could be explosive. But, remember, he isn't a kid anymore.
• So the Panthers added Tiquan Underwood and Jerricho Cotchery to play receiver I ask this seriously: How much worse than Brandon LaFell are they? Not much. LaFell is just a guy. Sorry, Patriots.
• I like the move by the Steelers to sign Lance Moore to a two-year deal to play in the slot. Moore's production dropped last season with the Saints, but he still can help the Steelers offense for a couple of seasons. But Moore is 5-foot-10 and Antonio Brown also is shorter than 6-feet. The Steelers need to get a bigger receiver.
• I like the Cowboys signing Henry Melton, but he didn't play that well before going down because of a knee injury last season. He wasn't the same player he was in 2012. Melton really was handled in the opener against the Bengals. Even so, I like this move. "Melton didn't play well before his injury," one personnel man said here. That's being kind. Melton was pushed around.
• The Ravens knew they had to upgrade at center and they feel like they've done so by acquiring Jeremy Zuttah from Tampa Bay. Gino Gradkowski clearly struggled in the middle for the Ravens last season. Zuttah is solid, but he isn't special. The Bucs added a fifth-round pick for Zuttah.
• Even though defense won the Super Bowl when the Seahawks beat the Broncos, there were 46.82 points per game scored last season, an all-time high. The NFL record for yards per game was also set with 697 total yards. So let's slow down on the talk that defense is taking over the NFL.
• The draft prospect getting more and more buzz is Buffalo outside linebacker Khalil Mack. Could he go first to the Texans?
• So Patriots owner Bob Kraft wants to keep nose tackle Vince Wilfork. If that's the case, make it happen. You are the owner, after all. Wilfork wants to be released because the Patriots want to decrease his salary. So if Kraft really wants Wilfork to stay, don't cut his salary. Pretty simple.
• I was high on Raiders tackle Menelik Watson when he was drafted by the Raiders from Florida State last year. The Raiders must still be high on him after a so-so rookie season marred by injury. Watson is penciled in to be the right tackle with Austin Howard, who was signed as a free agent, set to play guard. Donald Penn, released by Tampa Bay, will be the left tackle. Watson has great athletic ability, which is why I think he eventually could be a good left tackle.
• It's strange not seeing Broncos owner Pat Bowlen at these meetings. Bowlen, 70, is back home in Hawaii. Bowlen has moved away some from the day-to-day operations of owning the team.
With their 2017 season basically over, it's time for Texans fans to turn their attention to...

Now 10 different players have intercepted Tom Brady multiple times in one game
Brady lofted it between two defenders and Lewis snatched it with one hand

Lawrence says the NFL should protect pass-rushers like it protects quarterbacks

With their 2017 season basically over, it's time for Redskins fans to turn their attention...