Packers DL B.J. Raji OK with reduced defensive role
The past two seasons have not been great for B.J. Raji as he's set to enter free agency.
• 2 min read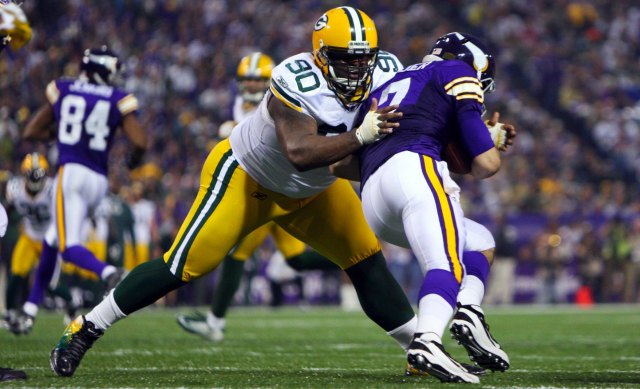 It was just a short time ago when Packers defensive end B.J. Raji was a bona-fide star. He had a career year in 2010 when he recorded 6½ sacks in helping Green Bay to the Super Bowl title. The next season, he made his first and only Pro Bowl appearance. He was starring in national TV commercials with quarterback Aaron Rodgers.
He was a hot commodity.
Until, that is, he was held without a sack last year. Lately, all we've written about Raji was to compare his body type to an unflattering photo of running back Eddie Lacy.
Now, as Raji plays out the final year of his rookie contract, his playing time has been reduced. Whenever Green Bay goes to more of a pass defense, Raji comes off the field. Plus, when he is playing, the Packers are using Datone Jones, Mike Daniels and Mike Neal to rush the quarterback and less of Raji to do so. Instead, Raji is being used in the middle of the defensive line to help with the run defense.
But Raji -- who last sacked a quarterback in Week 11 of 2011 when he brought down Detroit's Matthew Stafford -- insists he's OK with it.
"You know what? No, no," Raji said when asked if he was bothered by his new role (via the Milwaukee Journal Sentinel). "To do that, you have to be secure in yourself as a player and I am. I believe I'm one of the best in the league."
More Raji: "It's funny, man. The older I get, I understand. I'm obviously trying to be the best at my position within the scheme, but I'm trying to grow more to be a better teammate, be a better leader, because I understand the bigger goal. ... My snaps are cut down. But I can still grow in other areas and do more than just plays on the field."
On the season, Raji only has five tackles, and in the past couple weeks, as noted by the Journal Sentinel, his defensive snaps have dropped significantly. By Pro Football Focus' metrics, Raji ranks 31st out of 41 defensive ends who play in a 3-4 scheme. Last year, despite his sackless effort, he was ranked No. 7.
Maybe, though, Raji's reduced role wasn't totally unexpected.
As CBSSports.com's Joel Corry explained in June while talking about NFL stars who were stuck at a crossroads heading into 2013:
The Packers have a history of signing core players to new deals before they approach the end of their contracts. Raji wants to stay in Green Bay long term, but the Packers are comfortable letting him play out the five-year, $28,582,500 contract that he signed in 2009 as the ninth overall pick. The cap isn't an issue because the Packers are expected to have slightly more than $14 million in cap room once all of their draft picks are signed. Raji's best season took place in 2010, when he had career highs of 6.5 sacks and 66 tackles during Green Bay's Super Bowl title season. After Raji was held sackless in 2012, the Packers expect him to do a better job shedding blockers and handling double teams. Raji could be in line for a deal averaging more than $8 million per year after the season with improvement in these areas.
At this point, it doesn't seem fathomable for anybody to pay Raji, no matter how much he's OK with his new role, anywhere close to that much money.
Follow Josh Katzowitz on Google+
From London to Sunday Night Football, teams around the league demonstrated in response to...

It's unclear whether Marshall actually spits on the fan during videos of the exchange

Several Saints took a seat during the anthem before Sunday's game against the Panthers
Retirement could be next for the Eagles' 34-year-old running back

The Steelers weren't actually in their locker room for the national anthem

An impassioned Norman went off on Crabtree and Amari Cooper for talking big, then getting shut...