Packers LB Clay Matthews ruled out of wild-card game vs. 49ers
The Packers defense won't have Clay Matthews on Sunday. Green Bay coach Mike McCarthy has ruled out Matthew's for this weekend's wild-card game against San Francisco.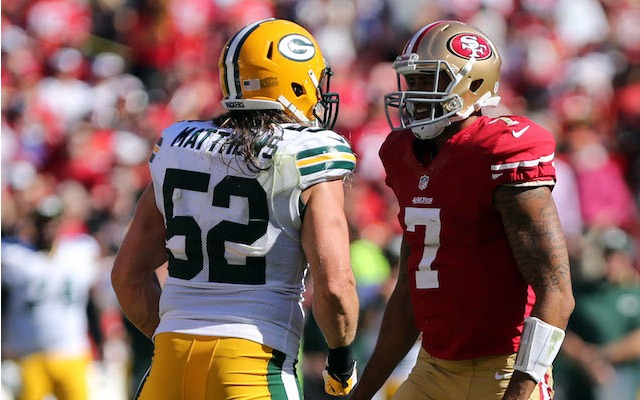 The Packers have gone 4-1 this season without Clay Matthews in the lineup. Now, they're going to have to improve that record to 5-1 if they want to advance in the playoffs. Packers coach Mike McCarthy announced that Matthews won't be playing in this weekend's wild-card game against San Francisco due a thumb injury. 
Matthews originally injured the thumb in a Week 5 win over the Lions and underwent surgery shortly thereafter. After surgery, Matthews missed the Packers next four games. Matthews reinjured the thumb in Week 16 against Pittsburgh and was unable to play in the Packers regular season finale against Chicago.  
"I really don't have a feel for Clay as far as where he is. I really haven't even seen him to talk to him," McCarthy said, via ESPNWisconsin.com. "You're always cautious with players after surgery. Right now he's out for this week and that's really what we're focused on."
Despite playing in only 11 games this season, Matthews leads the team in sacks with 7.5 and is tied for the team lead in forced fumbles with three. 
With Matthews out, he won't get to continue his personal rivalry with the 49ers. In Week 1, Matthews started a brawl in the second quarter on Sunday when he hit an obviously out of bounds Colin Kaepernick as Kaepernick was scrambling on a third-and-6 play from Green Bay's 10-yard line. Harbaugh called the hit a 'clothesline.' After the hit, 49ers offensive lineman Joe Staley intervened to make sure his quarterback was all right.
Matthews slapped Staley on the play and both players were called for a personal foul. The NFL later admitted that only Matthews should have been penalized. The 49ers ended up winning the game 34-28. 
Can Aaron Rodgers get the Packers to the postseason? Even if they win out, they'll need he...

The NFL is going to have to look for a new commissioner

The Washington Redhawks are not an actual thing
CBS All Access allows viewers to stream every NFL game on CBS in their local market

CBS All Access allows viewers to stream every NFL game on CBS in their local market

CBS All Access allows viewers to stream every NFL game on CBS game in their local market