Packers QB Aaron Rodgers would play this week if he could
Aaron Rodgers might need a little more than three weeks before he can return to the field following a fractured collarbone.
• 2 min read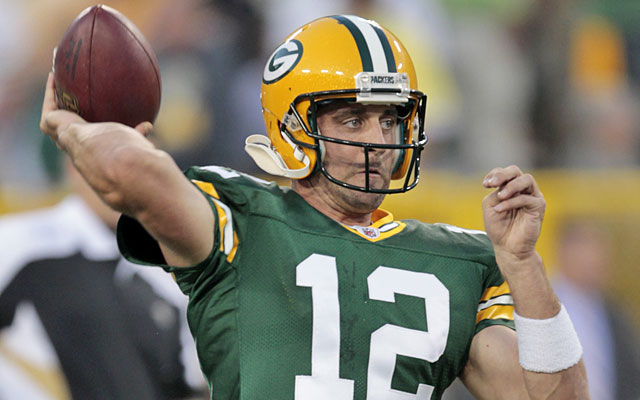 When Aaron Rodgers fractured his collarbone in Week 9, it was thought the injury could keep him out about three weeks.
If Rodgers had his way, though, he'd return in Week 11. But if it's not possible to get cleared to do so -- and Rodgers assumes it isn't -- he has another possible date in mind for his return to the Packers squad. That would be Week 12 vs. the Vikings -- 20 days after his injury -- though realistically, he might not actually be ready until the Nov. 24 Thanksgiving game.
"I haven't given up hope on playing any week. It depends on how I heal and depends on what the next x-ray looks like," Rodgers said on his weekly radio show on ESPN 540 and ESPNWisconsin.com. "Obviously, this week is probably not going to happen -- not going to happen.
A pause.
"Probably not going to happen."
Without Rodgers, the Packers are a completely different squad. He was replaced last week by Seneca Wallace, who then proceeded to injure his groin and land himself on the season-ending IR list. That forced Green Bay to announce that Scott Tolzien, who was on the practice squad earlier this month, will start this week and to sign former backup Matt Flynn.
"[Rodgers] thinks he's going to be ready real soon," Packers coach Mike McCarthy said this week. "But he's a couple weeks away I would think. They haven't given me a date. They haven't said he'll be ready for this game. And I don't think he's been scanned again."
There's little question Green Bay could use him. Tolzien (24 of 39 for 280 yards, a touchdown and two touchdowns) was solid in replacing Wallace last week, but it's not ideal that the team will have to give him his first career start this week vs. the surging Giants, who are on a three-game winning streak.
Plus, there can't be many people who would expect Tolzien to deliver wins in the next two weeks. And if Green Bay can't beat the Giants this week and the Vikings next week, it'd be 5-6 and in real danger of missing the postseason.
"I'm doing everything I can to get back out there," Rodgers said Tuesday. "We have our treatment routines. Again, it's giving the bone time to heal and not trying to do anything too stupid to aggravate it. The collarbone obviously has an important role in your shoulder movement. Small victories to me have been being able to sleep through an entire night, which I finally can; being able to put a shirt over my head, which I can now; putting socks on. Yes, I can put them on without being in an extreme amount of pain."
Yay for putting on socks! But if for some reason Rodgers isn't ready for Thanksgiving, the Packers have another option. They could always give Mox a call for help. (Whipped cream bikini not included.)
Follow Josh Katzowitz on Google+
SportsLine's top NFL experts give their top picks for Patiots-Jaguars and Eagles-Vikings

Campbell was already talking about a potential Super Bowl berth shortly after his signing

The study, published on Thursday, found that even at younger levels football can be danger...
The Eagles and Vikings have two of the best defensive fronts in the NFL

Starting left guard Stefen Wisniewski says the Eagles' success is about more than just one...

Kaepernick made the pledge in October 2016 in the middle of his campaign for social equali...