Packers rule out RB James Starks, CB Casey Hayward for Week 5
Packers coach Mike McCarthy said on Wednesday that running back James Starks and cornerback Casey Hayward won't play on Sunday against Detroit.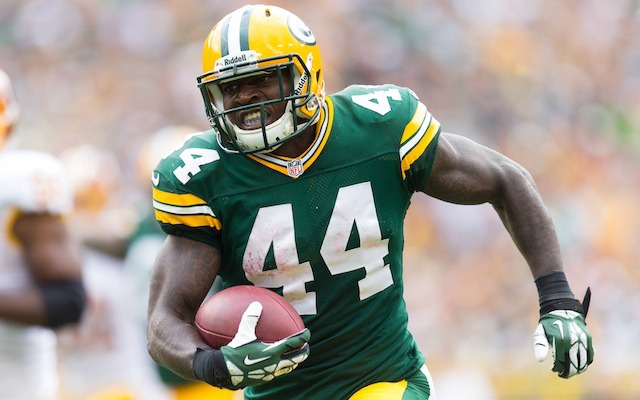 It doesn't look like the bye week was enough time for injured James Starks to heal his injured knee. Green Bay Packers coach Mike McCarthy said on Wednesday that he's not expecting Starks back for at least 'a couple of weeks,' according to the Milwaukee Journal Sentinel. 
Starks injured his knee early in the third quarter in the Packers Week 3 loss to Cincinnati. It's been an interesting season for Starks. The 27-year-old running back played sparingly in the Packers Week 1 loss to San Francisco, but came back and ran for a career-high 132 yards in Green Bay's 38-20 Week 2 win over Washington. 
Although the Packers won't have Starks, they should have rookie running back Eddie Lacy back on Sunday when they face the Lions. Lacy missed the Bengals game with a concussion. 
Besides Starks, the Packers will also be without cornerback Casey Hayward. Hayward's dealing with a hamstring injury and McCarthy offered no timetable on his return. "Everyone is different, I don't have an answer. Won't be ready this week," McCarthy said. 
The Packers will be looking to make it five wins in a row over the Lions on Sunday. Green Bay hasn't lost to Detroit since December 2010 and the Packers haven't lost at home to the Lions since 1991. 
Super Bowl tattoos are never a good idea until your team has actually won the Super Bowl

A couple of dogs emerge victorious in the Conference Championship round

Our computer model simulated the AFC and NFC title games 10,000 times with surprising resu...
If the past 18 weeks are any indication, Tom Brady could be in trouble Sunday

The Patriots quarterback has been listed as questionable for Sunday's AFC Championship

It appears the Raiders didn't break any rules during their hiring of Jon Gruden