Pacman Jones: Roger Goodell makes decisions based on media
Bengals defensive back Adam Jones believes that Roger Goodell is overly influenced by the media when he makes his decisions.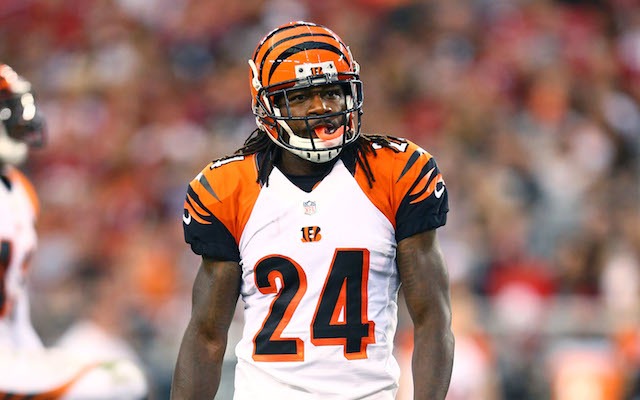 Adam 'Pacman' Jones is no stranger to the iron fist of Roger Goodell. The Bengals defensive back missed the entire 2007 season after being suspended by Goodell following multiple run-ins with the law. 
Despite the suspension, Jones doesn't think Goodell is doing a bad job as commissioner, but he does have one small issue: Jones believes Goodell's decisions are overly influenced by the media. 
"Personally, I have nothing against Roger, but I think Roger makes a lot of decisions [based] on the media," Jones said on the Cincinnati Enquirer's 'Beyond the Stripes' show. "For instance, the Ray Rice case. Now if you get domestic violence, it's an automatic six games. Only reason he made that [decision] is because of how much grief he got for giving him only two games. Now he's saying, if anything comes up, you automatically get six games. Well, that's not fair to the players."
To be clear, Jones believes that Rice should have received a six-game suspension, "He was wrong. He should've had six games," Jones said of Rice. "Ray Rice was dead wrong, he should have got six games, he only got two."
Jones' problem is that the new domestic violence policy calls for a six-game suspension for any first offense. 
"I had this conversation with my agent, I don't think it's fair to the players," Jones said of the new policy. "The player's union is not doing their job to make sure things are going right. There's no way you can just all of the sudden say 'alright, if you get a domestic violence, you get six games.' You don't know what's going in nobody's house. At the end of the day, you don't know what the facts are until the person is proven guilty or innocent."
That doesn't mean Jones thinks domestic violence is ever OK, "You shouldn't be touching a women, period," Jones said.
The Bengals defensive back was charged for assault against a woman in June 2013 and he seemed to allude to that case to justify his reasoning for why each situation should be treated differently.
"These women will call the police and say you spit on them and there you go, six games automatically," Jones said. 
In Jones' incident, security video footage showed a woman walk up to him at a bar and dump a beer on him, Jones then retaliated by pushing the woman away with his hand. Jones seems to be worried that an incident like that could lead to a suspension. Jones was eventually found to be not guilty in the case. 
As for Goodell, Jones says his decisions all come down to one thing: His image. 
"I feel like he does a lot of stuff because of the pressure [the media] puts on him after certain instances," Jones said. "For him, it's an image thing."
You can see Jones' entire interview below. 
Not even 10 stitches could slow down Tom Brady

Here's a look at the NFL's entire postseason schedule for 2018

Follow along live as the Vikings and Eagles battle for a spot in the 2018 Super Bowl
The winner of Sunday's game will be headed for Super Bowl LII

One of the Patriots' biggest plays of the day quickly went south

The winner will be revealed on the eve of Super Bowl LII