Palmer so much more than Flynn
Carson Palmer can still play, even if some would make you think he can't.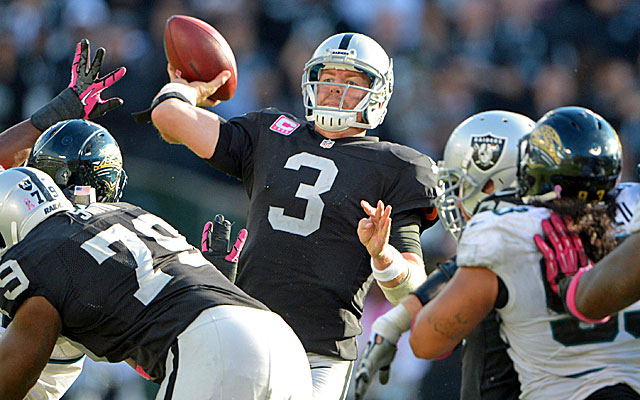 The deep ball could be back in Arizona: Carson Palmer had 10 pass plays of 40 yards or more last year.
(USATSI)
These are the 2012 regular-season numbers for two quarterbacks.
Quarterback A: 3,817 passing yards, 7.2 per attempt, 22 touchdown passes, 10 interceptions, 59.7 completion percentage and a passer rating of 87.7.
Quarterback B: 4,018 yards 7.1 per attempt, 22 touchdown passes, 14 interceptions, a 61.1 completion percentage and a passer rating of 85.3.
Those numbers are similar, right?
More on the Raiders
Related Stories
Well, quarterback A is Baltimore's Joe Flacco.
Quarterback B is Carson Palmer.
Yes, I know Flacco has had playoff success, and he won a Super Bowl this past February, but the point of the exercise is to show that Palmer isn't the chump many are making him out to be.
The Raiders want to trade Palmer. He supposedly wants out. They will certainly do so now that they have agreed to a deal to acquire Matt Flynn from Seattle.
Once again, what are the Raiders thinking? Just Stupidity, Baby.
In no way, shape or form is Flynn in the same class as Palmer. In studying Flynn last year, I saw a guy with an adequate arm who would seem to be nothing more than a system quarterback.
Palmer is so much more -- when he has a chance.
In Oakland, the line was horrible at times. He had to deal with a team crushed by injuries. Often, his best receivers were not even dressed because of injuries. The defense was terrible, and the Raiders played a lot of catch-up football.
The Raiders traded away two premium picks to get Palmer, and in two seasons he certainly didn't pan out.
Arizona would be wise to land Palmer. Now I know the Cardinals don't want to give up more than a late-round pick to get him, but he would be a perfect fit in Bruce Arians' mad-bomber offense.
Arians loves the deep ball. Larry Fitzgerald will love Palmer throwing deep strikes to him.
Fitzgerald averaged 11.2 per catch last season, which wasn't even better than Andre Roberts, who averaged 11.9 per catch for the Cardinals. You know something is wrong when Wes Welker averages more per catch than Fitzgerald.
Palmer had 10 pass plays of 40 yards or more last year. That's the same number as Matt Ryan and more than Aaron Rodgers (nine) and Tom Brady (eight). Flacco, the deep bomber, had 12.
Palmer to Fitzgerald would be lethal.
It makes too much sense for Arizona to land Palmer. They have a talented roster -- the line needs upgrading in the draft -- but they will be a much different team with Palmer taking snaps.
Arizona has to find a way to make this work.
This could be like Kurt Warner landing in their lap.
Palmer is no chump -- even if some in the media would make you think he has become one.
After an injury to Trevor Siemian, Brock Osweiler entered the game and helped the Broncos to...

The 32-year-old running back is done for the year

Brandon Williams was involved in a scary situation in the first half against Denver
The Broncos are turning back to Osweiler after an injury to Siemian

The Cowboys legend admits he's not on 'great' terms with the Cowboys suspended running bac...

Here's the latest information on injured Steelers linebacker Ryan Shazier