Panthers coach Ron Rivera: 'We lost our composure a couple times'
The first half of the 49ers-Panthers game was marked by personal-foul penalties, mostly by Carolina.
• 2 min read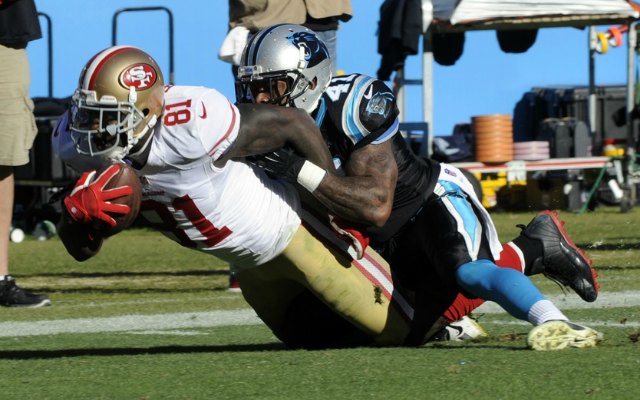 Clearly, the Panthers were amped up to be participating in a playoff game on Sunday, and the first quarter or so was marked by an abundance of trash-talking by Carolina, especially by the team's secondary.
Early in the game, when cornerback Mike Mitchell got in the face of 49ers quarterback Colin Kaepernick, I wondered how long it would be before Kaepernick repaid Carolina's secondary with some offensive magic. But nearly as painful to Carolina and its chances to grab an early lead were the personal foul penalties on Mitchell and cornerback Captain Munnerlyn that extended San Francisco drives and led to early field goals.
To Panthers coach Ron Rivera, it was due to a lack of self-control.
"I think there were some things that happened in the first half that really bothered me," Panthers coach Ron Rivera said, via the Charlotte Observer. "We lost our composure a couple times and they got inside our head."
Which is interesting because for the first few minutes, it seemed as though the Panthers were trying to be the bullies that pushed around the 49ers. San Francisco safety Donte Whitner saw it from another perspective: The 49ers, he mentioned, had more experience in those type of playoff atmospheres (the Panthers, meanwhile, hadn't been to the playoffs since the 2008 season).
"This is not our first time," Whitner said. "We were not excited. We didn't have Flo Rida coming in and playing at halftime and all those different things, because we expected to be here. We really felt like it was another game to us. I don't know if it was their Super Bowl, but it was another game to us."
But the Panthers also thought they were treated unfairly at times. Especially when Munnerlyn received a personal foul penalty for a head-butt but 49ers receiver Anquan Boldin, who essentially did the same thing later in the game, was not flagged.
"It was just ridiculous," Mitchell said, via the National Football Post. "A couple of things weren't called the same way. I made a good play taking [Boldin's] legs out, and he gets up in my face and head-butts me, which is the same exact thing you saw Captain Munnerlyn do.
"It was the exact same play. One team gets the call, the other doesn't. I guess that's human error in football."
Follow Josh Katzowitz on Google+
The Vikings' quarterback is set to hit free agency after making a comeback from a horrific...

The Bengals backup almost became the Jets starter so there could be interest moving forwar...

Former Colts GM Bill Polian thinks Jackson needs to play a different position
The Jets have a ton of cap space and a need at quarterback and Cousins is their target

There is a lot of smoke about the Bills making a drastic move up the draft board

The Patriots defensive back says everyone knew Butler would be benched