Panthers DE Greg Hardy found guilty; plans to appeal judge's decision
Greg Hardy was found guilty of two separate charges in court on Tuesday. During the 10-hour bench trial his accuser testified that he threatened to kill her.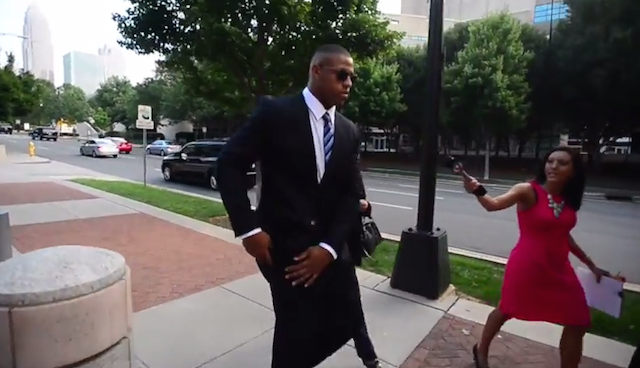 More NFL: Photos |   Videos & GIFs |  Stories | Training Camps | Johnny Manziel watch 
Panthers defensive end Greg Hardy was in a North Carolina courtroom on Tuesday where he was found guilty on charges of communicating threats and assaulting a female.
Hardy was given a 60-day suspended jail sentence and ordered to do 18 months of probation. However, Hardy will appeal the sentence and will now get a jury trial. Under North Carolina law, Hardy will not have to abide by the terms of his probation while he awaits the jury trial, according to the Associated Press. The date for the jury trial hasn't been scheduled yet.
The case on Tuesday was a bench trial heard by District Court Judge Becky Thorne-Tin. Thorne-Tin presided over a 10-hour trial before rendering the verdict on Tuesday night.
In a statement released after the verdict was announced, the Panthers said they "are respectful of the process" and would "not have a comment at this time."
The charges against Hardy stemmed from an incident in May where he got into an altercation with his girlfriend, Nicole Holder.
Holder was in court on Tuesday giving testimony and during her time on the stand, she said Hardy threatened to kill her.
"He looked me in my eyes and he told me he was going to kill me. I had never been so scared in my life," Holder said, via the Charlotte Observer. "I was so scared I wanted to die. When he loosened his grip slightly I said just, 'Do it. Kill me.' "
During her testimony, Holder admitted to using cocaine on the night of the incident.
According to Holder, the incident in May started after she and Hardy went to a nightclub in Charlotte and heard a Nelly song. Holder said Hardy got mad at her because she once dated Nelly.
As if spending the day in court isn't bad enough, Hardy also had to deal with this on Tuesday.
Can't make this stuff up: Greg Hardy's Range Rover was towed today from the Mecklenburg County Courthouse. Apparently the meter had expired.

— Joe Person (@josephperson) July 15, 2014
Hardy was given the franchise tag by the Panthers this offseason and he had until Tuesday to work out a long-term deal with the team. However, that deadline passed at 4 p.m. ET with no deal, meaning Hardy will play the 2014 season under a one-year, $13.1 million contract.
Ken Norton Jr. didn't even last a week in San Francisco

One bettor in Vegas is going to make some serious money if the Jaguars win it all

The Jaguars, Vikings and Eagles have combined to win exactly zero Super Bowls ever
The Steelers wilted under the pressure of the postseason

The Bears fan is now officially linked up with the Packers quarterback

The Cardinals have the future in mind at quarterback with the dynamic Louisville quarterback...