Panthers LB Luke Kuechly knocked the flap off of a teammate's cornea
Roman Harper probably suffered the ugliest injury of the weekend.
When Luke Kuechly got to the Panthers locker room after Carolina's NFC title win over the Cardinals on Sunday, the first thing he probably did was apologize to Roman Harper, because that's the humane thing to do after you almost KNOCK THE FLAP OFF OF SOMEONE'S CORNEA.
Yes, that actually happened during the Panthers win on Sunday. 
Let's review what happened. 
On a second-and-6 play for the Cardinals, Carson Palmer handed the ball off to David Johnson, who broke loose for a 23-yard gain before he was tackled by Harper.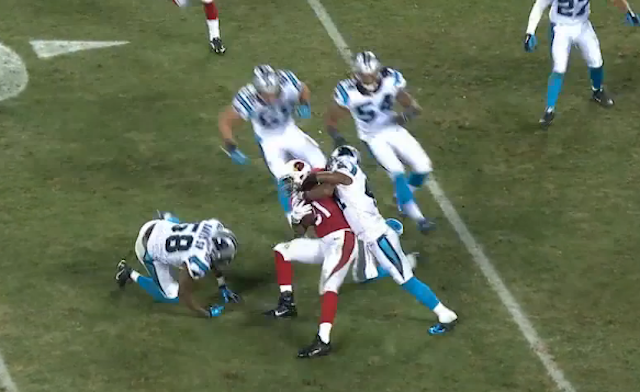 Unfortunately for Harper, he didn't tackle Johnson fast enough for Kuechly's liking.
After Harper made the hit, it looked like Johnson was going to gain another foot or two on the play before he went down. In Luke Kuechly's world though, NO ONE GETS AN EXTRA FOOT. The Panthers linebacker then came in to help Harper with the tackle.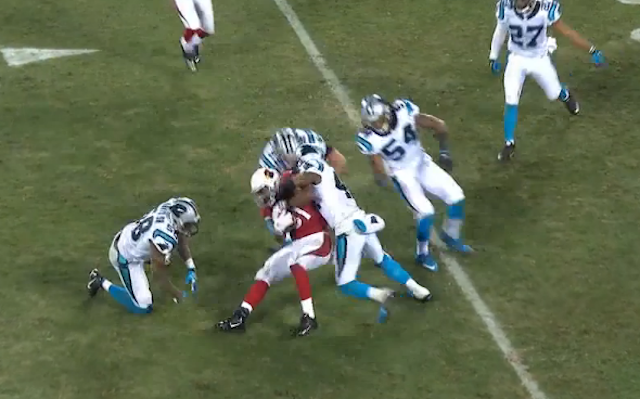 As you can see above, Kuechly accidentally gave Harper a helmet-to-helmet shot to the head. 
Kuechly's hit left Harper on the ground in some serious pain.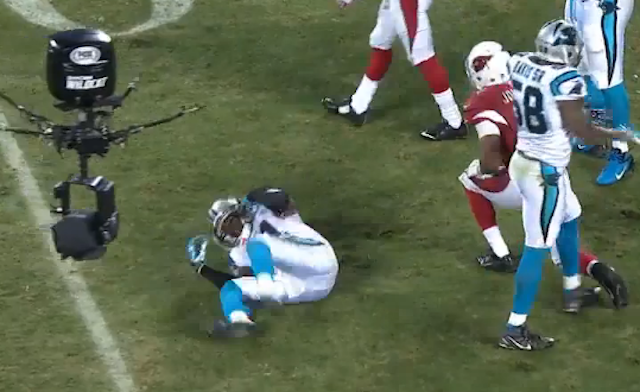 Some people thought Harper was hurting because he had suffered a concussion, but that wasn't the case. Harper was hurting because the FLAP ON HIS CORNEA shifted out of place. The Panthers safety couldn't see out of his right eye, so the team had to rule him out for the rest of the game. 
Injury Update: Roman Harper (eye) is out for the remainder of the game. #AZvsCAR #KeepPounding

— Carolina Panthers (@Panthers) January 25, 2016
"The flap on my cornea shifted," Harper said, via ESPN.com. "It's just one of those crazy things. They said the odds of that happening are like a million to one. It happens, and I'll be back."
The safety recently had LASIK, and apparently, if someone hits you in just the right spot, the flap shifts off of your cornea. That's good information for anyone of you out there who are thinking about getting LASIK and then signing with an NFL team. 
Anyway, the good news for Panthers fans is that Harper plans to play in Super Bowl 50. 
"I took some medicine and got it cleared up," Harper said, via the Charlotte Observer. "I'll be all right. We've got two weeks to get this team ready."
From my family @1HTH to yours ... see yal at #SB50 !! My eye is good to go!! #KeepPounding and #RollTide pic.twitter.com/3YfJs9C8pm

— Roman Harper (@Harp41) January 25, 2016
Pick Six Newsletter
Get the day's big stories + fun stuff you love like mock drafts, picks and power rankings.
Please check the opt-in box to acknowledge that you would like to subscribe.
Thanks for signing up!
Keep an eye on your inbox for the latest sports news.
Sorry!
There was an error processing your subscription.
The Eagles quarterback left Thursday night's game with a shoulder injury, but he's apparently...

The multi-dimensional running back is dealing with a strained calf

Josh Nagel also hit on 70 percent of his NFL spread picks last season
A certain former Eagles tight end wants nothing to do with Dallas despite a desire to keep...

We have an official ruling from the Browns on how to pronounce Tyrod's name!

The backup quarterback carries a lot of weight in Philadelphia apparently