Panthers' Ron Rivera talks shop with Jimmie Johnson's crew chief
Some NFL coaches meet with other NFL coaches during the offseason, Ron Rivera decided to be a little different: He met with a NASCAR crew chief.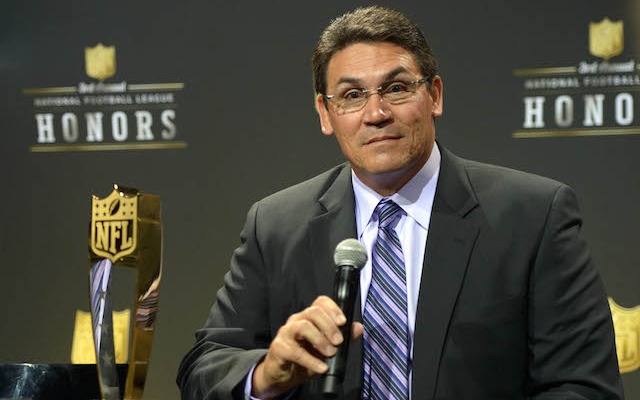 More NFL offseason: Mock Drafts | Prospect Rankings | Pro days | Top free agents
The Carolina Panthers have played 19 seasons since joining the NFL as an expansion franchise in 1995 and not once in those 19 years have the Panthers had back-to-back winning seasons.
Panthers coach Ron Rivera wants to change that, so he spent some time this offseason with someone who knows a little bit about sustained success: Chad Knaus. 
Knaus is the crew chief for Jimmie Johnson, a driver who's been NASCAR's Sprint Cup Champion six times since 2006. 
"One of the things we're trying to figure out is, how do we sustain the success?" Rivera said, via ESPN.com. "Listening to him talk about the way they review each year and how they try to find these next-level things, that was pretty impressive."
Riverboat Ron led the Panthers to a 12-4 record in 2013, the team's first winning-record since 2008 and only fourth winning-record since 2000. 
One of the other things Rivera talked about with Knaus was team chemistry. The Panthers let several players walk in free agency, including the team's all-time leading receiver, Steve Smith.
Using a NASCAR analogy, Rivera talked about how the guy with the most talent doesn't always make the team better, which may or may not have been a slight swipe at Smith.  
"This guy may jack the car up a 10th of a second faster, but he doesn't work as well together with others, while this guy may be a 10th of a second slower, yet he works well with everybody. We're the same way," Rivera said. "It's about, 'How does this guy fit in the locker room?'"
After spending time with Rivera, Knaus seems to think the Panthers coach knows what he's doing. 
"The more I talk to people in the military, in other sports, people who are successful in other fields, the formula isn't that different for any environment," Knaus said. "It's all about teamwork, communication. It's how you approach the day. Ron has that."
That's good news for Panthers fans who will all be hoping that Rivera can lead the team to back-to-back winning seasons for the first time in franchise history. 
It sure looks like the former top pick will be benched heading into the regular season for...

Someone asked him to start the press conference of course

Derrick Johnson wants to discuss players' First Amendment rights amidst the protests
High praise from one of the most athletically gifted quarterbacks ever to step on a football...

Nobody will mistake Joe Looney for his star teammates

Osweiler is being benched in favor of DeShone Kizer