Panthers starting to look like a potential playoff team
The Carolina Panthers are looking like a team that could contend for the a playoff spot in the NFC.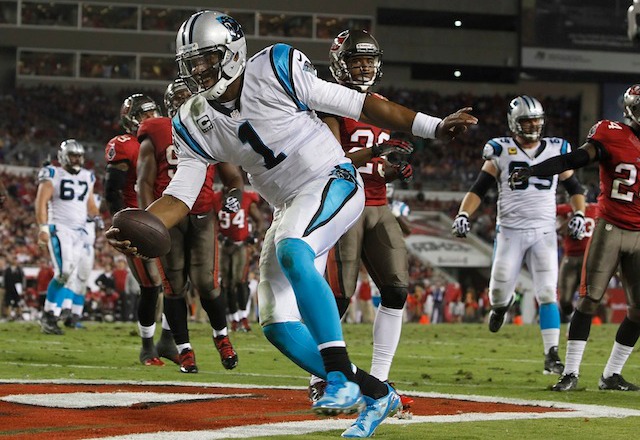 Happy 2008 everyone! Actually, it's 2013, but I said 'Happy 2008' because that's the last time the Carolina Panthers were over .500, until Thursday night that is. Thanks to a 31-13 road win over Tampa Bay, the Panthers are now 4-3 and looking like a team that might stick around for the second half of the season. 
The emergence of the Panthers shouldn't be a complete surprise. Carolina was actually a decent team last season -- a decent team that couldn't win close games. Of the Panthers nine losses in 2012, seven of the losses came by six or fewer points. If Carolina could win close games, they might've gone 9-7 or even 10-6 last season, but they didn't and they went 7-9. 
The Panthers 7-9 record last year and the fact that they're in the same division as the Saints and Falcons meant no one really gave them a chance going into 2013.
Now a win over the Buccaneers doesn't mean Carolina's going to win the Super Bowl, but we need to start paying attention to them. 
At 4-3, Carolina could be tied with Chicago for the No. 6 playoff spot in the NFC after Week 8 is over. The Bears are on a bye and the Panthers will move into the tie if the 4-3 Lions lose to Dallas on Sunday. 
What makes me like Carolina over Detroit and Chicago? Well, first, the Bears don't have Jay Cutler and without Cutler, the Bears will be facing the Packers, Lions and Ravens in their next three games. That could be 0-3. 
As for the Lions, their 31st ranked defense scares me. You can win with a bad defense if you have a record-setting offense (see: 2009 Saints), but the Lions don't quite have that. 
The Panthers have a defense that not only ranks third in the NFL, but through eight weeks, it hasn't given up a first half touchdown. That's not a normal thing. How not normal is that? The Panthers are the only the second team since 1935 not to surrender a first half touchdown through seven games (2006 Denver Broncos). 
When your defense is playing like that, it gives the entire team confidence because you're in every game. The biggest deficit the Panthers have faced this season going into a fourth quarter is six points. That means this team has had a legitimate chance to win every game its lost this season. 
The wild card for the Panthers is going be Cam Newton. Carolina lost a winnable game to the Cardinals in Week 5 because Newton played like he had been brainwashed by Blaine Gabbert. Newton threw three interceptions and completed a season-low 53.8 percent of his passes. The Panthers aren't good enough yet to overcome a bad game like that and their record proves it: Carolina is 0-9 in Newton's career when he throws multiple interceptions in a game. 
The biggest challenge for Carolina to earn a playoff spot is going to be its schedule. Over the final nine weeks of the season, the Panthers play five games against teams with winning records. That slate includes two games against the Saints, a game at San Francisco and a game at home against New England.  
I don't think they'll win all of those or even three of those, but a 2-2 record in those four games would position the Panthers for a playoff run. I'll be riding in the trunk on the Panthers bandwagon, that way if things go south, I can jump out and nobody will notice. 
The Raiders duo had a great explanation for their decision to stand next to each other

The former Buccaneers kicker did not have things start well for him in Chicago

Bears special teams showed up in a big way against Arizona
Beast Mode got loose with Oakland and looked pretty impressive in the early going

Beast Mode was one of several players to sit during the Raiders-Rams game

The cleaning staff in Houston missed a couple of things while cleaning up after Super Bowl...