Patriots-Broncos wrapup: Denver defense protects halftime lead
The Patriots scored 34 points after halftime vs. the Broncos' defense in Week 12. Denver played much better Sunday in the AFC title game, which is why its going to the Super Bowl.
• 5 min read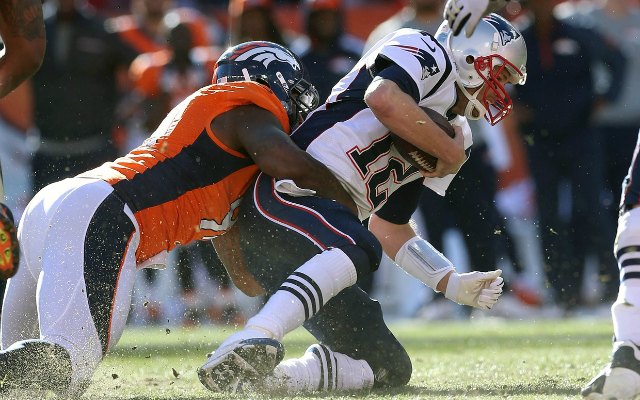 More SB coverage: XLVIII odds and lines | Latest news
The last time the Broncos played the Patriots, Denver built a 24-point halftime lead and seemed intent on rolling to an easy blowout win at New England. That game had a far different ending as Denver stood by and watched New England make a comeback and blow by the Broncos for a 34-31 win.
So, when the Broncos built another double-digit lead vs. the Patriots at intermission in the AFC Championship Game on Sunday, you had to wonder how both teams would respond.
After all, the Patriots, via ESPN Stats Info, were 4-2 this season when they were behind by double digits at some point in the game, and well, it's wise for one never to count out Tom Brady and Bill Belichick.
But there was no way the Broncos would blow it again, right?
With Talib out and not much pressure, feels like Manning will have to self-implode for the Broncos to lose.

— Melissa Jacobs (@thefootballgirl) January 19, 2014
The Broncos had the ball to start the third quarter, and here's what they did. A 13-play, 80-yard drive that took 7:08 off the clock and ended with Peyton Manning throwing a 3-yard touchdown pass to Demaryius Thomas.
No longer was it Denver with a 13-3 lead at the start of the third quarter. That doesn't sound too bad for New England. No, now it was 20-3 with 23 minutes left in the game. That sounds much worse.
Making matters more desperate is that the Patriots offense hadn't done anything of substance, and whatever second-half adjustments the team was trying to make didn't work. New England couldn't run the ball. Brady wasn't sharp. And the defense couldn't stop Manning.
But the biggest reason the Patriots couldn't gain any traction? The Broncos defense.
In Week 12, Denver allowed 306 yards and 34 points in the second half. On Sunday, the Broncos allowed 320 yards and 16 points all day.
Dominique Rodgers-Cromartie played like a shutdown cornerback, oft-injured cornerback Champ Bailey made nice contributions, and Terrence Knighton and Robert Ayers came up with timely sacks.
There were a few minutes of worry early in the fourth quarter when Brady threw a touchdown to Julian Edelman to cut the lead to 23-10 with 9:26 to play, and then after the Patriots scored again with 9:26 to play to possibly cut the lead to one score. But on the two-point conversion attempt, Shaun Phillips motored off the left edge of the line and grabbed Patriots running back Shane Vereen's foot to keep him from moving forward and converting.
Manning will get a lot of the credit for the win -- he should, and it will be well-deserved -- but for a Broncos defense that hasn't been great for much of the year, its performance Sunday against one of the best quarterbacks and coaches in history was a huge reason Denver is going to the Super Bowl.
• Last year at this time -- in fact, 364 days ago -- Patriots cornerback Aqib Talib had to leave the AFC title game because of a thigh injury. His return was listed as questionable, but he never took the field again. The Ravens went on to win that game and advance to the Super Bowl.
On Sunday, Talib injured his leg when he collided with Broncos receiver Wes Welker, and though he was listed as questionable, Talib never moved off the sideline. Again, New England was hurt dramatically by the loss of its No. 1 cornerback.
Before Talib's departure, Welker was invisible, but as soon as Talib left, Manning began targeting him. Meanwhile, Patriots cornerback Alfonzo Dennard, who had a strong game last week with two interceptions, was getting beat by Julius Thomas, and Devin McCourty -- who moved from safety to cornerback when Talib was injured -- was getting beat by Welker.
Overall, Manning threw for 400 yards -- which broke Denver's playoff record for a single-game performance -- and after the game, Talib apparently wasn't too happy about it.
Talib told me to "get out my face, motherf*****" and was about to leave the locker room before a Pats official forced him to stop and talk.

— Bart Hubbuch (@HubbuchNYP) January 19, 2014
• Tom Brady's stat line doesn't look bad (24 of 38 for 277 yards and a touchdown), but all four deep throws he attempted failed and failed badly.
No. 1 was an attempt to Matthew Slater (yes, Matthew Slater), and it was broken up by Broncos cornerback Tony Carter.
No. 2 was to Edelman, who had gotten open, but Brady overthrew him.
No. 3 was to Austin Collie, who had a step or two on his defender down the sideline, but Brady's pass was too high and slightly out of bounds and Collie couldn't handle it.
No. 4 was to Aaron Dobson after a fake handoff and end-around, and Brady overthrew it by about five yards. It probably wouldn't have mattered because Broncos cornerback Champ Bailey had the pass well covered.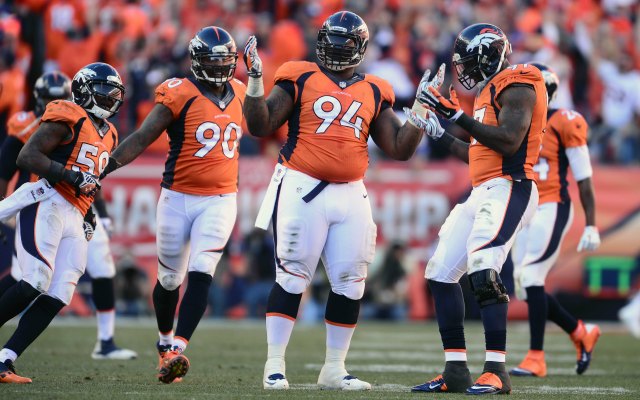 • This is an appropriate picture of a guy nicknamed Pot Roast, am I right? Well, the one above this paragraph and the one below.
The Broncos can almost taste it. pic.twitter.com/Xs4CmCNySa

— BuzzFeed Sports (@BuzzFeedSports) January 19, 2014
Aside from his photogenic disposition, Knighton played a wonderful game vs. the Patriots, accumulating four tackles (including two for a loss) and a sack.
And the sack came at a big time when the Patriots were losing by 17. Instead of attempting a 46-yard field goal, New England went for it on fourth-and-3, and Knighton got away from guard Logan Mankins to sack Brady and force the turnover on downs.
Knighton is way quicker than he looks. Kills linemen a lot on speed at the LOS maybe when they're expecting power only.

— Sam Monson (@PFF_Sam) January 19, 2014
• A few extra tweets to ponder:
The last time the Patriots won a Super Bowl Barack Obama was a month removed from being a state senator in Illinois.

— Bobby Big Wheel (@BobbyBigWheel) January 19, 2014
Since this is apparently a thing, here's a BIG one: Pats haven't won a Super Bowl since cutting Earthwind Moreland after the '04 season.

— ryan wilson (@ryanwilson_07) January 19, 2014
"Omaha" means whatever it means until Peyton knows that you know what it means then it means the exact opposite of whatever it meant.

— Seth Payne (@PayneNFL) January 19, 2014
FINAL #OMAHA COUNT: 31 ... @OmahaChamber will donate $24,800 to Peyton Manning's Foundation! #NEvsDEN

— NFLonCBS (@NFLonCBS) January 19, 2014
• There was something beautiful about this photo taken before or very early into the game.
From before kickoff. QB ghosts of playoffs past. #NEvsDEN pic.twitter.com/LxrmeAWl18

— Andrew Mason (@MaseDenver) January 19, 2014
All we needed was a Kyle Orton jersey to fill out the triumvirate. Maybe we can find one in New York for the Super Bowl.
More Super Bowl coverage: XLVIII odds and lines | Latest news
The Eagles quarterback reaffirmed his faith and said he plans on coming back stronger than...

The Buccaneers are 4-9 and firmly out of the playoff mix, and now their best player is hur...

It might be time for Johnny Football to head to the Great White North
Rodgers has been out with a broken collarbone since Week 6

Mariota and left tackle Taylor Lewan both escaped serious injuries

This might go down as the most expensive snowstorm of Adam Vinatieri's life