Patriots cheerleader advances on 'American Idol'
It's been a good week for the Patriots and it's also been a good week for one of their cheerleaders. Cheerleader Stephanie Petronelli wowed two of the judges on 'American Idol.'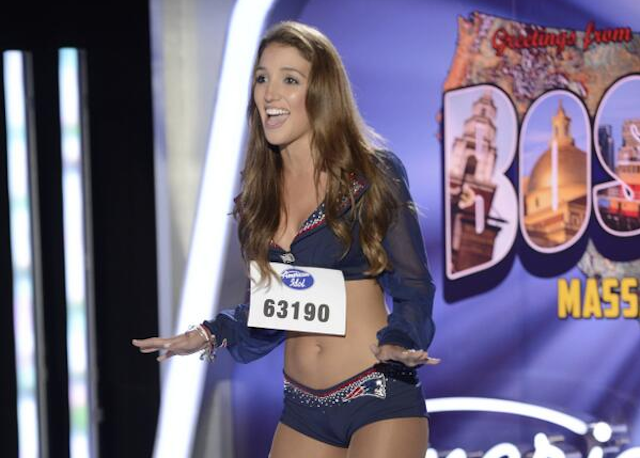 Apparently everyone in the Patriots organization is good at everything. Take Stephanie Petronelli for instance. The New England Patriots cheerleader was on the season premiere of American Idol on Wednesday and she sang well enough to advance to the next round of the show. 
Petronelli didn't try and hide the fact that she's a Patriots cheerleader: she wore her cheerleading outfit during the audition. The aspiring singer sang her rendition of Grace Potter's "Paris (Ooh La La)" for judges Harry Connick Jr., Jennifer Lopez and Keith Urban. 
Connick wasn't impressed with Petronelli, telling her, "Honestly, I don't think you're a good enough singer."
On the other hand, J. Lo seemed to be a fan, "The voice to me, soul-wise, was surprising in a good way," Lopez said.
To advance to the next round, two of the three judges have to approve of you, so it all came down to the opinon of Urban, "Honestly, I'm a bit on the fence," he said. "And I think if I'm on the fence, it would have to be a yes." 
Urban's vote means Petronelli is now headed for the Hollywood-round of American Idol.
Rah! Rah! Stephanie Petronelli is off to Hollywood. #idol #IdolPremiere pic.twitter.com/sk9Z61WdnO

— American Idol (@AmericanIdol) January 16, 2014
Three of Petronelli's cheerleading friends were on hand to help her celebrate moving on to the next round. After Connick saw the other cheerleaders, he changed his mind on Petronelli, "If there's four of them, it's a yes, I didn't know that was part of the package," Connick said. 
The audition was filmed on Aug. 2 at Gillette Stadium, but didn't air until American Idol premiered on Wednesday. Petronelli will return to the show in February after the rest of the weekly audition shows are finished. 
If New England wins on Sunday against the Broncos, that means you'll being seeing a lot of the Patriots on Fox in February. Fox is airing the Super Bowl this year and they're also the home of American Idol. 
The Packers think the hit is dirty, but the NFL apparently disagrees

Here's every official injury designation for each NFL team for Week 7

If it wasn't already clear, the Packers are not happy with the hit that injured Rodgers on...
Passengers were treated to some explicit chants from the Oakland running back, too

It's safe to say the Rams running back isn't a fan of traveling to London and back during the...

Winston sprained his AC joint last week but will start against the Bills this week