Patriots cut DT Kyle Love after diabetes diagnosis
A few weeks after Patriots defensive tackle Kyle Love was diagnosed with Type II diabetes, the Patriots have released him.
• 1 min read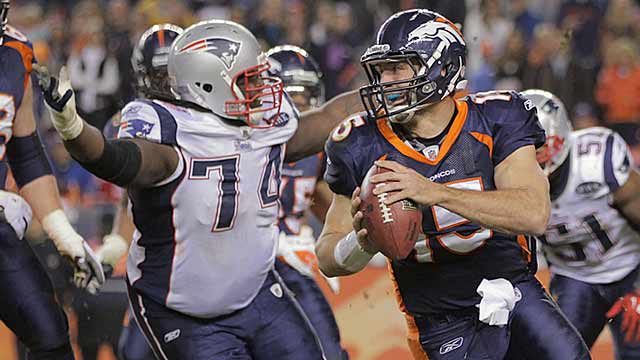 Within the past few weeks, Patriots defensive tackle Kyle Love was diagnosed with Type II diabetes. On Wednesday, the Patriots released Love -- who had played all 16 games the past two seasons, including 24 starts -- with the non-football illness designation.
"I'm somewhat surprised," agent Richard Kopelman told the Boston Globe. "I know the Patriots run a tight ship, but I'm a little surprised. But they were not willing to take any risk.
"Kyle is going to be at 100 percent within a matter of weeks. Barring something out of the ordinary, he should be ready to go for training camp, and he'll continue to be successful."
According to the paper, it appeared as though Love recently lost about 30 pounds from his listed weight of 310. But Kopelman told USA Today that Love's diabetes can be managed with medicine and diet. He also pointed to Bears quarterback Jay Cutler, who has Type I diabetes, as someone who can overcome the disease to play at a high level.
"He's disappointed but he told me this is just a minor blip he's expecting to overcome," Kopelman told USA Today. "He's a great guy with a wife and a baby he's supporting. The goal is to get back healthy, play for a new team and set himself up for a big contract next season."
Love's response to this whole mess?


Don't anybody feel sorry for me!!! God has a plan for me!

— Kyle Love (@KyleLove74) May 15, 2013


While this move might seem heartless, remember the NFL is, in fact, a cold-hearted business where football teams continue practicing and playing after combatants are badly hurt. And at least this move was made in May -- when Love will still have a chance to find another job -- and not the day before the Super Bowl.
Dorsey didn't guarantee Jackson would return as coach in 2018

Everything you need to know about the Packers-Panthers game on Sunday afternoon

The Lions will be wearing their Color Rush uniforms for the first time on Thursday
The Lions look to maintain playoff positioning while the Bears attempt to play spoiler

The Panthers have hired an outside law firm to conduct the investigation

Here's every official injury designation for each NFL team for Week 15