Patriots list CB Aqib Talib as doubtful, Danny Amendola out
Along with Patriots cornerback Aqib Talib listed as doubtful, Rob Gronkowski is questionable and Danny Amendola is out.
• 2 min read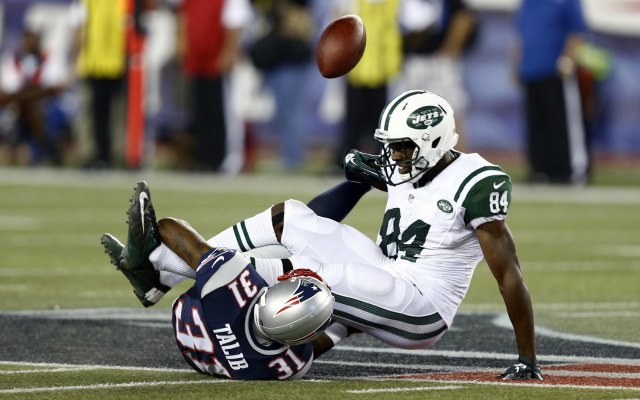 Though Patriots cornerback Aqib Talib shut down Saints tight end Jimmy Graham last Sunday and held him without a catch, he suffered a hip flexor injury that forced him out toward the end of the game.
Talib missed practice Wednesday and Thursday, and despite the fact he practiced Friday for New England, he's officially listed as doubtful to play vs. the Jets on Sunday.
As the Boston Herald writes, "He stopped in the middle of the team jogging portion of the workout to walk toward the area where the cornerbacks stretch together. It's uncharacteristic for a player to stop midway through that exercise, so it was likely related to the hip."
Even if Talib is not likely to play, Jets coach Rex Ryan is apparently a big fan.
"He does have that kind of ability, that lock-down ability," Ryan said. "Very physical, that's what I like about him. He gets his hands on you at the line of scrimmage. This past week he did a tremendous job on Graham. I don't think I've ever seen anybody slow that kid down and he didn't slow him down, he shut him out. That'll tell you about him. ... He's really a tremendous player and we've known that for a long time. He got two picks against us last time we played him."
At this point, it sounds like Talib won't get the chance to repeat that performance.
In other Patriots injury news, tight end Rob Gronkowski is questionable to play (but boy, does he have a T-shirt to sell you), receiver Julian Edelman (thigh) is questionable and receiver Danny Amendola (concussion, groin) is out.
He stopped in the middle of the team jogging portion of the workout to walk toward the area where the cornerbacks stretch together. It's uncharacteristic for a player to stop midway through that exercise, so it was likely related to the hip. - See more at: http://bostonherald.com/sports/patriots_nfl/the_blitz/2013/10/aqib_talib_returns_to_practice_after_missing_time_with_hip#sthash.vUDBddEO.dpuf
He stopped in the middle of the team jogging portion of the workout to walk toward the area where the cornerbacks stretch together. It's uncharacteristic for a player to stop midway through that exercise, so it was likely related to the hip. - See more at: http://bostonherald.com/sports/patriots_nfl/the_blitz/2013/10/aqib_talib_returns_to_practice_after_missing_time_with_hip#sthash.vUDBddEO.dpuf
He stopped in the middle of the team jogging portion of the workout to walk toward the area where the cornerbacks stretch together. It's uncharacteristic for a player to stop midway through that exercise, so it was likely related to the hip. - See more at: http://bostonherald.com/sports/patriots_nfl/the_blitz/2013/10/aqib_talib_returns_to_practice_after_missing_time_with_hip#sthash.vUDBddEO.dpuf
The Patriots quarterback has been listed as questionable for Sunday's AFC Championship

It appears the Raiders didn't break any rules during their hiring of Jon Gruden

Jacksonville cornerback does not lack confidence heading into AFC Championship
Payton was seen mocking Vikings' fans at the end of the Saints-Vikings game on Sunday

Tom Brady didn't really feel like talking about his hand injury on Friday

Anderson was also arrested in May