Patriots release WR Austin Collie, add WR LaQuan Williams
The Patriots released wide receiver Austin Collie on Tuesday and replaced him with third-year receiver LaQuan Williams.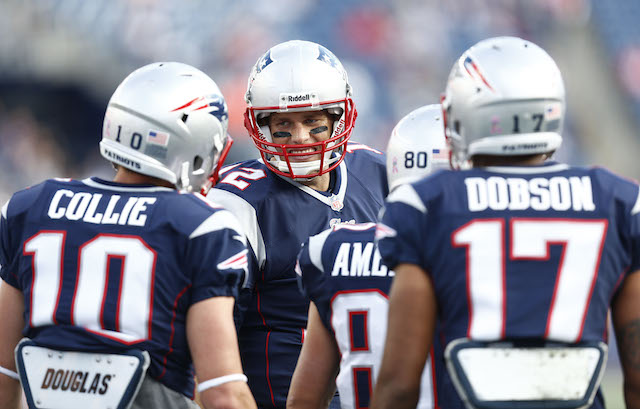 The Austin Collie experiment is over in New England. After spending almost exactly one month with the Patriots, Collie was cut on Tuesday. New England originally signed Collie on Oct. 3 to help with the team's depth problems at wide receiver. 
In four games with New England, Collie caught three passes for 34 yards. The 27-year-old wide receiver suffered a knee injury in the Patriots 55-31 win over Pittsburgh on Sunday. Collie was released with the vested veteran injury designation, according to the Boston Globe. This means his knee likely played a role in New England's decision to release him.
Collie's knee isn't the first injury he's dealt with in his career, he's suffered a number of concussions and he also suffered a ruptured patella tendon last year. The fifth-year receiver has only played in a total of five games over the past two seasons. 
To fill Collie's spot on the roster, the Patriots added LaQuan Williams. The 25-year-old receiver spent the past two seasons in Baltimore where he caught four passes for 46 yards. The Ravens signed Williams as an undrafted free agent out of Maryland in 2011. 
Jackson is 1-29 since becoming the Browns coach in 2016

Also featuring holiday-themed celebrations, a pit crew, the Ickey Shuffle, and some racewa...

The former NFL quarterback sounds like he's ready to move to the front office
Mike Tierney has owned NFL over-unders and just locked in a strong pick for 'Monday Night...

Davante Adams was forced from the game with a concussion after Davis' headshot

The Steelers' wideout was suspended for his hit on the Bengals' linebacker