Patriots signing Tim Tebow, will be at minicamp Tuesday
The Patriots will sign Tim Tebow, who apparently will now play quarterback for New England.
• 2 min read
Less than a week after New England coach Bill Belichick said he didn't actually hate former Jets and Broncos quarterback Tim Tebow, the Patriots apparently are intent on proving it.
The Patriots reportedly are signing Tebow to a contract, according to ESPN's Ed Werder. The team expects Tebow to be at minicamp by Tuesday.
After a recent Yahoo Sports story said Belichick reportedly hated Tebow as a player, Belichick felt compelled to say this a few days ago:
"Every single player has strengths and weaknesses. But regardless of that, for anyone to have represented that is the way I feel about Tim Tebow is completely untrue, baseless and irresponsible," Belichick said, via ESPN Boston. "It is unfortunate that something so inaccurate was reported."
On Monday, the Patriots announced they had released quarterback Mike Kafka, leading us to believe Tebow, in fact, will play quarterback for New England. But according to CBSSports.com's Mike Freeman, that's not necessarily true. According to a Freeman source, Tebow instead will study mostly at tight end.
And for good reason. There happens to be a future Hall of Famer named Tom Brady as the No. 1 quarterback, and backing him up is Ryan Mallett, who New England seems to like quite a bit.
But you also have to wonder what the Patriots' plans are.
The rest of the league seemingly had no use for Tebow, even though he helped lead the Broncos to the AFC West title in 2011 and a playoff victory against the Steelers (and, for the record, was Chuck Norris approved).
And you couldn't blame anybody for that. After a disastrous season with the Jets in which Tebow caused a huge distraction for quarterback Mark Sanchez and the rest of the team (even if the fault didn't lay solely on Tebow), it was easy to see why some in Tebow's camp reportedly thought his NFL career might be done.
"He's not a quarterback," one scout told ESPN recently. "When you look at his run two years ago, when you watch the tape and break it down, he wasn't really doing anything that impressive. He's a tough guy, a great leader, a great person. But he isn't a good enough quarterback to have all the distractions that come with him."
But here's the thing about the Patriots: New England is the place where distractions go to die. With Belichick running that team, Tebow likely will sit quietly in the corner and try to be even more milquetoast than usual in interviews. If he's a third- or fourth-string tight end, there won't be much value in interviewing him anyway.
It's not like Tebow has any way to land a starting quarterback spot in New England, unlike last year in New York, so the distractions probably will be lessened.
Plus, the man who drafted him in Denver -- and who was lambasted for it -- is Josh McDaniels, who happens to be Belichick's offensive coordinator.
So, perhaps you were surprised Tebow will get a third chance in the NFL. But in essence, after Jacksonville, the Patriots are the least-surprising team to make this move.
And in case you want a sneak preview of how Tebow will look in a Patriots uniform: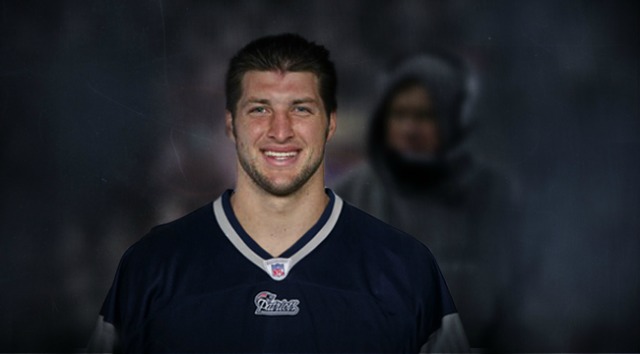 You can find every official injury designation for each NFL team shortly after its Friday report...

Everything you need to know for Week 3 of the 2017 NFL season is here

Bradford missed last week's game against the Steelers with a knee injury
Two NFC East divisional foes face off this weekend in a big battle for both teams

Matt Ryan and Matthew Stafford, two of the NFL's best quarterbacks, face off in a Week 3 m...

Wilfork has always wanted to be a tailgater, and now he finally can be