Patriots' Tom Brady: I had a pretty good idea we would draft a QB
Tom Brady is feeling spry, but he still wasn't surprised at all when the Patriots drafted a quarterback in the second-round of the 2014 NFL draft.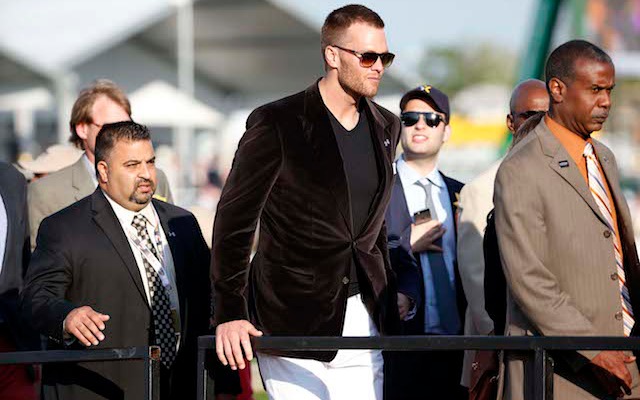 More NFL offseason: League minicamp dates | Latest news, notes
When the Patriots 2014 regular season kicks off on Sept. 7, Tom Brady will be 37-years-old. That might be ancient by NFL standards, but it doesn't mean anything to Brady. The Patriots starting quarterback says he feels younger and that getting older in the NFL doesn't automatically mean you're going to 'suck.' 
"It's hard to explain this to people, but the commitment I make, in terms of keeping my body in shape and my nutrition right, should make me healthy. I feel better today than when I was 25, and I know that's hard for people to believe, but I do," Brady said in an interview with MMQB.com's Peter King. "I work at it. Basically, I work all off-season to prepare my body to not get hurt. I can't help the team if I'm on the sidelines. I've got to be durable."
As for getting up there in age? "You know, you don't have to suck when you get older," Brady told King.
The 36-year-old Brady -- who turns 37 on Aug. 3 -- said he plans on playing for a long time. 
"There's nothing that can wake me up at 5 o'clock in the morning on a Thursday in May like getting ready for a day of football. I want to play a long time," Brady said. "There's nothing I like doing that's close to football. What'll I do when I'm done playing? I don't know, but I know it won't be nearly as fun. I can tell you neither me nor Peyton [Manning] will probably be very far from the game of football when we're done."
Despite the fact that Brady plans on playing for a 'long time,' the Patriots still have to plan for an eventual future without him. The team started that process in May by drafting Jimmy Garoppolo, a move that didn't surprise Brady.
"I had a pretty good idea we'd take a quarterback," Brady said. "Coach Belichick doesn't care who the quarterback is here. He's always going to play the guy who he thinks gives him the best chance to win. There's no entitlement in the NFL. I don't expect to be given anything. I just hope I'm the one most entitled to play that position for a long time here."
Just in case you're wondering, Brady will be the second oldest starting quarterback in the NFL in 2014. Only Manning, who turned 38 on March 24, will be older. The only other quarterbacks who will be 35 or older when the 2014 season kicks off are Drew Brees (35) and possible Buccaneers starter Josh McCown, who turns 35 on July 4.
The Eagles lose their franchise quarterback with the playoffs just weeks away

The Packers cornerback held Gordon to one catch on Sunday

Colin Kaepernick, Josh Johnson and Matt McGloin are among the bigger names available
The Rams and Titans look good nearly two full seasons after the Jared Goff trade. But who 'won'...

Also featuring Josh Gordon's 'hater blockas,' some FIFA-inspired celebrations and a hilarious...

The Steelers have struggled against the Patriots during the Belichick-Brady era