Patriots top Chiefs 27-20 to return to AFC title game: 9 things to know
Tom Brady shouldered the offensive load for the Pats and led his team to yet another playoff victory.
For the 10th time in the last 15 years, and for the fifth year in a row, the New England Patriots are headed to the AFC title game.
The result of their divisional round matchup with the Kansas City Chiefs was never in doubt, as the Pats drove right down the field for a touchdown on their first drive of the game and led by at least four points the rest of the way. For much of the afternoon, New England's lead was in the double digits.
The win by the Pats snapped a two-game losing streak, which means they still haven't lost three in a row since 2002. Their victory also kept the Chiefs winless in Foxborough since 1990, a streak that now spans six games, and it snapped Kansas City's 11-game winning streak coming into the contest. The Chiefs hadn't lost since Week 6, when they fell to the Vikings, 16-10.
Unsurprisingly, it was the Pats' big guns that led them to this win. Tom Brady, playing in his NFL record-tying 30th playoff game (Adam Vinatieri held the record prior to Saturday), completed 28 of 42 passes for 302 yards and two touchdowns, both of which went to his No. 1 target, Rob Gronkowski. Gronk and Julian Edelman combined for 17 catches for 183 yards, including four of Brady's five third-down conversions. Rob Ninkovich, Jamie Collins, Dont'a Hightower, Malcolm Butler, Patrick Chung, Logan Ryan, Jabaal Sheard, and Chandler Jones all stepped up and made big plays defensively. And Bill Belichick, of course, outcoached Andy Reid.
Showing up at the top of their game come playoff time is simply what the Patriots do. After a decade and a half of watching them do it, we shouldn't be surprised.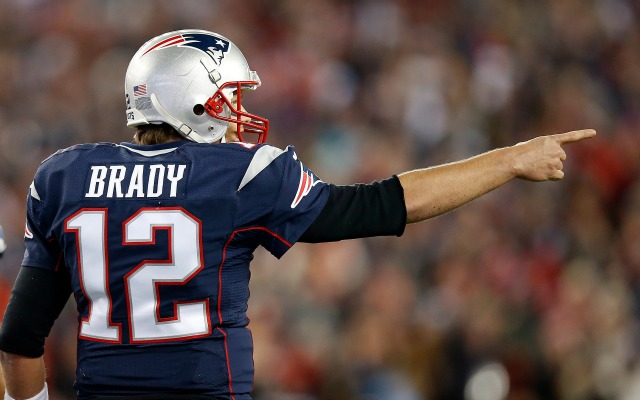 Here are several other things to know about this divisional round game ...
2. The Chiefs brought it on themselves, too: From the start, the Chiefs treated the Patriots as though they were an evenly matched opponent, and that contributed to their going down by too many points to effectively mount a comeback.
After allowing a touchdown from Brady to Gronkowski on New England's opening drive, the Chiefs drove right back down the field and into the red zone. They failed to convert on third-and-6 from the 16-yard line, though, and then they ran their field goal team out onto the field.
In a game between two evenly matched teams, this is a move that makes sense. Even in a game between two teams where one is clearly better -- which I think most would agree was the case on Saturday -- 99.9 percent of coaches are sending the kicking team out there in that situation.
But with the Chiefs playing in New England, with three of their best players limited by injury, they probably were not evenly matched, so what they probably needed to do in order to win the game was enact so-called David (meaning, the dude that defeated Goliath) strategies -- they needed to be ultra aggressive at all times in order to tip the balance of the game their way in a way that the talent of the two teams on the field was unlikely to do over the course of 60 minutes. They needed to go against conventional wisdom and attempt to come away with seven points every time they crossed midfield. You're not going to beat the Pats in their own house by kicking field goals. Instead, the Chiefs played stereotypical football.
Two more situations like this came up later in the first half, when the Chiefs twice punted from inside New England territory. One of those drives started from the Patriots' 35-yard line. You can't get into New England's side of the field three times and come away with three points, then expect to beat the Patriots in Foxborough. More aggression is called for when you're the underdog.

Once the Pats went up 14-3 in the second quarter (the Pats' second TD of the game came on the drive immediately following the second of those two K.C. punts from inside Pats territory), the game was essentially already over.
Last time Alex Smith won a game where he was behind by 11+ points was in 2011 against Andy Reid's Eagles. https://t.co/GJ5MyIlJ6c

— Football Perspective (@fbgchase) January 16, 2016
Even when the Chiefs cut it to 14-6 with 18 seconds left in the half, that was still probably true.
When leading by 7+ at home under Bill Belichick, the @Patriots are 65-0. pic.twitter.com/2sQ8cKKNMo

— NFLonCBS (@NFLonCBS) January 16, 2016
By the time they finally did go for one of those fourth-down plays in New England territory, the Chiefs were already down by 15 points late in the third quarter. That particular drive ended in a touchdown that cut the lead to eight, but Brady drove the Pats down for a field goal on the very next drive and the lead never got back down to single digits until it was onside-kick time.
It took Kansas City 51 plays in New England territory to get their 20 points. That just can't happen if you're trying to upset the Pats on the road.
Note: We didn't even get into all the classic Andy Reid clock management fiascos in this section. They included: burning two timeouts on their first drive of the game to avoid delay-of-game penalties on third downs; taking a delay-of-game penalty with under 30 seconds left in the first half and the ball inside the 10-yard line; not getting off a second play before the two-minute warning after Alex Smith, down by 14, completed a pass to Albert Wilson to get to the 1-yard line and then Charcandrick West was stopped in the backfield on first-and-goal; and taking a full 30 seconds to get off a third down play -- and HUDDLING! -- after Smith completed another pass on second-and-goal after the two-minute warning. I mean, what are you doing here?
yes, huddling now is a good idea pic.twitter.com/IoQxSIBiUj

— Jordan Heck (@JordanHeckFF) January 17, 2016
3. Return of the Gronk: Rob Gronkowski had a fairly quiet end to the regular season, by his standards. After catching 57 passes for 937 yards and nine touchdowns during the first 11 games of the season, Gronk missed Week 13 with a knee injury and then had a 15-245-2 line in the last four games of the year.
Maybe the Pats were just keeping him in the freezer until they were ready to unleash him, because Gronk went absolutely off in this one. The first drive of the game included both a 32-yard catch and run as well as the first of his two touchdowns on the day.
Tom Brady in the red zone? You know how this ends. #GRONKSPIKE! #KCvsNE #DoYourJob https://t.co/3WOFE4mq5N

— NFL (@NFL) January 16, 2016
From NFL Media research: Rob Gronkowski has a receiving TD in each of his last 4 playoff games

— Around The NFL (@AroundTheNFL) January 16, 2016
Later, he put this move on poor Eric Berry:
Tom Brady PERFECT pump fake + Eric Berry bites = #GronkSpike. Again. #DoYourJob #KCvsNE https://t.co/9V32aYCTwG

— NFL (@NFL) January 16, 2016
Tom Brady is now 6-of-6 with 2 TD targeting Rob Gronkowski.

— ESPN Stats & Info (@ESPNStatsInfo) January 16, 2016
Berry's peeking into the backfield there, and Gronk and Brady hit him with the ol' okey-doke for a score. Look at that play. It's mean. Tyvon Branch had almost no chance to make it over to Gronk in time to prevent the touchdown.
Gronk's final line: seven catches for 83 yards and those two scores. Yeah. He's back. (Just pretend Mark Morrison is singing "Gronk" instead of "Mack" here, OK?)
4. Jeremy Maclin vs. Malcolm Butler: Maclin was by far Kansas City's best passing game weapon this season. He finished the year with 87 catches for 1,088 yards and eight touchdowns on the year. But he suffered a high ankle sprain against the Houston Texans last weekend, and as a result, he didn't look much like himself out there today. 
Maclin spent the afternoon matched up with New England's No. 1 corner, Malcolm Butler, and he was running a lot of crossing patterns and go routes -- things that wouldn't force him to put too much torque on that ankle with quick cuts. He was able to shake free for just two catches (on three targets) for 23 yards before tweaking the ankle again and spending much of the rest of the game on the sideline.
5. Chandler's alright: Patriots defensive end Chandler Jones had himself a week. He wound up at a local hospital Sunday morning under strange circumstances, reportedly having smoked some synthetic marijuana. He apologized and whatnot, but what he really needed to do to make amends (as much as anyone needs to make amends for reportedly using a substance that is trending toward eventually being legalized across this country but is still not yet legalized and is of course still on the NFL's banned substances list) and have an impact on the game.
And have an impact on the game he did. Jones finished with four tackles, one of which was for a loss, a sack, another hit on Chiefs QB Alex Smith, and a forced fumble on Kansas City's opening drive of the second half.

6. New England's pass-heavy game plan: The Patriots opened the game with an 11-play drive that saw Brady throw the ball on all 11 plays. He was 8 of 11 for 80 yards and a touchdown on that drive, including 3 of 3 for 50 yards and that touchdown on third downs. The Pats also had Brady throw the ball on the first three plays of their next drive, which means they began their day by throwing 14 straight times before attempting their first run of the day.
By the end of the game, Brady had thrown 42 passes and the Pats had called just 14 running plays. Brady himself had six of those runs, though, and a few of them were kneel-downs and scrambles. Only one was designed, and it was a QB sneak. They had eight total hand-offs.
This kind of run-pass distribution isn't exactly surprising for the Pats, though, especially when you look at how they attacked defenses similar to Kansas City's during the regular season. The Chiefs finished the year sixth in the NFL in pressure percentage (the percentage of drop backs on which they sacked, hit, or hurried the opposing QB), per Pro Football Focus. New England faced four other teams that finished in the top 10 during the regular season. Not including their Week 17 game against the Dolphins (which had a strange game flow, with all their offensive line injuries and Edelman missing the game), the Pats called for a pass on 72.2 percent of their plays in those matchups. They threw the ball on 75 percent of their plays on Saturday.
7. Dumb Danny: Danny Amendola finished the game with two catches for 18 yards, but his big contribution to the proceedings was this dirty-as-hell helmet-to-helmet hit on Chiefs special teamer Jamell Fleming.
Amendola lays out Fleming pic.twitter.com/UBBOF4UlrF

— Pete Blackburn (@PeteBlackburn) January 16, 2016
The play only wound up costing New England 2 yards of field position because it was a half-the-distance-to-the-goal personal foul that occurred just inside the 5-yard line, but Amendola probably should have been tossed. He's pretty clearly going right after Fleming's head there, which is not cool.
8. Props where they're due: Let's make sure to give some dap to the Chiefs, who had multiple contributors step up on Saturday. With Maclin clearly ailing, Albert Wilson, Chris Conley, and Jason Avant combined for 14 catches for 159 yards and a score. Safety Ron Parker was all over the field on defense, and Branch and Berry, second Gronk TD notwithstanding, had good games as well. The K.C. defense was dynamite all year, particularly as the Chiefs won 11 straight games before this loss, and they didn't even play badly on Saturday. They just got Brady'd. (And Reid'd, as described above.)

9. What's next? The Chiefs' miraculous run is over. According to multiple reports, they'll lose offensive coordinator Doug Pederson rather soon, as he's apparently going to be the next head coach of the Philadelphia Eagles. He was hired as a quality control assistant by the Eagles way back at the start of his NFL coaching career, so it's a bit of a homecoming for him. The Chiefs have several notable free agents this summer, with Spotrac listing basically half their defense as coming up for a new contract. Locking those guys in, figuring out the offensive coordinator spot, and adding some more weapons for Alex Smith will likely be the top priorities.
The Patriots, meanwhile, now await the winner of Sunday's Steelers-Broncos game. If Pittsburgh wins, the Pats will host Ben Roethlisberger's squad in the AFC title game next week. If the Broncos prevail, New England will head west to Denver for yet another Tom Brady–Peyton Manning showdown.
Warren Sapp was one of several players named in a lawsuit against NFL Network

Check out the uniforms that Denver and Indianapolis will be wearing on Thursday

The Cowboys are going to need a few things to go their way to get into the postseason
Rudolph will be put under the microscope in Mobile by clubs looking for a quarterback early...

This fan is taking the Saints to court for using 'football games as a platform for protest...

Can Aaron Rodgers get the Packers to the postseason? Even if they win out, they'll need he...