Patriots will fight suspension, and use it as motivation on the field
The Deflategate punishment for Tom Brady and the Patriots is harsher than expected, but this is an organization that overcomes adversity time and again.
• 5 min read
The NFL threw the book at the Patriots, no matter how you look at it.
They handed down historically stern discipline, in comprehension, to the team in the aftermath of Ted Wells' Deflategate report, to a degree that not even rivals of the team could quibble with. Conversations with members of organizations the Patriots will face this season -- including some who might not face New England sans Tom Brady as part of his four-game suspension -- revealed no one nitpicking the decision or calling it anything but substantial. Losing a first- and a fourth-round pick speak for itself, losing a Hall of Fame quarterback for a quarter of the season does the same, and honestly, people were maybe even more shocked by the amount of the fine -- a record $1 million.
In a league of billionaire owners, we figure most wouldn't flinch at such a sum -- mere couch money, we might joke -- but the reality is team officials I spoke to had a hard time getting their heads around that fine considering the Wells report, and the subsequent disciplinary decision by the league -- went out of its way to exonerate owner Robert Kraft and head coach Bill Belichick. "A million dollars? Really?" one high-ranking team official said when informed of the full scope of the punishment. "Wow. I'm really surprised they went that far."
Another team exec: "I wasn't sure Goodell was going to be willing to go this far. We were thinking two-to-four games for Brady, but we weren't sure about the fines and draft picks."
The tough justice sets the stage for an appeal and possible subsequent legal battle. I can assure you Brady's agent, Don Yee, never backed down to the NFL when it went hard after another client of his -- Saints coach Sean Payton in Bountygate -- and he was always looking for a creative, smart, proactive approach. That will be the same here, without a doubt, and he won't flinch at any opportunity to deliver his own harsh critiques of the league on television or otherwise as the battle for the hearts and minds continues and the appeals process plays out.
The NFL has been coming hard at those it believes run afoul of the rules in recent years -- with middling success (i.e. the final ruling of former commissioner Paul Tagliabue in the Bountygate mess) -- and the strategy of aiming high, figuring things get knocked down some on appeal -- might apply here as well. With Kraft such a powerful owner, and other teams watching closely to see whether Roger Goodell would be willing to go after him with such vigor, perhaps there was some discussion of that dynamic as well before this discipline was announced.
League insiders will be watching closely to see where Kraft aims his inevitable retort, as several sources have said Kraft has been less than thrilled with Jeff Pash, the NFL's chief legal counsel, in recent months and has groused about him to confidants with increasing regularity. The dynamic between those men was a topic of chatter during the last owners meeting in March, and with another one looming next week in San Francisco, several people were already wondering if there might be the potential for some fireworks soon enough.
Given Kraft's two public statements about this investigation before any discipline was taken, it's hard to imagine him simply biting his tongue and sitting on his hands in the face of epic penalties against his club. As much as the NFL can make the case that the Patriots' former transgressions in the Spygate affair were taken into consideration here, and as much as they can harp on the preponderance of circumstantial evidence, the reality is there was no smoking gun and Kraft's goal of another Lombardi Trophy defense were just dealt a major blow, and these penalties threaten to weaken his team substantially both in the short term, via Brady, and the long term, via the lost draft picks.
In the meantime, sources said the Patriots have no plans to immediately sign a veteran quarterback this off-season, and they'll be watching very closely to see how Brady fares in his appeal. Jason Campbell and Mike Vick are two options available in a very shallow quarterback market, but, again, New England will be in no rush to do anything, and there is a strong sense that second-year man Jimmy Garappolo is equipped to get them through a few games if need be.
For a team that always seems to be motivated by any potential slights, real or imagined, and seems to rise when others ridicule or impugn it -- its Super Bowl championship in the wake of the original Deflategate allegations the latest example of such -- I have a hard time writing the Patriots off now, for the AFC East, or even the title game, so soon. These appeals processes will take ample time, it remains to be seen how time Brady actually misses, and this franchise as much as any knows how to finish a season and how to peak at the right time and how to use adversity to fuel a fire that, frankly, it sometimes requires outside forces to stoke given just how much this organization has won this decade. Sure, you could make the case their division might be better than the year New England went 11-5 without Brady -- and with Matt Cassel replacing him after a torn ACL -- but I wouldn't discount their wherewithal to withstand a challenge.
So, in the end, it might take more than a historical penalty to stymie a historical run, the one the Patriots have been on despite this being the salary cap/free agency era. Brady will be simmering and Belichick will be scheming and no one on their side will be relenting in the face of some of the toughest penalties the NFL has ever handed down. And I, for one, can't help but wonder if the Patriots just keep winning.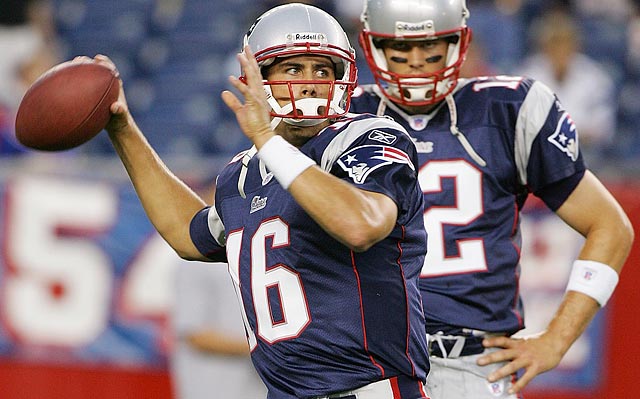 Pick Six Newsletter
Get the day's big stories + fun stuff you love like mock drafts, picks and power rankings.
Please check the opt-in box to acknowledge that you would like to subscribe.
Thanks for signing up!
Keep an eye on your inbox for the latest sports news.
Sorry!
There was an error processing your subscription.
The all-world running back struggled down the stretch last season but will injury concerns...

It could be a long season for the Raiders and the Broncos

The Cardinals defensive lineman was arrested on June 6
Gerald McCoy's relationship with the Buccaneers definitely didn't end on a high note

Nick Caserio is reportedly restless to take the next step after 19 years with the Patriots

Roberts might need to get healthy before latching on with a new team