Payton returning to Saints, but is he a changed man?
Sean Payton has reportedly agreed to a new contract to stay on as coach of the Saints. Here's hoping he learned a lot from his year away.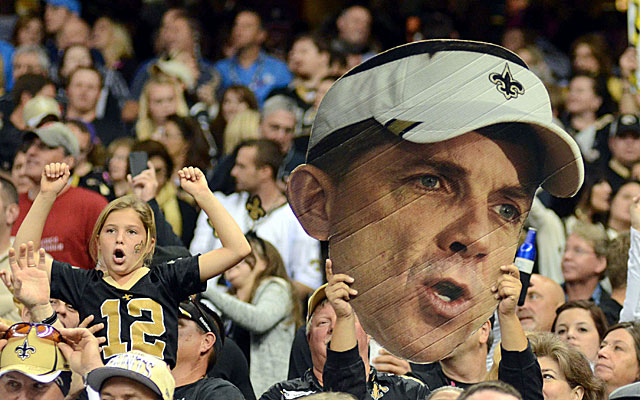 Saints' fans are surely happy to have coach Sean Payton back next season. (US Presswire)
I thought all along Sean Payton would never leave the New Orleans Saints.
That team is his baby.
And he has work to do to fix it. Payton is a competitor, a feisty one at that. He loves a challenge. And now he's facing one in trying to show the Saints can get back to their winning ways since he has reportedly agreed in principle to stay on as head coach.
A loophole in his contract gave him a chance to move on to another team, but he's staying in the Big Easy. There was talk he might go to the Cowboys, but the Cowboys aren't expected to make a change. I never thought he'd go, anyway.
Payton can now show people just how valuable he is to the team.  If the Saints win, it's all about him since he missed the 2012 season serving a suspension for his alleged role in the Bountygate scandal and the team has floundered.
More on the Saints
Related Links
Oh, and he also has Drew Brees. How many places can he go where the quarterback is that good?
Payton's year away will probably be good for him. He needed to be taken down a notch. The arrogance factor grew when he won the Super Bowl. Opposing coaches and front-office executives all noticed the change in him. So did many in the media.
I did, too.
I have always been a Sean Payton backer on the football field. There is no better play-caller in the game. His arrogance shows on the football field, but that's where it's needed. He isn't afraid to take chances.
To me, he's innovative, creative, can adjust on the fly and isn't afraid if something fails. That's what makes him a great coach.
But that game-day arrogance is also what led to his suspension. You have to abide by the rules. Nobody is bigger than the game. And when the arrogance carries over away from the field, that's a problem. And trouble comes with it. You think you are invincible, and as the Saints found out, nobody is bigger than the NFL shield.
Payton is a smart guy. I'll bet he's also a changed man. Spending time away from the madness of the NFL probably ate at him in a big way, especially seeing his team stink it up, but it was probably also humbling. I hope it was.
The NFL isn't the same without Payton. He brings a swagger to the game, which I love. He brings offensive wizardry to the sideline, which I admire.
Not having Payton in New Orleans just wouldn't have seemed right. He is the puppeteer that makes Brees go. He is the checks and balances to the greatness that is Brees.
I joked this season that Brees was the interim coach of the Saints. Watching practice in the preseason, it sure looked that way. Who would tell him no? Aaron Kromer? Joe Vitt? Not a chance.
But Payton can and will.
I always thought Payton's ego would keep him on the sideline in New Orleans. That hunch, coupled with a fat, new contract to help make it possible, has now played out.
Here's hoping the Sean Payton who once seemed humble to even be calling plays as a coordinator a half-decade ago will be back running the team.
I'm all for having a swagger, but you can't be dumb about the way you use it.
Payton let his get the best of him, but he's back now and can show that madness is all behind him.
Breaking down why the underdogs are very dangerous against the Patriots

All of the information you need to know about the 2018 Super Bowl

Here's all the details you need to know on watching Super Bowl LII between the Patriots and...
No one wants to give the Eagles any respect

Here's a look at the NFL's entire postseason schedule for 2018

Here's everything you need to know about Super Bowl LII