Pedigreed O'Brien works at Texans reload with big No. 1 decision
Bill O'Brien has a big agenda: Turn around the Texans and nail the No. 1 pick. He's not offering hints, but Blake Bortles still looks right.
• 7 min read
More NFL offseason: Mock Drafts | Prospect Rankings | Pro Days | Top free agents
ORLANDO -- Bill O'Brien is a rookie NFL head coach, entrusted with rapidly rebuilding a Texans franchise that collapsed in 2013, and sorting through what many consider to be the deepest draft in quite some time to find the eventual first-overall pick.
If all of that sounds a little daunting, well, it is, but O'Brien seems to be enjoying the process.
As AFC coaches gathered Tuesday in a conference room at the NFL owners meetings to meet the media, an early-morning, time-honored tradition that is less-than-enthralling for many of the participants, O'Brien in particular ran a gauntlet of questions about most any top prospect in the upcoming draft. The Texans have yet to commit to any player at any position, and, with so many options seemingly in play, O'Brien fielded inquiries on any number of aspiring NFL stars during his hour-long session, greeting the overtures with a smile.
The grind is very real -- all the hours watching film, shuttling from one pro day or private workout to the next from school to school, scheduling visits for players to come to Houston, watching even more tape. But O'Brien is relishing the process, in a unique position to begin his NFL head coaching career with a young man selected with the first-overall pick.
The fact that the Texans aren't honed in on any player just yet -- a tenet O'Brien espoused numerous times Tuesday -- has made the process even more enjoyable. There is no consensus Andrew Luck, a sure-fire first-overall pick for the coach, who was already thinking forward to the offensive line film he'd be studying on the plane back to Houston once these meetings wrap up Wednesday.
"What fun would it be if you already knew who you were going to pick?" O'Brien said with a wry, but genuine smile.
Certainly, not as much fun as he seems to be having right now.
But for as much as the Texans maintain they could go with a lineman or linebacker or quarterback or someone else with their first pick, there is growing sentiment around the league that ultimately the team will take a passer. O'Brien is a quarterback guru, he has a system that was proven to work as an assistant with the Patriots and as a head coach at Penn State. The Texans just happen to be in desperate need of a quarterback and there are three of them who merit consideration at the upper regions of this draft: Blake Bortles (Central Florida), Johnny Manziel (Texas A&M) and Teddy Bridgewater (Louisville).
O'Brien stressed the ability of his scheme to adapt to fit the varied skillsets of these young men, but, there is also a growing sentiment that in the end Bortles fits the mold of the big, strapping pocket passer that O'Brien has coached, with Tom Brady the obvious template. O'Brien blanched at this notion, though it will be impossible to escape as May approaches. "We don't have a certain type," O'Brien said, though, if the Texans had to draft today I'd put my money on Bortles ending up being the man for the job in Houston.
Praises Manziel and Clowney
O'Brien said there are layers to his system many have not seen, because to this point those plays didn't mesh with the strong suits of his starting quarterback.
"We have a system that is very adaptable," O'Brien said. "We have move-the-pocket plays ... we have option plays. Nobody's ever seen them."
O'Brien was probed several times about Johnny Football, and he praised the youngster repeatedly. Some who know O'Brien well believe he wouldn't draft the outsized personality to be the leader of his football team, and they wonder whether he and Manziel would be a good fit. O'Brien, however, pointed to the Old Miss game as an example of Manziel thriving in the pocket, and maintains there is sufficient middle ground to meld a sustainable offense that incorporates Manziel's unique talents.
"You can't force a guy to be something he isn't," O'Brien said, while also cautioning that these running quarterbacks must learn quickly when to abort a play that has been extended too long and will only result in great personal pain. "You have to know when the journey is over," he said.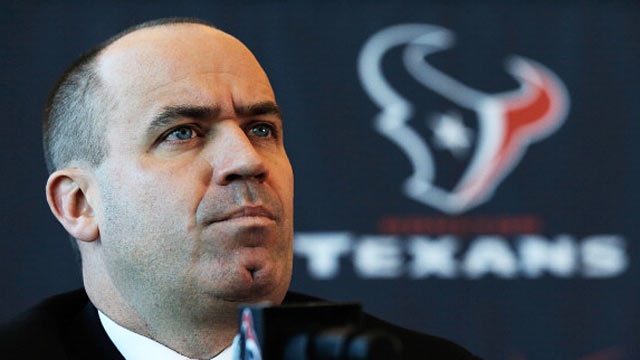 O'Brien did nothing to quell the notion that South Carolina pass rusher Jadeveon Clowney was in play for the top pick as well. The obvious criticism of Clowney is that he takes plays off, but O'Brien cautioned that is the case of most any player in Clowney's position facing 80 snaps a game against opponents almost exclusively in a shotgun who have implemented a scheme predicated on keeping the football away from him.
But no matter what the Texans end up doing at various other positions, quarterback will define this draft for them. If they pass on one in the first round, and he turns out to be a savior elsewhere, that will be an ongoing subplot. If the Texans end up taking a quarterback with the first pick of the second round, well, that move could end up determining the coach's fate as well.
With the recent addition of veteran Ryan Fitzpatrick, who ended up starting most of the season in Tennessee last year, the Texans have at least added experience to the quarterback room. It takes away the notion they are totally backed into a corner in terms of taking a quarterback, though, again, I fully expect O'Brien to be mentoring a rookie quarterback with that first-overall selection. Case Keenum and TJ Yates remain on the roster at quarterback as well, holdovers from the Gary Kubiak regime, though Fitzpatrick would certainly be in position to be that primary back-up/elder statesman to help groom whomever the Texans draft at quarterback.
Relationship with Belichick
"They've all been told the same thing -- you're going to have a chance to compete," O'Brien said of the quarterbacks on his roster.
While he may lack in NFL head coaching experience, O'Brien has been more than groomed for this job, and he won't find anything about this situation too large. He adroitly led Penn State out of the scandal-riddled end of the Joe Paterno regime. He dealt with turmoil and issues much larger than football at that school, and he had long ago proven himself as one of the bright young minds in football having spent years coaching under Bill Belichick in New England.
"I like Billy," Belichick said of O'Brien. "I like every aspect of him ... I have nothing but positive things to say about Bill O'Brien ... I learned a lot from Bill."
In Belichick, the greatest coach of his generation and one of the greatest ever, O'Brien has a tremendous mentor and resource to continue to call upon. "He's been a great friend and mentor to me," O'Brien said of Belichick.
The nature of their relationship will have to shift some, now, with the Texans and Patriots in the same conference and these teams having met twice in the playoffs recently, but Belichick will remain close with O'Brien.
"There's kind of a mutual understanding that there are some places you can't go," Belichick said. "and sometimes you just say, 'Hey, I've got a question, and this might be something that I understand if you can't answer it, and I understand if you don't want to talk about it, but it's something I wanted to bounce off you,' something like that. And sometimes you just say, 'Look, I'm not comfortable talking about that,' or maybe you are comfortable with it depending on what it is. It depends on what it is, and it depends on what your relationship is with that other person."
Undoubtedly, O'Brien will be checking in with Belichick throughout the draft process. In the past he would work out certain positions on offense, go to pro days and report back to Belichick. Now O'Brien is responsible for every player on the roster and will work closely with general manager Rick Smith, an experienced hand whom O'Brien praised often on Tuesday, to work through all seven rounds at every position.
There is much work still to be done, and O'Brien is eager to get back on the road and get back to it. With the top pick of each round, there will ample opportunity to trade up or back if need be, and, while the Texans don't have to reach a consensus on their pick for a few more weeks, they would like to have an individual in mind by the time May arrives.
"You've got to have something in your mind before that (draft) day," O'Brien said. "I'm sure we'll have something in mind maybe a week or two in advance."
And when they do, I'm saying it's a quarterback. I'm going to stick with Bortles, at least for now.
In the past week, Marshawn Lynch and Michael Bennett have both sat during the national ant...

As expected, the internet had jokes about the Chick-fil-A at Mercedes-Benz being closed on...

Harrison is the franchise's all-time leading sacker, but J.J. Watt's brother will get the starting...
More than 17 percent of fans say they would never consider dating a Pats fan

Brady said that his lack of speed is why he fell so far in the draft in the first place

If Thomas is right, that means it's bad news for DeShone Kizer's chances of starting early