Pete Carroll brings many along for his wild ride to the Super Bowl
Seattle Seahawks coach Pete Carroll has had a crazy path to get to the Super Bowl and he's brought a lot of folks he couldn't be at CenturyLink Field along for the ride.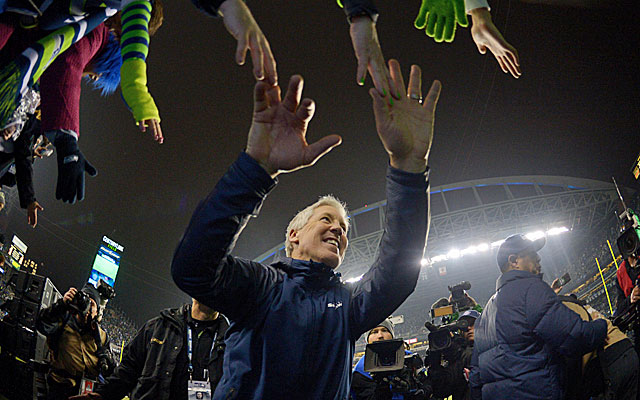 More SB coverage: Broncos 26, Patriots 16 | Seahawks 23, 49ers 17 | Latest SB news
SEATTLE -- Pete Carroll couldn't stop smiling as he stood on the stage in the middle of CenturyLink Field 10 minutes after his Seahawks beat the San Francisco 49ers, 23-17 to earn a trip to the Super Bowl in New York.
Carroll, surrounded by many of his players along with TV cameras and production people as blue and green confetti fell from above, made his way to the back of the stage and motioned over to Michael Robinson and several of his other players celebrating with their families, "C'mon, get on up here!" the coach yelled down, with an exaggerated wave. Carroll wanted the whole Seahawks family to enjoy every ounce of what was happening just as much as he was.
This moment had been such a long time coming for the 62-year-old, but to those closest to Carroll, he believed that if given another chance that it would happen. That's just the way his mind works. Meanwhile, some 3,400 miles away, on the opposite corner of the country, his son Brennan Carroll, a former USC assistant on his dad's staff and now the University of Miami's wide receivers coach and recruiting coordinator, admitted he was a wreck after watching Seattle rally from a 17-10 third quarter deficit. His emotions spent. His clothes drenched with sweat. His soul overjoyed.
"Man, I'm still sweating," the younger Carroll said via phone. "That was just so nerve-wracking. I hate watching football on TV. But I know to never count those guys out with how good they play defense."
Maybe there's a touch of irony that Carroll's team will get to play a Super Bowl in New York, the place where he was fired after just one season, in 1994, in his first stint as a head coach in what seems like another lifetime ago. It also seemed fitting that to make it to the Super Bowl, Carroll's defense had to bottle up a dynamic dual-threat QB in the final minute, after a first half in which San Francisco's Colin Kaepernick ran wild. To many who followed Carroll's teams at USC, it started to seem eerily familiar.
"I'm getting a USC/Texas feeling right now and that's not good. Please prove me wrong," former Trojan wideout-turned Ga. State assistant coach Keary Colbert tweeted as Kaepernick led the Niners across midfield with just over a minute remaining. The connection was to Carroll's most famous defeat against Vince Young and Texas in the 2006 Rose Bowl.
Asked if he was having similar thoughts, Brennan Carroll chuckled. "Nah, the Seahawks have a way better defense than we had in the Rose Bowl against Vince."
The coach's son wished he could've been in Seattle on Sunday but his Miami team had a big recruiting weekend. Brennan Carroll, though, was just one of many who has become a devout Seahawks fan who rooted like crazy from far away.
Seventeen year-old Jake Olson was back home in Southern California, wearing his Marshawn Lynch jersey, yelling his heart out. A week ago Olson was fortunate enough to have stood right next to Carroll during the national anthem before the Seahawks' 23-15 win over the New Orleans Saints. Olson, truth be told, was raised to be a Chicago Bears fan, but that changed when Carroll was hired by Seattle in 2010. Olson would've been at CenturyLink on Sunday, he says, but on Thursday he's flying to New York to appear on Fox & Friends to share his inspiring story and talk about his new book, "Open Your Eyes."
Olson's story is a powerful one. When Olson was 10 months old, he lost his left eye to cancer. After 11 years of battling the disease while going through radiation treatment and chemotherapy he eventually losing his right eye in 2009 when he was 12 years old. But before he lost his sight completely Olson wanted to see another USC football game. Carroll invited him to practice and into the locker room, and into the meeting rooms and made Jake Olson part of the Trojans family. Olson said Carroll helped ease his transition with all of his support and encouragement.
Olson, who looked like such a little kid back in his days hanging around the Trojans, has grown up. He has the foundation of a beard. He stands 6-feet-4. This season, Olson even was the starting long snapper for Orange Lutheran. He calls Carroll a mentor and an inspiration.
Marquis Simmons was a reserve linebacker at USC who only played for Carroll for one season before the coach left for the NFL. Simmons is probably best known by Trojans fans as the guy who sung a soulful version of "Lean on Me," in front of his teammates. A few days later, unbeknownst to the young linebacker, his pipes would go viral thanks to a Carroll prank -- the kind that made USC the "cool" school back in his heyday.
During a team meeting, an older man addressed the Trojans. Simmons remarked to one of his buddies, "I think I've seen this guy before." The man talked about some mysterious fungus problem affecting the team. "He's going on about how no one should be barefoot in the shower. I'm thinking, 'Is this guy serious?'"
Actually, the guy wasn't. Carroll had punked the Trojans and brought in the real Bill Withers, the man who wrote and sang "Lean on Me." Withers even had Simmons sing the song for him before the rest of the team joined in.
"It really was awesome," said Simmons, who watched the game with his family and girlfriend back in Compton. "That's Pete. He's a great man and that's why I became a Seahawks fan."
Simmons, who graduated with a sociology degree, is also a fan for what Carroll meant to his community of inner city Los Angeles. Carroll's nonprofit, "A Better LA" aimed to reduce gang violence, connected with a lot of people in places most celebs never go. "Pete came to Compton to recruit me. He didn't have a bodyguard. Didn't have security. It was just Pete."
Yogi Roth, a former Carroll assistant at USC who now is an analyst for the Pac-12 Network, watched Sunday's game from Nashville. The one-time Pitt wideout co-authored Carroll's New York Times bestselling biography/motivational book "Win Forever." Roth spoke in front of 800 coaches Saturday spreading Carroll's message.
"I'm in the Bible Belt and I was talking to Eastern Philosophy, and it was awesome," Roth said. "They all became instant Pete Carroll fans.
"I know I'm biased, but I don't think he's appreciated enough as a coach. Why isn't he talked about among the greatest coaches in the past 30 years? Some people blast him for the USC sanctions (related to the Reggie Bush investigation), but nobody read like all 167 pages to try and actually find his name in it."
Roth suspects a lot of people misunderstand Carroll. "They see Jake Olson standing next to Carroll during the anthem and they don't get that with Pete it's, 'I want everyone to share in this experience with me.'"
The Seahawks trailed 10-3 at halftime Sunday. Over the phone Roth predicted what his mentor would be telling his team in the locker room: "We gave up one big play (a 58-yard run to Kaepernick). We're fine. You can't win a game in the first quarter. You can't win a game in the second quarter. You can't win a game in the third quarter, but you can win a game in the fourth quarter, so let's go out there and cut it loose. Go have a blast!"
Dr. Michael Gervais, a High Performance Psychologist who works with the Seahawks, said Roth's prediction of the speech was pretty accurate.
"The science of optimism is real," Gervais said, explaining how Carroll, along with the guidance of GM John Schneider, has transformed a franchise that went just 5-11 in 2009 into one headed to the Super Bowl.
"Pete has an unbelievable ability to see what's possible and what's good."
Linebacker Bruce Irvin is a testament of that, too. "Five years ago I never thought this was possible," Irvin said. "I went from homeless, dropped out of school, did some jail time, but I kept working hard and Pete gave me a chance when nobody else wanted me and everybody was taking down on me. He's been a father figure to me. He's trusted me."
Irvin helped repay that trust Sunday by helping spy on Kaepernick, along with tackling machine Bobby Wagner as Seattle contained the dynamic QB in the second half after he ran for 98 yards on just eight carries in the first half. Carroll's team did win the game in the fourth quarter, forcing turnovers on San Francisco's last three series. The Seahawks capped off the win on a brilliant play by cornerback Richard Sherman to deflect a pass that former Trojan linebacker Malcolm Smith intercepted in the end zone with 22 seconds remaining.
Carroll said until that moment it didn't even hit him that his team was actually going to the Super Bowl. "All I can tell you is it's quite a magical moment," Carroll said. "You can't really grasp the reality of it. Is this really happening? Did we really do this? And it's very special.
"It's a big moment for everybody. I think maybe everybody sees it differently, feels it differently, but it is very magical to know, OK, we're going."
Magical may seem like a stretch but don't tell that to some of the folks who have been along with Carroll for this crazy ride. Brennan Carroll can tell you exactly where he was back in 1999 when his dad, then the coach of the New England Patriots lost two games by a grand total of a foot on a pair of last-second missed field goals by Adam Vinatieri, a guy who would later emerge as one of the most clutch kickers of his generation. If those field goals go through the uprights, the Patriots go 10-6, not 8-8 and Carroll probably doesn't get fired that year, and that means Bill Belichick doesn't end up as the Pats coach. It also means Carroll probably doesn't end up re-thinking his approach or become the USC coach.
"I'm not a big fate guy," said Brennan Carroll, "but it's OK that everything has happened like that."
Check here for the latest news, rumors and updates for NFL coaching changes and searches

The Titans have tapped Texans defensive coordinator Mike Vrabel to take over as head coach

The government shutdown has come at a horrible time for NFL fans in the U.S. military
Bengals owner Mike Brown seems to be a huge fan of continuity

Our computer model simulated the AFC and NFC title games 10,000 times with surprising resu...

The people of Philadelphia now have two reasons to root for the Eagles this week