Pete Carroll still isn't positive why his team was docked OTA sessions
After the NFL and NFLPA punished the Seahawks for breaking the ban against live contact, coach Pete Carroll said he's still not sure exactly what went wrong.
• 3 min read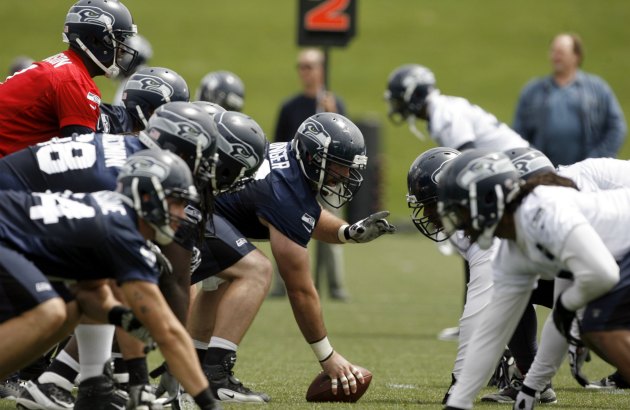 Somehow, Seattle caught the attention of the NFLPA in the way OTAs were run. (US Presswire)
Between
multi-player brawls
and
the trade
for tight end
Kellen Winslow
, it's been an interesting offseason for the
Seahawks
.
Which was made even more fascinating earlier this week when the
NFL
and the NFLPA announced they were
docking two OTA sessions
from Seattle for violating the rules against live contact.
Pete Carroll talked to KJR radio in Seattle (via
sportsradiointerviews.com
) to discuss what had happened and if it was fair that the league and union had singled out the Seahawks for punishment. So, um, what's the deal?
"It's really simply that we were practicing in too physical of a nature," Carroll told host Dave "Softy" Mahler. "We were getting after it in a way that they thought was more than expected and we had a visit from one of the official guys from the Players Association. He watched our practice and thought it was a good practice, but they went back and looked at some tapes of other practices that they thought were over the top. So we've asked these guys to compete and bust their tales to get everything that we can these days, and in their eyes we took it to a physical nature, that was too high of a level of intensity."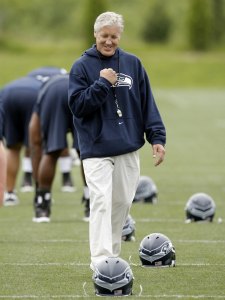 Pete Carroll still isn't exactly sure what his team did wrong. (US Presswire)
Carroll also asked if other teams' practice tapes had been reviewed to determine whether the Seahawks physicality was out of order. Especially since this is the first year the new CBA-mandated practice schedule is in effect.
"They do travel around some and they have not been to all of the clubs' practices, which I am disappointed in," Carroll said. "As far as I understand. they haven't looked at everybody's practices. They don't know what other guys are doing, so that was the one issue I had. I said okay if you are going to really scrutinize us please look at everybody's practices, so that you can compare just so that we know what is going on. We are trying to do this thing right and we are trying to utilize the rules in a manner that we can and let us know what everyone else is doing. They didn't do that. They just went ahead and responded …"
Carroll also repeated the claim that the official who checked out that practice said "it was the best OTA he had seen." Still, Carroll is in the dark about what really happened.
"We just have to adjust and get back to the standards," he said. "The problem is we have nothing to go by in terms of looking at film. There's no illustrations that has been presented to us so we can see if this is the standard. We just have to go by the subjective of what is written and then what they feel after they look at it. I thought we were on track because the guy said we were okay, but then they looked back and got us on something. Nothing we can do about it now."
In response, some NFC West rivals are trying to alter their own behavior.
"I think our guys have a good understanding of the tempo,"
Cardinals
coach Ken Whisenhunt said, via the team's
official website
. "They go hard but they know when to pull off. You get competitive situations, like line stunts, when you are trying to get timing, but they know they have to pull off and no one has gotten in a position where it has gone over the top. They understand how to practice. It's not pads, so you can't really turn it loose like in training camp."
For more NFL news, rumors and analysis, follow @EyeOnNFL on Twitter, and subscribe to our Pick-6 Podcast and NFL newsletter. You can follow Josh Katzowitz on Twitter here: @joshkatzowitz.
Pittsburgh is headed to its fourth-straight postseason appearance

The NFC is going to be a blast to watch down the stretch

Here are the Week 14 grades for every team that played Sunday
Someone apparently threw a drink at Jefferson as he left the field and he was not happy about...

All of the best highlights from Week 14 are right here

Wentz suffered a knee injury while diving for the end zone