Peterson wants out from Vikes badly, but how much is he willing to lose?
Adrian Peterson wants out in Minnesota, but no team wants to trade for his contract -- and the Vikes aren't just cutting him. How much less is he willing to take?
• 4 min read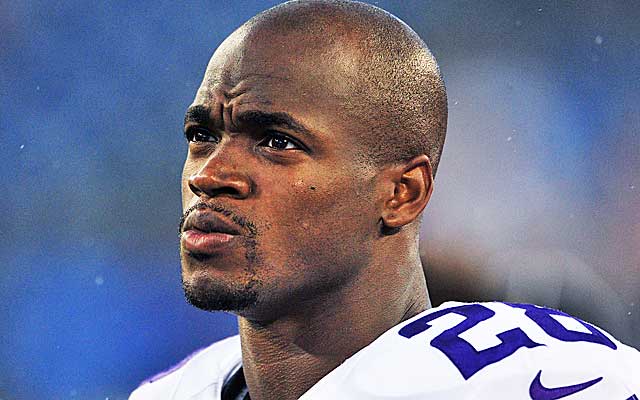 PHOENIX -- One of the questions being whispered around the NFL's spring meeting here at the swanky Arizona Biltmore resort is whether there is a legitimate trade market for Vikings running back Adrian Peterson. I'm starting to have my doubts.
Make no mistake, Peterson's representatives have made it very clear to the Vikings that he has no interest in playing another game for them. And the Vikes have not asked him to take a paycut, and have more or less begged him to come back and are willing to pay him $13M this season to do so.
Peterson's agent, Ben Dogra, has mentioned the changing running back market to the club, and the fact that guys like Marshawn Lynch and LeSean McCoy and DeMarco Murray have recently got paid, and that $13M isn't what it used to be. Problem is, Peterson is now 30 years old and he missed virtually all of last season while facing child-abuse charges, has still yet to be reinstated to the league while the NFL appeals a judge's ruling, and there aren't other teams lining up to pay him that money, either.
So there's the rub. Do I believe that Dallas, Arizona, maybe even Washington, might have some interest at the right price? Sure. But that's the right price? And what would Peterson agree to do to his contract to facilitate a trade? How much less would he take? Because it's become pretty clear that the Vikings aren't just going to cut him. So the only way to get him is via trade, and at this point no one is raising their hand to say we'll give you a couple of assets to get him and we'll take on that contract, as is, with $48M remaining over three years.
It's coming to a head, one way or the other. Peterson's bluff will likely be called by the Vikings after the draft, assuming there is no trade. Will he stay away through the entire offseason and into camp and beyond, when actual money would be at stake. As it stands right now, I wouldn't doubt it. But the closer we get to September, the more things can change.
From everything I have gathered about how badly Peterson wants out, short of the Vikings throwing a ton more money at him -- you know, the way sore feelings are often assuaged in pro sports -- he won't make it easy on them. His resolve will be strong and it'll be an uncomfortable OTA and preseason around Minnesota. If Peterson does end up back there, I don't see it reaching that point for quite some time.
If there is a nice, pretty bow put on this thing, there's going to be more rocky times ahead of it. Dogra is dug in, and he's not one to back down from a fight, and maybe, just maybe, he can get his client out of there and have him remain one of the highest-paid running backs in the history of the game. But it won't be easy and it might prove impossible given the current climate out there among other teams and Peterson.
Because at $13M for 2015, there aren't many suitors immediately emerging.
Still waiting on 'Gate' resolutions
Plenty of NFL officials are frustrated and confused as to why the NFL hasn't announced anything on the multiple investigations that have been going on for months. For weeks members of the Competition Committee have been under the impression that the evidence is essentially in and that the NFL could impose its discipline in Deflategate (with the Patriots) and Textgate (with the Browns) and Noisegate (with the Falcons) at any point, and the level of frustration would only rise if these meetings conclude and there is still no resolution. Not that the league would be concerned about that -- they'll move at their own pace as always -- but there are plenty of team execs who feel like its time for some answers from the league.
More notes from meetings
• There has been plenty of anti-Marcus Mariota talk lately, whether about his Pro Day performance or his statements about not being obsessed with being the first-overall pick. I'm not buying it. Many teams like him much more than they are willing to let on and plenty of parties are hoping that somehow they can help facilitate a draft deal slide that might make it easier for them to acquire the Heisman winner. "Lot of people like Mariota a lot more than what you are seeing in the media," said a high-ranking official from a team picking high in the draft. I don't see him getting beyond the top five, for sure and I suspect he ends up second overall.
• I keep hearing rumblings that the league may be changing the date from June 1 to May 1 after which signing free agents would no longer factor into the equation for compensatory picks. Currently smart teams will wait until June to sign cheaper vet free agents because signing them does not work against their ability to maximize compensatory draft picks. Moving it to May would allow players to get some money in their pocket more quickly, it would get the players into the team facilities more quickly and seems like a win/win. Plenty of hope among the union and management that this goes into place.
The Packers think the hit is dirty, but the NFL apparently disagrees

Here's every official injury designation for each NFL team for Week 7

If it wasn't already clear, the Packers are not happy with the hit that injured Rodgers on...
Passengers were treated to some explicit chants from the Oakland running back, too

It's safe to say the Rams running back isn't a fan of traveling to London and back during the...

Winston sprained his AC joint last week but will start against the Bills this week